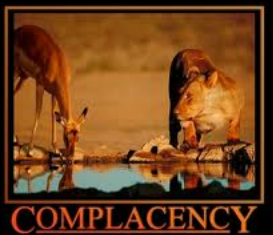 Many investors follow the VIX (CBOE Volatility Indicator) which measures put buying on the S&P 100 Index. Readings become elevated when the VIX rises above 20. When it rises greater than 30, generally "fear" would be dominant. When the indicator is below 20 "complacency" is present as put buying (betting equity prices would decline) falls. The VIX has been steadily falling the past month and has reached lows not seen since March (13.66) just before the previous correction took place. The record VIX low in contemporary views was in late December 2006 (8.6) and we know what happened the following February as investors started to confront financial issues with a major bear market in next pushing the reading above 20. Currently the VIX fell below 14 which is close enough to where we were in March. Also, as you'll note from within the chart below we're now at a weekly Demark sequential 9 count which is often a precursor to "trend exhaustion". It's not a perfect indicator, and few are, but given its nearness to March lows plus a light volume rally we should be impressed by it. It was enough to cause us to lighten up equity exposure at the opening of trading on Monday.
Sometimes a reading like this will fail to produce a reaction and the indicated market may just move sideways or ignore it entirely. (Sideways was what occurred January 2012 with previous 9.) If the market ignores it may only be because volume is so light pricing insurance via puts is more difficult. One thing the VIX isn't from my experience is a shorting indicator from this reading meaning a time to step aside. Also fading ZIRP and QE hasn't been a winning strategy of late. If so, and markets just continue higher, we'll just have to get back in the markets as before. That said, for subscribers to the ETF Digest we noted on Friday that of the 600 ETFs and indexes we monitor, over 200 had weekly 9 readings. That's impressive.
I put this out there for your interest knowing perhaps it will lead to little in this odd environment we're in.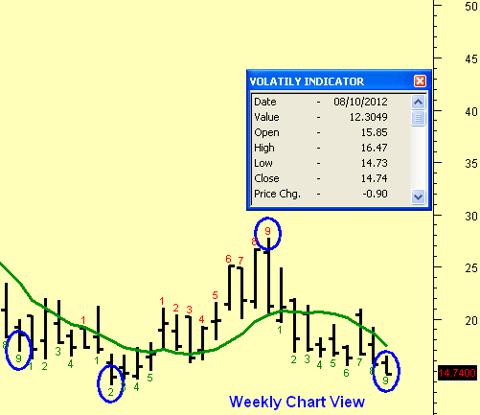 The VIX fell even more on Monday as late day dip buyers stepped quickly into markets in the afternoon. It may take a week or two to know if this DeMark view is effective or not. Further there are other tools available to assess the situation.
Meanwhile in the eurozone a lawsuit was filed in Germany challenging the legality of the ESM (European Stability Mechanism) which may cause a delay. A rather bizarre article from Bloomberg discussed confusingly the situation with Germany specifically. Also key members of the German government are hinting at no further assistance for Greece which shouldn't surprise. Perhaps we've dragged the Greek drama out long enough that a failure would be nonevent.
Stocks were lower from the opening and the DJIA was down nearly 100 points only to rally once again on dip buying in the afternoon. Homebuilder stocks (XHB & ITB) were much higher despite new home sales being 50% below average. The dollar (NYSEARCA:UUP) was weaker as the euro rose oddly given the lawsuit; gold (NYSEARCA:GLD) was lower; bonds (NYSEARCA:IEF) were slightly weaker; and, commodities overall were weaker (NYSEARCA:DBC) particularly as grains (NYSEARCA:JJG) sold-off.
Volume remains incredibly light even by mid-August standards but more economic data should change that starting Tuesday. Breadth per the WSJ was mildly negative.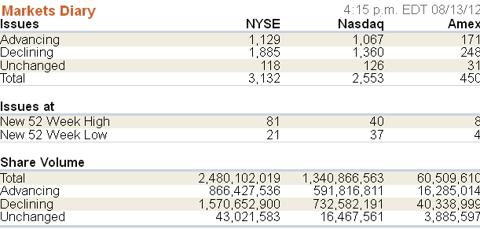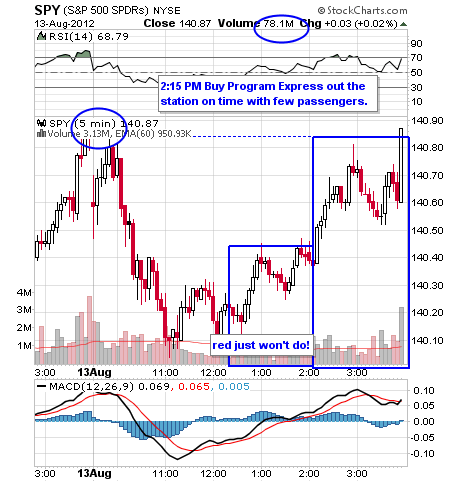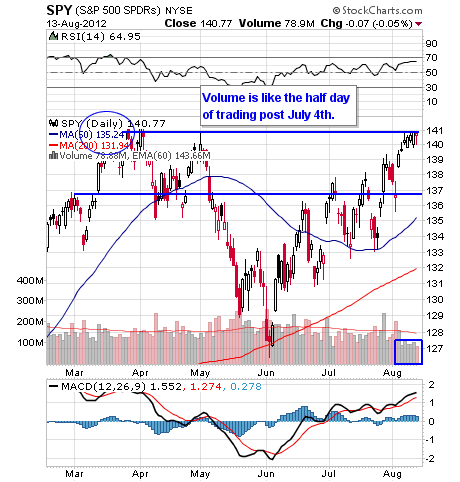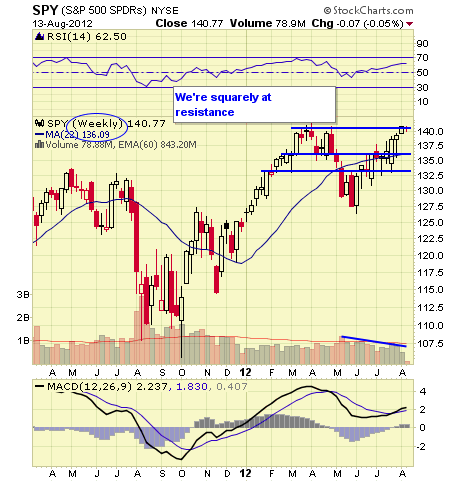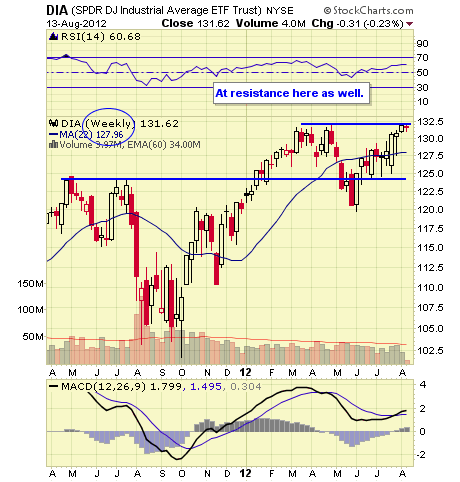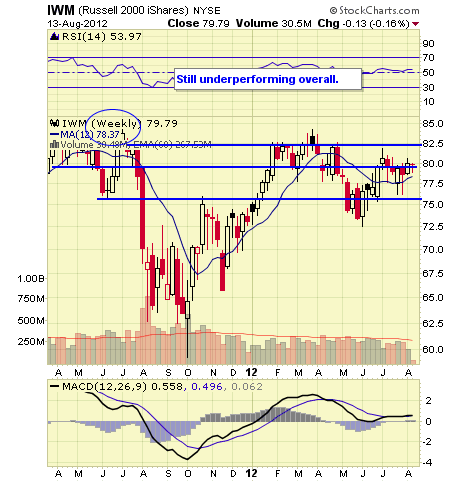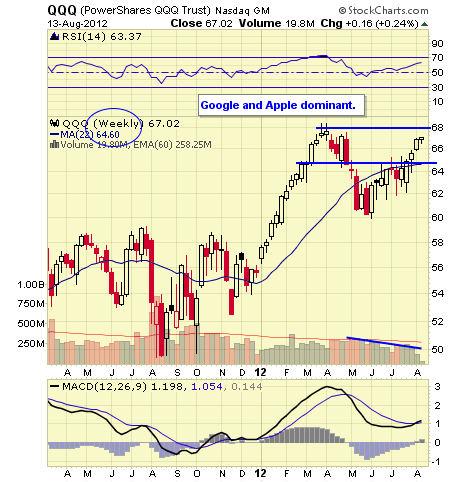 Continue to U.S. Sector, Stocks & Bond ETFs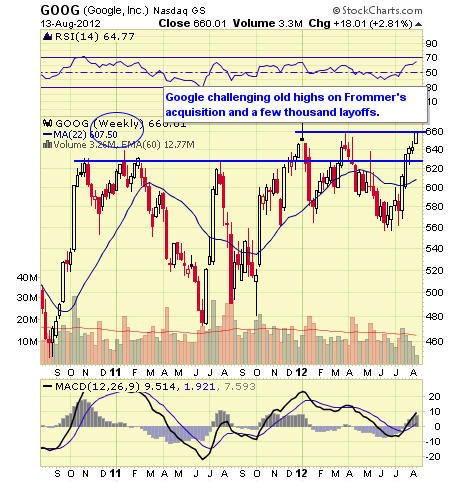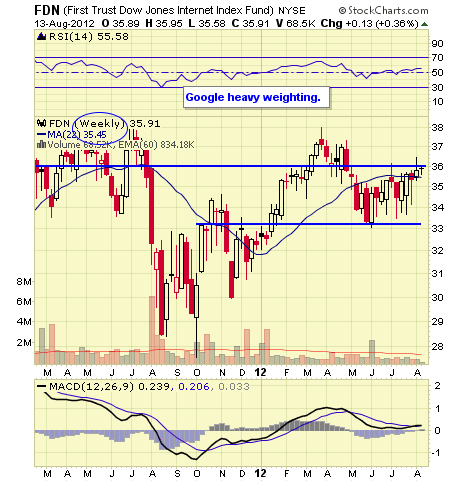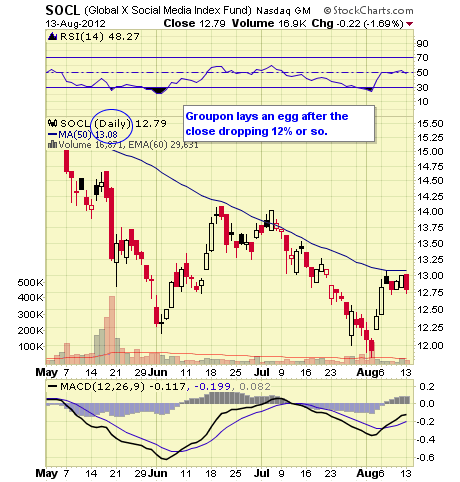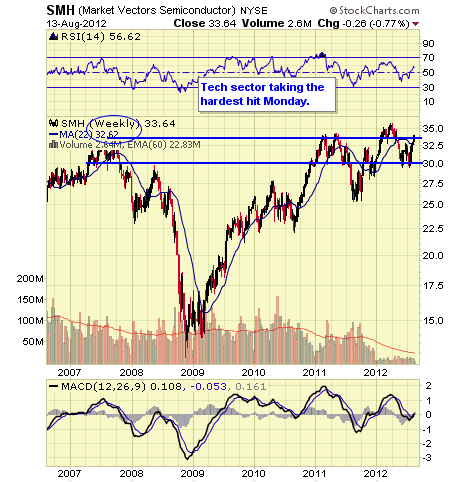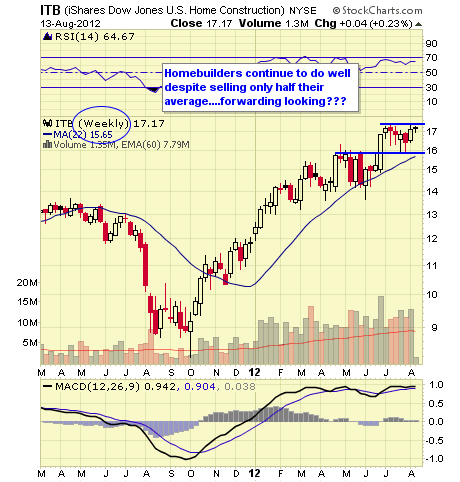 Continue to Currency & Commodity Market ETFs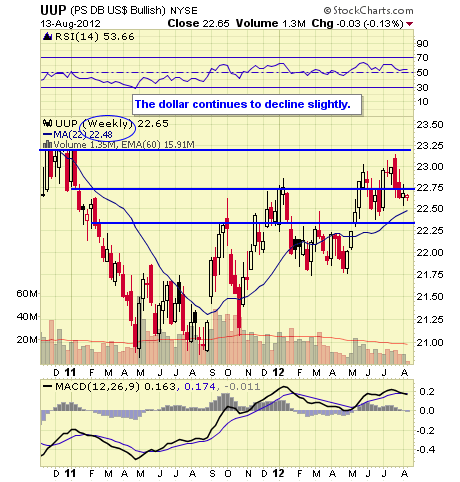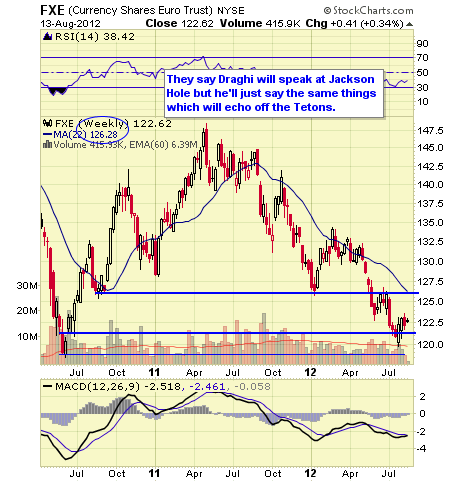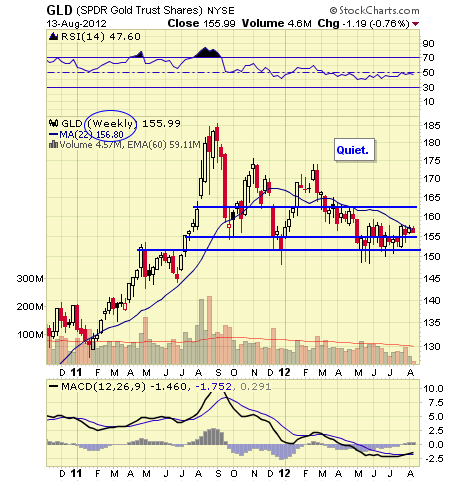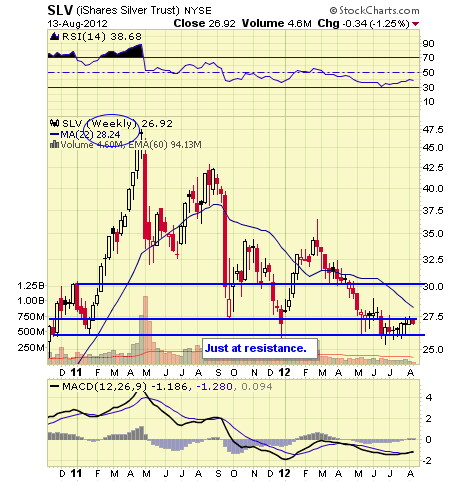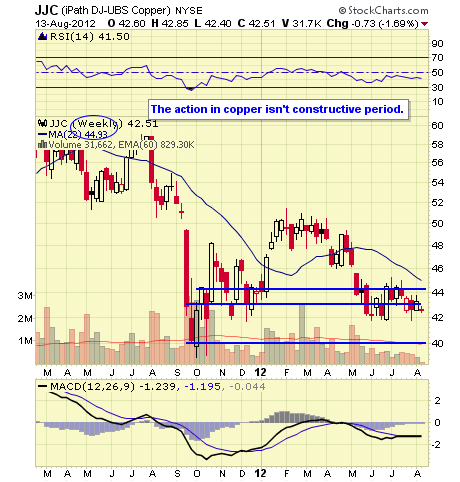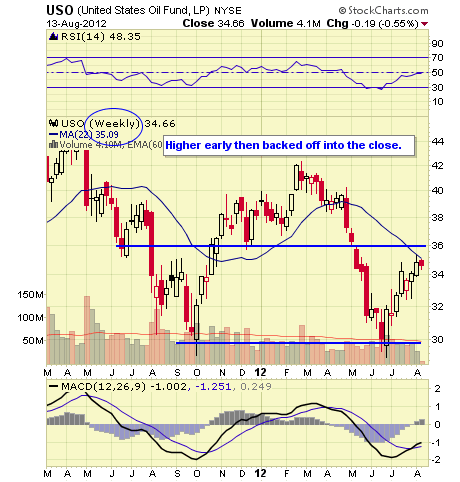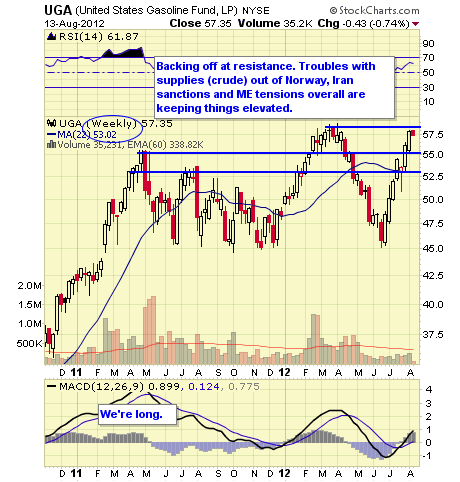 Continue to Overseas Sectors & ETFs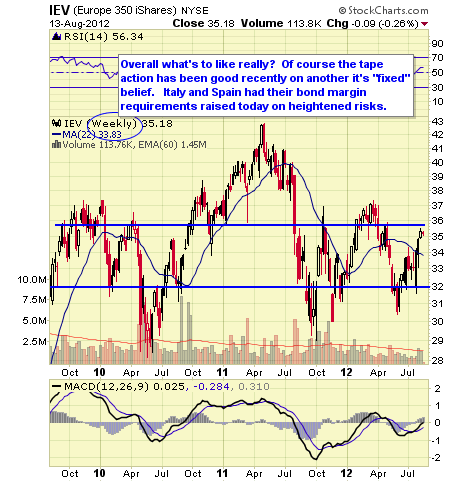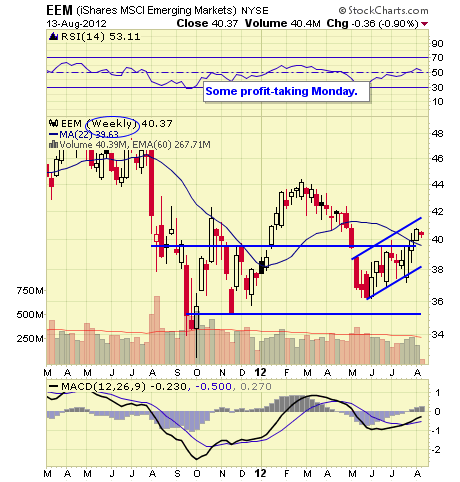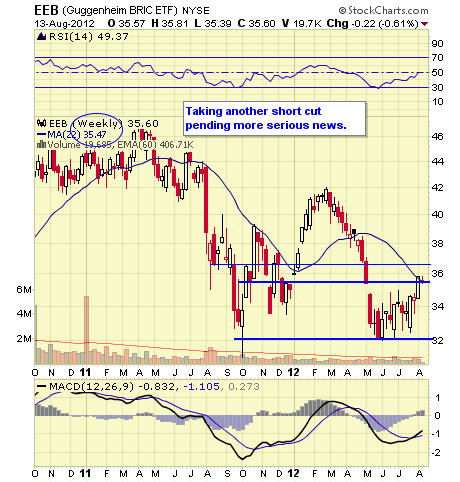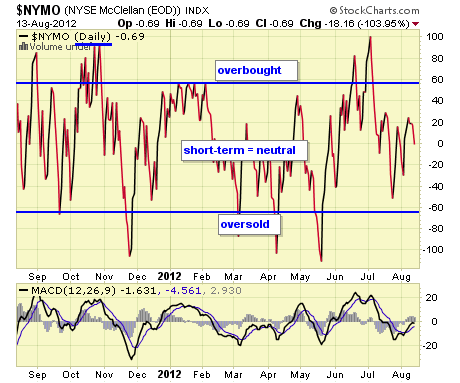 The NYMO is a market breadth indicator that is based on the difference between the number of advancing and declining issues on the NYSE. When readings are +60/-60 markets are extended short-term.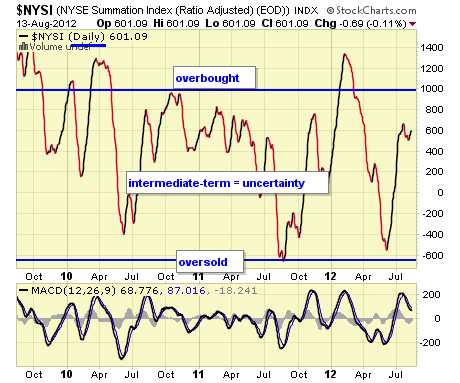 The McClellan Summation Index is a long-term version of the McClellan Oscillator. It is a market breadth indicator, and interpretation is similar to that of the McClellan Oscillator, except that it is more suited to major trends. I believe readings of +1000/-1000 reveal markets as much extended.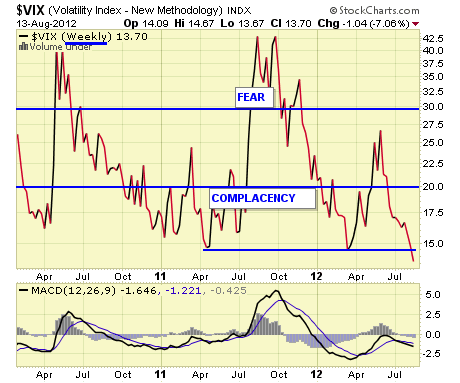 The VIX is a widely used measure of market risk and is often referred to as the "investor fear gauge". Our own interpretation is highlighted in the chart above. The VIX measures the level of put option activity over a 30-day period. Greater buying of put options (protection) causes the index to rise.
The VIX of course is much featured in today's commentary along with DeMark counts. Investors HFTs can continue to feast on light volume to push things around for fun and profit. More serious news comes out Tuesday with Retail Sales, PPI (they want you to ignore the headline rate please) and Business Inventories.
Disclaimer: The ETF Digest maintains active ETF trading portfolio and a wide selection of ETFs away from portfolios in an independent listing. Current "trading" positions in active portfolios if any are embedded within charts: Lazy & Hedged Lazy Portfolios maintain the follow positions: VT, MGV, BND, BSV, VGT, VWO, VNO, IAU, DJCI, DJP, VMBS, VIG, ILF, EWA, IEV, EWC, EWJ, EWG, & EWU.
The charts and comments are only the author's view of market activity and aren't recommendations to buy or sell any security. Market sectors and related ETFs are selected based on his opinion as to their importance in providing the viewer a comprehensive summary of market conditions for the featured period. Chart annotations aren't predictive of any future market action rather they only demonstrate the author's opinion as to a range of possibilities going forward. More detailed information, including actionable alerts, are available to subscribers at www.etfdigest.com.
Disclosure: I have no positions in any stocks mentioned, and no plans to initiate any positions within the next 72 hours.