As with most days recently, the corporate bond market had plenty of issuance to satisfy the hunger of the credit investors. Among the issues that priced Monday were:
Ameren Illinois Co (NYSE:AEE),
Mississippi Power Co (NYSE:SO),
J.P. Morgan Chase & Co (NYSE:JPM),
Pacific Gas & Electric Company (NYSE:PCG), and
Broadcom Corporation (BRCM).
As many investors and readers on Seeking Alpha are interested in utilities, I thought the new issue levels in this sector would interest readers.
| | | | | | | |
| --- | --- | --- | --- | --- | --- | --- |
| Company | Rating | Size(MM) | Maturity | Type | Spread | Yld |
| Ameren Ill | A3/BBB/BBB+ | $400 | 10yr | FMB | +105 | 2.70% |
| Miss Power | A3/A/A | $200 | 30yr | Snr | +125 | 3.97% |
| PG&E | A3 / BBB | $400 | 10yr | Snr | +85 | 2.48% |
| PG&E | A3 / BBB | $350 | 30yr | snr | +105 | 3.75% |
Capitalization Snapshots:



Equity Snapshot: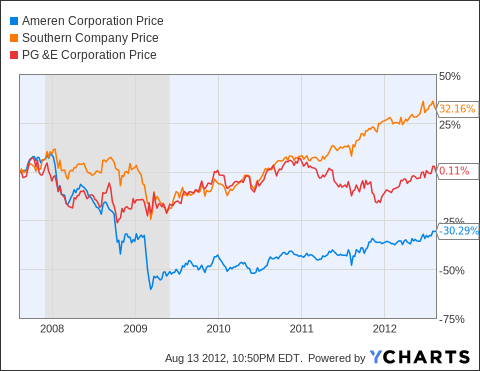 Southern Company has led the three in recovering, and surpassing, pre-crisis levels in terms of stock price appreciation as it is one of the largest, and best run, utilities.
Making up for this, however, Ameren offers investors the highest dividend yield, followed by Southern Company: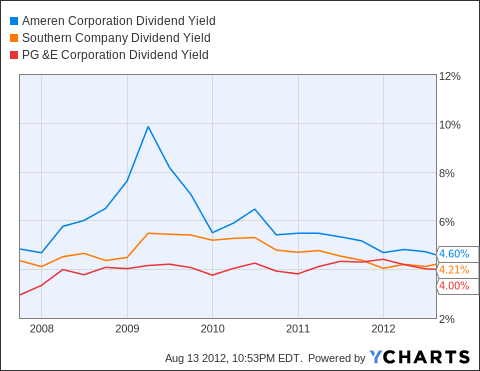 AEE Dividend Yield data by YCharts
Bottom Line: While at first blush, the absolute rates paid on these bonds is low, the risk premium (spread) is actually attractive. Of these bonds, I would be a buyer of Ameren as it is a first mortgage bond, on review for upgrade from Fitch and trades wide to PG&E which is unsecured debt. It is important to understand, however, that Ameren operates in difficult regulatory regimes and will continue to have rate base struggles.
If an investor is not limited to fixed income, the common stock of all of these utilities have attractive dividends that have been more or less stable.
As an aside, the Broadcom debt (A2/A-) at +95/10yr is attractive given industry levels. (They are probably refinancing their 2013 debt with the proceeds).
Disclosure: I have no positions in any stocks mentioned, and no plans to initiate any positions within the next 72 hours.
Additional disclosure: This article is for informational purposes only, it is not a recommendation to buy or sell any security and is strictly the opinion of Rubicon Associates LLC. Every investor is strongly encouraged to do their own research prior to investing.