It's time to revisit Whiting USA Trust I (NYSE:WHX) as we approach the ex-dividend date. In July, I wrote an article on WHX saying the trust was more than 50% overvalued because it is expected to terminate in 2015. WHX sold off significantly in the days to follow. Recently, WHX has popped from $9 to near $11 as the Trust announced a $.688/share quarterly dividend. Investors and traders see a 25% yielding oil Trust and are buying without fully knowing what they are buying.
Whiting Petroleum (NYSE:WLL) has formed two royalty trusts since 2007. In October 2007, WHX was formed and brought public in April 2008. The other royalty trust is Whiting USA Trust II (WHZ) which was formed on December 2011, and brought public on March 23rd, 2012. WHX was formed, allowing it to produce and sell 9.11 MMBOE. WHX was entitled to 90% of the net proceeds, or 8.20 MMBOE. After this amount is produced, the trust will wind down and terminate. As of June 30th, WHX has produced 5.57 MMBOE, or 68% of the allowed production under the trust agreement. In WHX's most recent dividend announcement, the Trust states that WHX will terminate on or about August 31st, 2015, based on current production trends. However, I continue to believe the Trust could be terminated as soon as the 1st quarter of 2015.
For those who say WHX will have value after the Trust terminates I would suggest you read SEC filings, including an excerpt for the most recent 10-Q:
"Since the assets of the Trust are depleting assets, a portion of each cash distribution paid on the Trust units should be considered by investors as a return of capital, with the remainder being considered as a return on investment. As a result, the market price of the Trust units will decline to zero at termination of the Trust."
Below is a model that I created of WHX future dividends.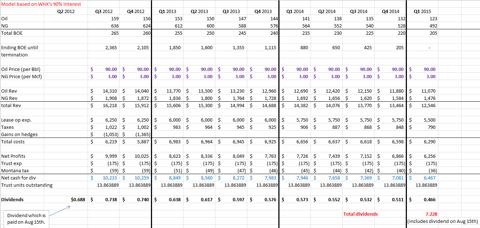 The model is based on information from the 10-K, $90 oil, $3 natural gas, and other reasonable assumptions to figure out future dividends. Based on the model, WHX would pay $7.22 in dividends until it terminates (this includes the Wednesday ex-dividend of $.688/share). After this week, the model projects WHX dividends to be roughly $6.55/share. These dividends are also not discounted, which would give an even better analysis of its true value.
Currently, based on the $7.22 of dividends the model is projecting, WHX is currently trading at a 49% premium to expected dividends. This also doesn't include everyone's individual tax liabilities from the dividends. WHX remains overvalued and yield-chasing investors will likely see losses in the coming week after WHX goes ex-dividend. The Units have recently traded up roughly 20% as investor's bid up WHX ahead of their dividend. Traders are likely ready to dump WHX on Wednesday after they have reaped the dividend.
Take a look at the last two times WHX paid a dividend… Units traded sharply lower the following few days.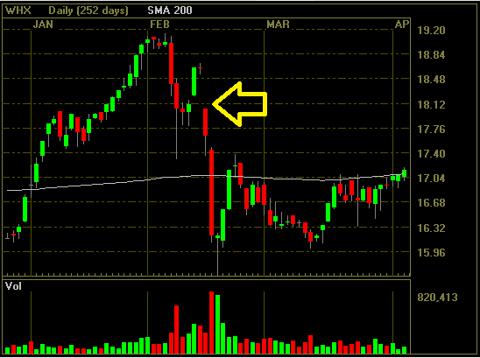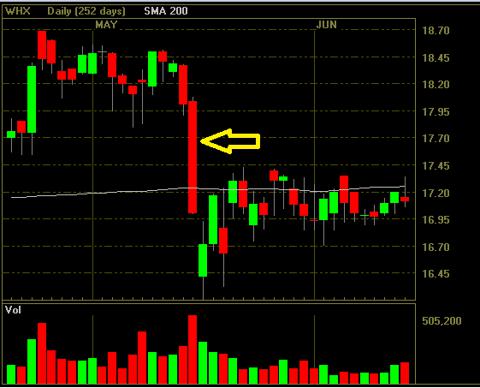 In both cases, WHX fell much more than by the amount of the dividend in the days surrounding the ex-dividend date. I would expect the same price action to likely occur on/or around Wednesday.
WHX and other oil Trusts should naturally trade at their expected future discounted dividends. However, in some cases investors are buying Trusts that they don't understand and are being naive by just closing their eyes. An investor would be wise to sell WHX, even after the major decline in July, as the Trust remains overvalued.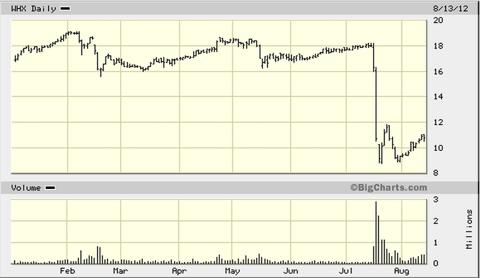 Disclaimer: This article is intended for informational and entertainment use only and should not be construed as professional investment advice, but rather my opinions as a writer only. Trading stocks are risky -- always be sure to know and understand your risk tolerance as in any given trade/investment you can incur substantial financial loss. By reading this article, you agree and understand that I am not giving recommendations on stocks to trade. Any trade you make -- wins, losses, or break even -- are entirely your decision and responsibility. You also agree and understand that I have no material insider information -- just opinions. Always do you own complete due diligence before buying and selling any stock, and/or consult with a licensed qualified broker dealer and/or certified financial adviser.
Disclosure: I am short WHX.
Additional disclosure: The short position is expressed in WHX put options.