I've written previously about using financial stocks as a hedge against the falling price of gold and silver equities. Gold and silver stocks are currently rising over an unstable global financial climate, rising inflation and a falling dollar. As the financial environment attempts to stabilize, we have seen the recovery of many bank stocks and the fall of most precious metal stocks.
While financial stocks are a great way to hedge a portfolio of gold and silver stocks, I believe I have found another sector that can be used as a more efficient hedge. When we look at creating hedges, I believe looking at volatility is very important. When your hedge moves up 8%, you want your gold and silver positions to move down by a similar amount and vice versa.
One of the primary factors behind the runaway inflation we are experiencing is the rise in oil prices. The inflationary effect of rising oil is positive for gold and silver investors, but negative for sectors like airlines where on average 1/3 of the cost of operating an airline is tied to the price of jet fuel. Oil has been on a tear recently, with some analysts expecting the price of oil to reach $200 by the end of the year. As speculation grows over the price of oil, airline stocks have come under pressure and have approached heavily oversold territory.
The airline sector is very cyclical and prone to high volatility. Airlines have been so oversold, that any good news that comes out can cause the entire sector to rally. In the event that oil continues to rise we should see major positive performance from gold and silver stocks. This may be especially true going into the fall which is the traditional  high season for physical gold and silver prices. I've posted in the past about the historical 10:1 oil to gold ratio and here is the chart again.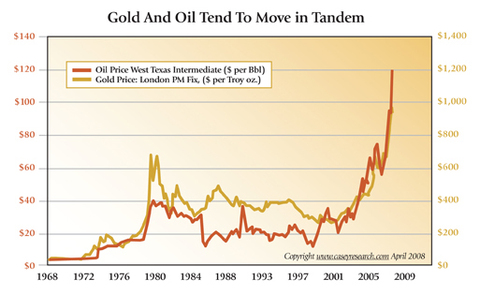 I believe oil may trade in the $150-$160 range by the end of 2008. This isn't a far stretch since oil is now at $139 and another 10 percent move would put the price of oil in the $150-$160 range. The Fed again would have to boost the number of dollars in the economy in order to help people absorb the inflationary effect of rising oil prices. With everything in favor of a falling dollar and an inflationary environment, I would be surprised not to see gold over $1000 again and silver over $20. My own price target for gold is $1100 and silver at $19 by the end of 2008.
If the opposite trend were to occur and oil prices were to drop, easing inflation, I would expect airline stocks to experience a major rally due to the oversold conditions in the entire sector.
The performance of  AMR Corporation (NASDAQ:AMR), better known as American Airlines, Inc., and Continental Airlines Inc.(NYSE:CAL) accurately paints the picture.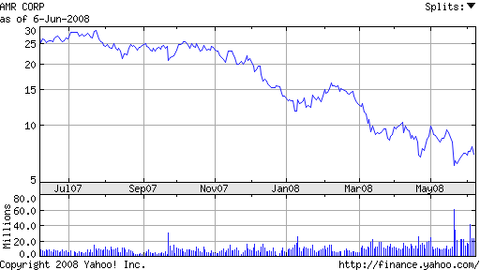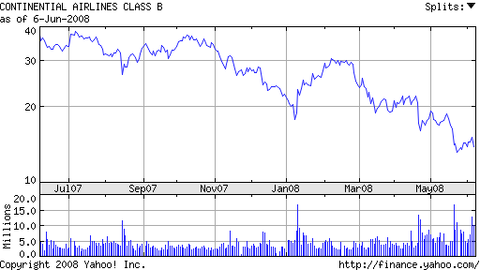 American Airlines has dropped from a one year high of $29.32 to the current price of $7.13, a drop of 75.68%. Continental Airlines has dropped from a one year high of $38.79 to the current price of $13.87, a drop of 64.24%. In the short-term as you build a hedge using either financial stocks or airlines, there is likely additional room to drop. In the long-term the likelihood of a rally and making money from buying into today's prices is higher than the probability of sustained lower prices. Looking at the historical charts for C, Citigroup Inc., UBS, UBS AG, AMR and CAL confirms this. The resulting rally out of all the recessions the U.S. has faced has resulted in higher prices.
Having patience is key to buying into a falling market. No one knows when we will reach a bottom, but picking and sticking with your entry prices is key to earning a long-term gain. Very few people can become wealthy overnight, so I always stress buying quality companies at a price you believe is fair. For me I have a chance to begin building a hedge using airlines at a 70% or greater discount on average for an entire sector.
I always keep a practical piece of advice from my parents in mind, "nothing goes up forever". Having a hedge doesn't mean you won't make money, quite the contrary. Either your hedge or main portfolio investment will produce gains. In the stock market, nothing is a true loss until you sell. This is why picking quality companies with long-term sustainability is key to seeing an entire sector go through a fall and rise. No one can be right all the time, it's more a game of who's turn is it to be right. No matter what angle you look at it from, certain sectors are down 70% or more. The same oversold conditions that formed in 1999-2001 are forming again in different sectors in 2007-2009.
In today's market I am reminded of a quote from kitco's Doug Casey for successful investing, "be bold when everyone else is timid and timid when everyone else is bold".
*Disclaimer: The author does not own a position in any of the stocks mentioned above.