Most of the investors that read my columns regularly know that I am fan of IPOs, busted IPOs that is. I rarely pick up anything at offering as like most investors, I do not have the connections to secure allocations in the premium IPOs. I also can't see to overpaying for obviously overvalued, heavily hyped IPOs like Groupon (NASDAQ:GRPN) or Facebook (NASDAQ:FB). What I do love is picking up some bargains once the glow and insider lockups fade and the equity has fallen by 50% or better. Once these "story" stocks are no longer pumped by their underwriters, they can become very cheap compared to their growth prospects. One such entity is NeoPhotonics (NYSE:NPTN) which came public in early 2011 and shot to over $20 and now is trading for less than $5 a share.
"NeoPhotonics Corporation designs and manufactures photonic integrated circuit based modules and subsystems for bandwidth-intensive and high-speed communications of networks." (Business description from Yahoo Finance)
Six reasons NPTN is a solid growth play at under $5 a share:

The company has over $70mm (around 50% of market capitalization) in net cash on its balance sheet.
Earnings are going in the right direction. The company lost 40 cents a share in FY2011 and is expected to lose 35 cents in FY2012. However, analysts have it at close to breakeven in FY2013.
Revenue growth is more impressive. The company should post over 20% sales growth this year and have a double digit revenue gain in FY2013 as well. The stock is selling for just 65% of annual revenues.
I believe analysts are missing its improving results. The company has crushed estimates each of the last three quarters. The average beat over consensus during these quarters has been north of 35% on average per quarter.
The stock is cheap at just 71% of book value and the stock is at the same price level it was when insiders purchased shares back in late November.
After a long bottoming process, the stock just crossed its 200 day moving average and appears ready to move higher (See Chart).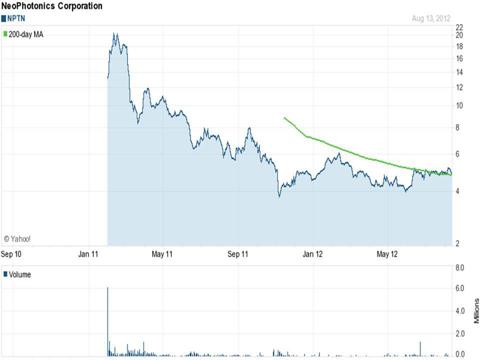 Disclosure: I have no positions in any stocks mentioned, but may initiate a long position in NPTN over the next 72 hours.