The Euro Currency ETF (NYSEARCA:FXE) usually tracks the Euro spot market pretty well during US market hours. Since the beginning of this year, however, it is no longer true. Following is a chart of euro spot price, FXE, their daily range comparison, and their daily close at 4 pm Eastern Time comparison. showing the development of a disturbing trend.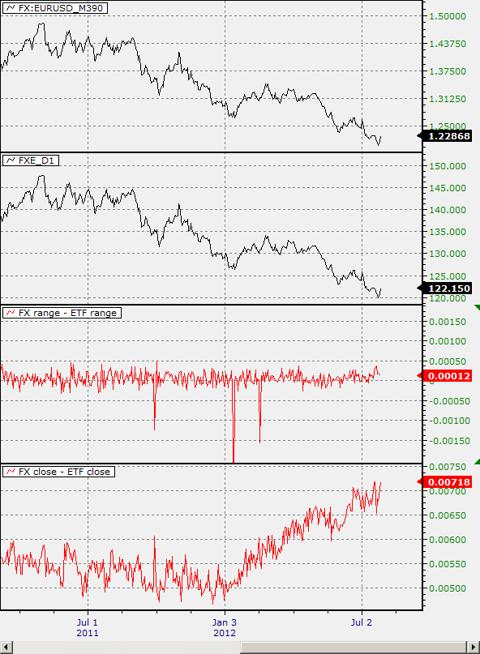 First, the daily range of both the Euro spot market and FXE are trading in tandem quite closely. It is clear from the third pane on the chart that the difference of the price ranges of the 2 instruments stays in a tight range around zero. The few exceptional days where they are not in sync were due to news shocks from Europe that are understandable.
Now, when we look at the daily closing price of FXE against the 4 pm price of Euro spot price, it is telling us a completely different story. Prior to year 2012, the difference between the two daily closing prices was stable within +/- 60 pips for a long time. Then, starting this year 2012, there is a steady drift in the spread between the 2 instruments. The Euro spot market is now standing at 70 pips higher than FXE since July 2012.
Spreads like this on 2 completely related instruments are very rare. It is likely the spread will revert back to zero or overshoot to negative spread in the future. This means a unique arbitrage trading opportunity has presented itself if someone has the patience to ride this out.
There are two difficulties that one has to deal with for this arbitrage.
First, forex players in general use much higher leverage in comparison to stock traders. As FXE is an ETF, it trades like a stock. Thus to balance the risk, the amount of money to commit to this trade on the forex side will have to be the same as the amount of money committed to the ETF side.
Second, FXE is a pretty small ETF fund. Its total value is relatively small in comparison to the appetite of many pro forex traders. Hence this trade can get crowded pretty quickly.
Unusual market misalignment does not happen often. This one is definitely an important one for 2012 and 2013.
Disclosure: I have no positions in any stocks mentioned, and no plans to initiate any positions within the next 72 hours.