The four big asset classes are stocks, bonds, cash and real estate. Direct ownership of real estate is the pure form of the asset class. To achieve diversification within the financial capability of most investors, securitization of a direct real estate portfolio (REITs) is a second best solution.
REIT vs REAL ESTATE FUNDS:
The problem with publicly traded securitized real estate is that it takes on some of the characteristics of stocks and loses some of the distinctions of the direct real estate asset class. Except in bubble times, the yield of REITs also tends to make them trade a bit like bonds. Overall, REITs are hybrid in nature, but still generally thought of as a separate asset class more than as a separate sector within the stocks asset class.
Because REITs are not as widely authorized internationally, and because of investor demand for international real estate, a number of "world ex US" (international) real estate funds have arisen in recent years. However, those funds contain real estate management companies, land developers, builders, brokers and other non-REIT entities — making them less distinct from stocks in general than a pure REITs fund. For the time being, they are the best alternative available, but be careful about how correlated they might turn out to be with overall stocks for the same regions.
For that reason, we are currently inclined to use a US REIT class in an asset allocation program, but are reluctant to use a non-US real estate asset class pending development of more REIT-like opportunities for international real estate.
With that caveat expressed, this article compares four leading international real estate funds with a US REIT index fund.
INDICES TRACKED BY THE FUNDS:
RELATIVE PERFORMANCE
These charts present the performance of the four international real estate ETFs against the performance of VNQ, an ETF tracking the MSCI US REIT index.
One-Year Chart Comparing VNQ, RWX, DRW, WPS and IFGL: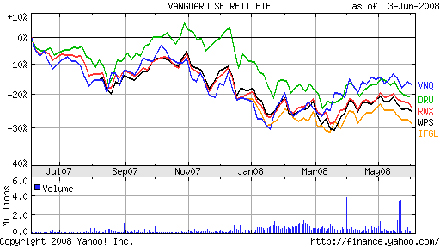 click for enlarged image updated to most recent full market day
Three-Month Chart Comparing VNQ, RWX, DRW, WPS and IFGL: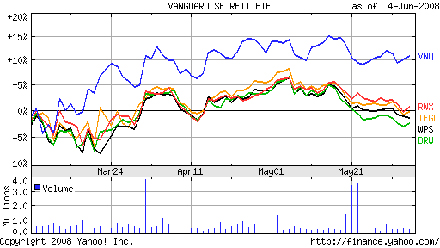 click for enlarged image updated to most recent full market day
INDEX COMPONENTS AND WEIGHTS:
The index component weights (as represented by the holdings of the passive index funds that track them) are shown in the graphic table. It provides the top 10 countries and top 10 company holdings for each fund, as well as the total number of countries and the total number of companies in each fund.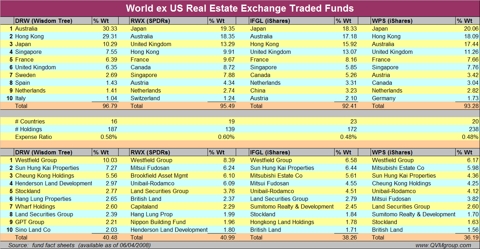 click image to enlarge
EXPENSE RATIOS:
The expense ratios range from 0.48% to 0.60%. If the indices were the same or substantially the same (as with two S&P 500 funds), we would recommend the fund with the lowest expense ratio. However, in this case, the component weights indicate that the indices are not substantially the same. Therefore, we would recommend not factoring the expense ratio differences into the fund selection decision.
YIELD

As with P/E ratios, yields are calculated in different ways. It is often possible to find widely variant reports of yield for stocks (examples: SEC 30-day yield; yield based on 12 month trailing dividends to current price, and annualized last dividend to current market price). Here are the yields currently reported (as of June 4, 2008) on the web pages for each fund — they are not calculated with the same methods:
VNQ: 4.25
RWX: 3.50
DRW: n/a
WPS: 2.04
IFGL: 2.25
CORRELATION OF RETURNS:
The funds haven't been around long enough to develop useful statistical correlation data between them, but a visual inspection of the 1-year and 3-month performance charts suggests their returns are highly correlated.
TAX LOSS HARVESTING
These four international real estate funds may be suitable substitutes for temporary or permanent replacement of each other in tax loss harvesting actions. You should ask your tax advisor what he or she thinks, but here is our logic:
provide by different sponsors (except WPS and IFGL)
track different indices
hold different numbers of companies
hold common companies in different proportions
invest in different numbers of countries
hold key countries in different proportions
incur different expense ratios
Those attributes are consistent with our working rules for tax loss harvesting substitution. We believe those four funds are not "substantially identical" and that they provide different "economic position and risk exposure" for IRS purposes. However, they are sufficiently similar to allow a reasonably continuous asset class exposure in a tax loss harvesting-substitution action within an asset allocation program.
FUND WEB PAGES:
You can currently access the main webpage from the sponsor for each fund at:
As always, research before you invest.