Leap Wireless International's (LEAP) failure to convert its revenue growth into profitability makes us bearish on the stock. The company has continued to post losses since FY2006, with its margins going through a consistent contraction in the same period. Other business metrics like average revenue per user, gross customer additions and churn have all deteriorated recently, and going forward, high subsidy payments will continue to keep its margins under pressure.
LEAP, a wireless telecom, offers digital services to its clients in the United States. The company is well known for its 'Cricket Brand', which was launched a decade ago. The attractive features of its services include unlimited wireless services for a flat rate as well as no contract. The company has a market capitalization of $351 million, and its stock trades on the American stock exchange and the NASDAQ. The stock is currently trading 27% above its 52-week low of $4.28.
As mentioned previously, the company mainly operates through its Cricket Brand, with its focus on the more cost-conscious prepaid market. Through its pay as you go service, the company offers wireless services to those customer wanting flexibility and control. It also offers various handsets through its outlets, ranging from low-cost phones to smartphones. In addition, the company provides unlimited broadband internet services to its clients.
Latest Quarterly Results
The company generates its revenues from the sale of its wireless services and handsets, as well as modems, a majority of which comes from the former. In the quarter ended June 30, 2012, LEAP generated almost 95% of its revenues from its wireless services. Total revenues climbed by a modest 3% in the second quarter, compared to Q2 2011, despite a loss in revenues from lower handset sales, which declined in the quarter. Service revenue was largely responsible for the revenue increase, which increased by 7%. The company, through its recently launched Muve Music Service, attracted more customers in the quarter. The service, which offers unlimited music download services to customers using smartphones, helped improve revenues, with an increase in average revenue per user also contributing to the revenue boost. Equipment revenues declined in the quarter because of a decrease in handsets and other equipment sold. LEAP's bottom line continues to be in the negative territory, despite a slight narrowing of losses in the latest quarter. The company posted losses of $41.6 million, which even though was an improvement from the previous quarter's losses of $98.4 million and Q2 2011 losses of $65.2 million, was higher than what analysts were expecting; analysts were expecting the company to post a loss per share of $0.5, lower than what the company posted ($0.54 per share).
Below is a summary of the company's key business metrics.
Q2 2012

Q2 2011

% change

Gross customer additions

492,720

622,863

-21%

Net customer losses

-289,270

-103,140

180%

Average revenue per user

$41.64

$40.15

4%

Cost per gross addition

$296

$251

18%

Churn

4.40%

4.20%

5%
The table above shows the overall deteriorating trend in the company's key business metrics. Even though ARPU increased in the quarter, it was the first time after seven quarters when ARPU actually declined.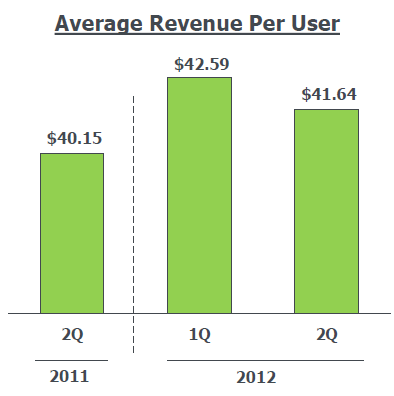 The company's net subscriber loss more than doubled in the second quarter, much higher than what analysts were expecting. The company has been hurt by its bigger rivals like AT&T (NYSE:T) and Verizon (NYSE:VZ), causing it to move more aggressively towards smartphones. An increased attention towards smartphones also means LEAP has to pay a substantial amount in terms of subsidies in order to attract more customers to join its network. AT&T and Verizon are currently offering the iPhone 4 for almost $200, meaning they are paying almost $450 in subsidies just to stimulate more customers to connect to their networks. Perhaps that is one of the reasons why LEAP has suffered from customer losses recently. LEAP is offering the same phone for a price of almost $500, thus making it less cost effective for potential customers to join. However, one thing that goes in LEAP's favor is that it caters to the prepaid market, with no requirements for lengthy service contracts, unlike its bigger rivals AT&T and Verizon. Moreover, the lower monthly payments with LEAP could help bring a positive trend to its customer adds going forward.
Looking at the company's gross margins, one can notice the consistent contraction. In the financial year ended 2007, the company posted margins of 52%, which have dropped to 41% as of FY2011. The company's contract with Apple (NASDAQ:AAPL) to sell iPhones is costing LEAP almost $900 million. Moreover, the prices being offered by other rivals are much more attractive, particularly in terms of affordability. In a scenario where LEAP is not able to generate volumes because of the relatively higher prices the company sells its smartphones at, its margins may come under increased pressure going forward, as it would have to reduce the prices further.
LEAP has been battling with competitive pressures for a number of years now, with its bottom line in the negative territory since 2006. Despite a decent revenue growth of over 15% during the last five years, the company hasn't been able to turn profitable. The company's stock has also lost more than 40% of its value on a YTD basis. When asked during the latest conference call about a possible sale of the company, the LEAP Chief Financial Officer said "anything could be possible," without disclosing whether it would include selling assets or selling the entire company. With the company in losses, it will be difficult to find a buyer willing to take up its high debt ($3.19 billion). However, its real value lies in its wireless spectrum, which according to the company's management is worth $3 billion, still not more than its debt, making it less attractive as a buyout option. LEAP's stock has traded up and down on the takeover speculations in the past; however, no one is expecting a possible sale of LEAP until next year, according to Oppenheimer & Co. In the absence of any information given by the management regarding a sale, it seems likely that such an eventuality will likely happen next year.
Risks
As of the quarter ended June 2012, the company's market value was in excess of its book value. However, since that time, the stock has gone as low as $4.5. If the price falls further, the company may have to recognize an impairment loss of almost $32 million for its goodwill.
Even though we are bearish on the stock based on the company's poor fundamentals, it can trade up on speculations of a possible sale.
Financial Position
As of the quarter ended June 2012, LEAP had cash balances of only $530 million, with long-term debt in excess of $3 billion. As mentioned previously, the company's margins have been consistently contracting over the years, indicating the weakness in its operations. In the quarter ended June 2012, LEAP generated negative free cash flows of $111 million, compared to -$69 million for the same quarter of the previous year. Even though LEAP doesn't have any debt maturities until 2014, a consistent decline in operating cash flows and a deteriorating cash position is a cause for concern. The company doesn't pay any dividends.
Valuation
The stock is trading at cheap multiples, as indicated by the table below, seen in its lower P/S and P/B as compared to T, VZ, and PCS. However, its EV/EBITDA of 5.7x is at a premium to Verizon (4.5x) and PCS (4.1x). However, these cheap valuations are just a value trap unless we see margins to start expanding.
| | | | | |
| --- | --- | --- | --- | --- |
| | LEAP | T | VZ | PCS |
| P/S | 0.14x | 1.7x | 1.1x | 0.6x |
| P/B | 0.91x | 2.1x | 3.4x | 1.05x |
| EV/EBITDA | 5.7x | 7.8x | 4.5x | 4.1x |
As mentioned previously, the stock has performed poorly since the start of the year, losing almost 40% of its value. Since the earnings announcement, the stock has been downgraded by Baird on account of poor subscriber data. Canaccord Genuity, calling LEAP "dead money at best," is advising investors to stay on the sidelines. Canaccord now has its target price for the company at $4. We also recommend avoiding the stock.
Disclosure: I have no positions in any stocks mentioned, and no plans to initiate any positions within the next 72 hours.