Back in March I wrote this post about Mercado Libre (NASDAQ:MELI), Latin America's answer to eBay (NASDAQ:EBAY) (or so we're told by.....errr...Mercado Libre). Since then I've mentioned it again, particularly when its 1q08 results totally sucked and when I shorted it some.
Well, it seems those slowcoaches at Barron's have cottoned on to the fact that MELI is just a hypemachine. Regular reader DH sent me this article that was published in Barron's on the 4th of June (thanks DH) that calls into considerable doubt the current valuation of MELI. Go read the Barron's note yourself, but the final paragraph reprinted here just about sums up the feeling:
...To be sure, Mercado is one of the more attractive high-growth stories in emerging markets, for investors with a stomach for risk. But for those who remember the disappointments of a still-young Internet in the U.S., the stock's lofty price tag begs for caution.
I couldn't agree more with the writer. Or should that be "he couldn't agree more with me," as your autotrumpet-tootin' Otto nailed this view weeks ago? Meanwhile, on the subject of hyped-up technology thingies, have a look at this chart illustrating the now famous "Gartner Hype Cycle" for technology issues.
Named after a dude called Gartner (duh), it shows how new tech ideas get pumped, dumped and then adopted into the mainstream of the business world. Now look at the MELI stock evolution since its IPO last year. Coincidence?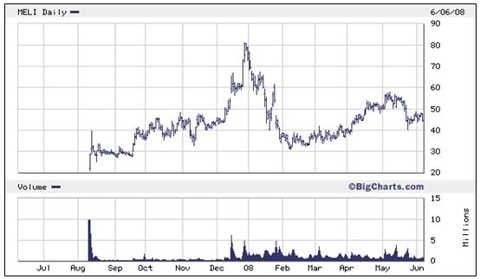 Otto sez: MELI is still somewhat overpriced at U$44 right now, but is a good stock to trade both ways. If it gets oversold to, let's say U$30, go long on it because it's not going Chap11 no way José. On the other hand, anything above U$52 (or maybe U$55...your call is as good as mine on ST stuff) will give you a chance to short it back down, as the pump merchants move in and out of the stock. Right now it holds no value, but it's one to keep an eye on, that's for sure. Just be smarter than the sheep, ok?
Disclosure: No position in MELI.