Just mention the words "dividend investing" and most investors are bored stiff.
Why's that? Well, many investors have been (incorrectly) conditioned to believe that it's impossible to make serious money investing in dividend-paying stocks.
If you're one of them, it's time to reprogram your brain. Because hard data proves that this conventional wisdom about dividend stocks is dead wrong!
Consider:
From 1972 to 2006, dividend-paying stocks returned an average of 10% annually versus 4% for non-dividend payers, according to Ned Davis Research. That's a huge difference… especially if you're saving for retirement.
And from 1871 to 2003, 97% of the total accumulated returns (after inflation) from stocks came from reinvesting dividends. Only 3% came from capital gains.
As famous Wharton School Finance professor, Jeremy Siegel, sums it up: "Dividends have been the overwhelming source of stockholder returns throughout time, and firms that have higher dividend yields have given better returns to investors."
So again, if you're one of the many who think dividend investing is downright boring and unattractive, it's time to reconsider. Especially now. Here's why…
Dividend Payers = Top Performers
A little over a year ago, I told you to focus on the traditionally defensive, dividend-paying utilities sector (see here). Then in May of this year, I reiterated my defensive call, suggesting you also consider the dividend-paying healthcare and consumer staples sectors.
Well, wouldn't you know it? These three "boring" and "defensive" sectors have been top performers over the last year. By a wide margin, too.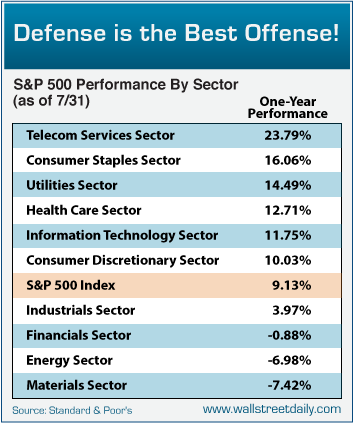 And as you can see, the best-performing segment over the last year is another traditionally defensive, dividend-paying sector: telecom.
I don't know about you, but I wouldn't classify double-digit returns of 12% to 24% as boring or insignificant. I certainly wouldn't dismiss them, either. Instead, I'd embrace the trend!
The easiest way to do so is with ETFs like the Consumer Staples Select Sector SPDR (NYSE: XLP), the Utilities Select Sector SPDR (NYSE: XLU), the Health Care Select Sector SPDR (NYSE: XLV), or the Vanguard Telecom Services ETF (NYSE: VOX). They currently yield 2.64%, 3.78%, 1.97% and 2.96%, respectively.
Or you can opt for a pure play and scoop up attractive, individual companies in any of these sectors. As a more specific recommendation for high-yield and maximum safety, consider Consolidated Edison (NYSE: ED)
Founded in 1884, it's one of the oldest utilities with no threat of going out of business. Shares are reasonably priced at just under 14 times forward earnings, which is exactly the same valuation as the S&P 500 Index.
Most important of all, the stock pays a 3.8% dividend that's guaranteed (the company has paid a dividend for more than 125 years). And it's virtually assured to increase, too, since management has increased the dividend for 38 years in a row.
Bottom line: Steady businesses paying stodgy old dividends might not sound exciting, stacked up against cutting-edge, innovative, high-growth stocks. But they're delivering profits in today's jittery market. Double-digit profits, no less. And that's something we can all agree is exciting.
So, if you're serious about making money, you need a healthy dose of dividend-paying stocks in your portfolio. And that's precisely why we're launching Dividends & Income Daily, an entirely new - and forever free - newsletter to find the safest, highest-yielding investments in this market. I encourage you to check out our website later today. I'm going to reveal my secret "income maximizer" strategy, which you can start using immediately to double your yield on stocks like Consolidated Edison.