Tesoro Corporation (NYSE:TSO) announced the purchase of the BP Corporation (NYSE:BP) refinery in Carson, California, on Monday. Tesoro's stock had a good day, going up about 10%.
Click to enlarge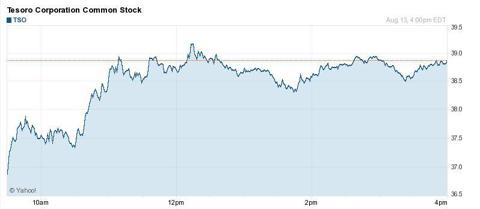 So the question today is: Is there any upside in this deal for TSO and is there still time to go long on the stock to take advantage of the situation?
We've done a lot of analysis previously on the general topic of refiner values, and I was also pretty favorable on Tesoro nine months ago with the price at $25, based on its export market for diesel fuel on the West Coast. And so with this background, we can do some analysis to see whether this was a good deal, and more importantly, whether there is still some upside in TSO:
First, the transaction:
| | | |
| --- | --- | --- |
| BP Transaction | | |
| Selling Price | $ 1,175,000,000 | |
| Capacity | 266,000 | bpd |
| | 4,417 | Dollars per bpd |
In addition to the refinery capacity, TSO got some additional assets, including some terminal facilities, retail operations and a couple of pipelines, in addition to some co-generation facilities. Valuing these assets at "zero" for the purpose of this analysis, the deal still came to a bit more than $4,400 per bpd in capacity.
We used this method of valuing the refiners in previous articles, and in fact in this article, we did some foreshadowing of some of the consolidation in this marketplace that has taken place. In that time frame, early in 2011, refinery capacity was changing hands for about $3,300 per bpd, but historically, some of these transactions were taking place at far greater rates; in excess of $15,000 per bpd.
In fact, if you wanted to use this method to estimate the value of TSO's current capacity, the calculation looks like this:
| | | |
| --- | --- | --- |
| Tesoro's Value | | |
| Market Cap | 5,430,000,000 | |
| Long Term Debt | 1,670,000,000 | |
| Buyout Price | 7,100,000,000 | |
| Capacity | 665,000 | |
| Existing Refining Capacity | 10,677 | $/bpd |
If you wanted TSO's existing capacity, and went into the stock market to buy the whole company and also take over the debt, the total would be over $10K per bpd, and that is after yesterday's 10% increase in the stock price.
So based on this, the value of the present deal for TSO is to increase the size of the company by nearly 1/3, and was done at only 40% of the current value of TSO's current assets. I think we can pronounce the deal "good for TSO" on the basis of these two data points.
Secondly, what does it mean for the share price?
If you do nothing more than make the assumption that the new capacity is equally valuable as the rest of TSO's refining facilities, as currently valued in the marketplace, the calculation looks like this:
| | | |
| --- | --- | --- |
| Post-Transaction | | |
| Refining Capacity | 931,000 | bpd |
| Current LTD | 1,670,000,000 | |
| New Debt (Estimated) | 347,159,091 | |
| Total LTD | 2,017,159,091 | |
| Est. Refining Asset Value | 9,940,000,000 | |
| Est. Current Mkt Cap | 7,922,840,909 | |
| Shares Outstanding | 151,701,000 | |
| Potential Market Price | 52.23 | Per Share |
We do not know the complete details of the transaction financing, but it was announced that the financing would be cash plus debt. I assumed that the debt/equity ratio of the transaction will be about the same as TSO's current debt/equity, which is about .29 (based on the current quarterly report).
I also made the assumption that TSO's new refining capacity of 931,000 bpd will be valued in the marketplace at the same level as TSO's current assets, namely $10,677 per bpd.
Subtracting the debt from the value of the refining capacity, the company "should" be worth about $7.9B in market capitalization, which "should" equal about $52 per share.
Let's try to calculate the value of the new capacity in terms of its contribution to earnings:
We know from TSO's last quarterly report that the West Coast crack spread (West Coast finished products selling prices minus the cost of Alaskan or Asian crude oil) was about $13 per barrel. TSO's refining conversion costs are among the lowest in the industry, its conversion costs for its other refinery in California were $5.70 per barrel, so I am estimating that the cost for this potentially more upscale refinery is closer to the corporate average of $5 per barrel. This leaves a net refining contribution of a bit more than $8 per barrel.
Over a quarter, this comes out to an incremental $177M. Estimating the incremental debt service at about $27M (based on the company's current borrowing habits) the net is closer to $150M, which is very close to $1.00 per share based on second quarter costs, an amount that had been discussed in various reports and also in the company's analysis of the deal.
| | | |
| --- | --- | --- |
| Refining Capacity | 266,000 | bpd |
| Current West Coast Crack Spread | 13.2 | Dollars per bbl |
| Estimated Conversion Cost | 5 | Dollars per bbl |
| Net | 8.2 | Dollars/bbl |
| Utilization | 0.9 | |
| Day Contribution | 1,963,080 | Dollars/Day |
| Incremental Quarterly Earnings | 176,677,200 | Dollars/Quarter |
| Incremental Debt Service | 27,000,000 | Dollars/Quarter |
| Net | 149,677,200 | Dollars/Quarter |
| Dollars Per Share/Quarter | 0.99 | Increased EPS |
| Dollars per Share/Year | 2.96 | (adjusted for seasonality) |
| MPC and PSX current PE | 6 | |
| Incremental Value/Share | 17.76 | |
| Current Stock Price | 40 | |
| Potential Stock Price | 57.76 | |
At the current P/E of Marathon Petroleum (NYSE:MPC) and Phillips 66 (NYSE:PSX) of about 6, and assuming that the third and fourth quarters will not be as good as the second quarter due to the seasonality in this business, the deal is still potentially worth an additional $17 per share, for a price in the upper $50's. Keep in mind that we are being conservative with the incremental value, the historical value of the refiners is about 8 times earnings, and so there may be some additional upside.
However, in this nasty business, there is always some potential for some more softening in the economy, reduced demand for the products, and other perils which might make all of these estimates look like wishful thinking in about six months.
But on the surface of it, doing the calculation from two different directions, the potential is for TSO to be trading in the $55 range once all of the dust settles, the opportunities for synergies are taken advantage of, and also considering the value of the collateral assets. There is still some upside in this deal.
Keep in mind particularly what we always say, which is that the world is full of chaos and there are no guarantees on anything.
Disclosure: I have no positions in any stocks mentioned, but may initiate a long position in TSO over the next 72 hours.