Although the VIX is making multi-year lows, it's important to remember that the VIX measures only one kind of option, the implied volatility of at-the-money options on the S&P 500 that expire in 30 days.
Ananthan Thangavel did a great job explaining the opportunities available for buying put options, but there was this question from "untrusting investor" I thought I'd address:
The SPY puts for Jun/13 at $100 strike are so far OTM and are currently bid=$1.83, ask=$1.96, that it they still seem pretty expensive for a put that is effectively about 30% OTM.
As it turns out, those options aren't all that expensive - at least on a historical basis. Let's take a look at a chart showing the implied volatility for put options on the SPDR S&P 500 ETF (NYSEARCA:SPY) that expire, not in 30 days, but 180 days: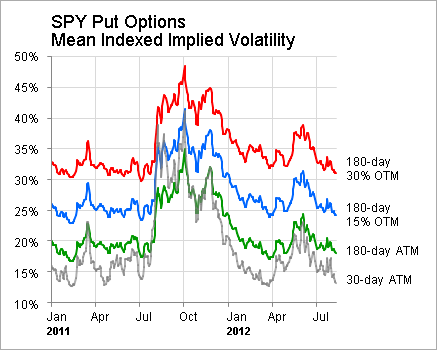 I'm using data from ivolatility.com that uses a slightly different weighting scheme than the VIX, but it's clear that the further out of the money you get, the higher the implied volatility gets for put options. Those 30% OTM 180-day puts may seem expensive, but they're actually trading at fairly low levels of implied volatility.
If you're interested in the nitty gritty of all of these SPY put options, here's a map of the "volatility surface" for put options on SPY as of August 13.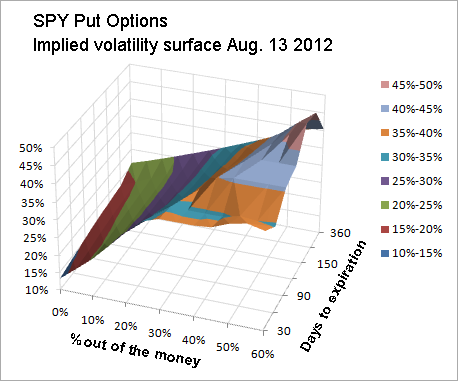 It shows what's usually the case - that the further out in time and the further out of the money you go, the higher the implied volatility for the put options.
Call options have their own volatility surface, and it skews differently than the put options, but that's the subject for another discussion.
Disclosure: I have no positions in any stocks mentioned, and no plans to initiate any positions within the next 72 hours.