This weekend, I shared my perspective on what to do if you "sold in May," now that the trade looks like it failed to pan out. The bottom line: Reenter the market, with a focus on smaller stocks and an emphasis on growth. Of course, this can be done in a number of ways, whether through buying individual stocks or going with an ETF, like iShares Russell 2000 (NYSEARCA:IWM) or the iShares Russell 2000 Growth (NYSEARCA:IWO).
In response to several requests for some potential laggard names to consider, I am following up with a screen (using Baseline) designed to identify some with strong underlying growth. Here are the criteria I used:
Russell 3000 member
Market Cap: $500mm to $4bln
2-Year Price Return > 30% (beating S&P 500)
YTD Price Return < 10% (trailing S&P 500)
Trailing Sales Growth >10%
Trailing EPS Growth > 20%
2013 Projected EPS Growth > 14%
Forward P/E < 25X
Return on Capital > 10%
In case it's not clear, the results should reflect stocks that have been performing well in the stock market prior to 2012 but that are lagging now, though their growth has been strong and is expected to remain so. Here are the 20 stocks that made the cut, sorted by YTD return:
(click images to enlarge)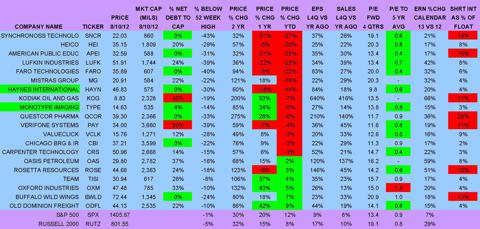 Before I go on, please understand that these aren't recommendations. Only two of the names are on my watchlist -- Lufkin Industries (NASDAQ:LUFK) and Haynes International (NASDAQ:HAYN) -- though I am familiar with several of the others. Screening is like fishing -- you don't keep everything you catch! In fact, I know that I would toss back Verifone (NYSE:PAY), and I am sure that there are others as well.
I included some additional information to help you drill down to a smaller group that might be worth your time to investigate more closely. First, I have shaded in green the several companies with relatively low net debt to capital (<10%), while highlighting in red those with relatively high debt (>40%). In general, I prefer companies with less debt over more, but there's a price for everything. With recent concerns about a slowing economy, companies with higher debt may have suffered more than their fair share and, subsequently, could bounce back more.
I also indicated how far below the 52-week high each stock is trading. While the S&P 500 is just 1% below its high (and the R2000 5%), all of these stocks are down substantially more. Additionally, I shaded in red those stocks down over the past year and in green those up more than 20%. From the YTD perspective, a few of the stocks are up, but most are actually down, some substantially.
We screened for less than 25 P/E, and most of the stocks are in between 10x and 20x. For additional perspective, I included the P/E relative to the 5-year average. Only one trades more than 20% above the average, while most, shaded in green, trade more than 20% below.
Finally, I included short-interest ratio, shading in red those above 10%. Many of these stocks appear to be "battle-ground" stocks, with high short-interest. Questcor (QCOR), in particular, is heavily shorted, and several authors have shared their negative views here on Seeking Alpha.
I want to call attention to a few names. First, I do follow LUFK and it might be a buy here. The stock was pounded down after the Q2 earnings report, as the company had sloppy execution yet again. Recall that last summer they were burned by the heat of the summer, which hurt their output in a Texas factory (among many other issues). I think that this is one that could do well in spite of poor management. Despite the disappointment and reduced numbers, the growth is still quite strong. For those not familiar, their pumpers are very much in demand and are leveraged to oil production. The stock rebounded late last week when Robbins & Myers (NYSE:RBN) was bought by National Oil Well (NYSE:NOV). I didn't shade this one in green because I haven't yet made up my mind, but my gut says hold the nose and buy it.
One in which I have a lot of confidence is HAYN, which I added just last week to my Top 20 Model Portfolio. I had sold it out (prematurely!) in early 2011, and have been waiting for the right time to get back in. The company makes specialty nickel-based alloys used in several growth markets. I am most interested in its exposure to aerospace and land-based natural gas turbines, where it sells into the new-build as well as maintenance/repair markets, as these are likely to provide solid growth for many years. Fortunately for debt-free HAYN, these account for almost 2/3 of sales. The recent results have been hurt by a slowdown in the lumpy chemical plants, but this area is promising too, especially if low natural gas prices continue to fuel new plant construction. The company has a relatively new CEO (2008) who is very customer-focused, but who also has a strong appreciation for the technology that has differentiated the company over the years. This one isn't widely followed, but is cheap to peers with a generous dividend to boot.
I highlighted Monotype Imaging (NASDAQ:TYPE), which I think merits enough attention that I will at least likely be adding it to my watchlist, which I restrict to 100 stocks. I am somewhat familiar with the company because one of my clients owns the stock. TYPE has rolled-up the font industry, including a recent acquisition this year, and offers reasonable growth at what looks like a very fair price. The bears on the name are focused on exposure to printer sales, but the company is developing other markets, like mobile phones and automotive displays. It has very unique technology with lots of patent protection. I like that there is very minimal capital required by the business, which generates gross margin above 80%.
As far as the other names, I don't have much to share. I know that Chicago Bridge & Iron (NYSE:CBI) was hit after it announced a recent acquisition that looked expensive to me. Team, Inc. (NASDAQ:TISI) looks interesting to me. The company does turnarounds for refineries, among many other services. Organic sales growth was 20% in the year ending in May 2012 -- very impressive. Finally, Buffalo Wild Wings (BWLD) has pulled back, but it seems expensive still at almost 10x EV/EBITDA.
I hope that you find some interesting stocks among this list of strong performers that have pulled back over the past couple of years, despite strong projected growth next year. As always, I look forward to your thoughts.
Disclosure: I have no positions in any stocks mentioned, and no plans to initiate any positions within the next 72 hours.
Additional disclosure: Long HAYN in a model managed by the author at InvestByModel.com