Intel's (NASDAQ:INTC) deal to buy 15% of ASML holding N.V., a Dutch company that makes the machines that make semiconductors and microchips, is ready to boost its future market share and future stock value. The $3.1 billion deal is designed to leverage Intel's resources by reducing the cost of developing and manufacturing the next generation of computer processors.
ASML makes lithography systems machines that etch circuitry into silicon wafers. The silicon wafers are then made into the microchips and semiconductors that are Intel's bread and butter.
Deal Could Reduce Manufacturing Costs
The important thing about this deal from a value investor's standpoint is that it is designed to help Intel reduce its manufacturing expenses in the future. ASML is developing a next generation chip manufacturing process that could reduce Intel's manufacturing costs by 30% to 40% by enabling it to etch chips onto larger silicon wafers. RBC analyst Doug Freedman told Reuters that he thinks this new process will help Intel save as much as $2 billion on manufacturing costs.
It also ensures that the next generation chip manufacturing processes that Intel will need to supply companies like Google (NASDAQ:GOOG), Samsung, and Microsoft (NASDAQ:MSFT) will be available.
This will allow Intel to remain competitive by supplying cheaper chips to smartphone and tablet manufacturers, such as Samsung, that are trying to expand their market share by producing cheaper tablets. This will enable Intel to create new processors that can expand the capability of both tablets and smartphones and control costs at the same time.
Intel's plan is to speed up the development of next generation chip making processes by about two years. Instead of accepting a slowing market that will lead to losses, Intel is attempting to drive changes.
Intel may be able to avoid the kind of losses that have afflicted some of its competitors such as Advanced Micro Devices (NASDAQ:AMD). Reuters reported that Advanced Micro Devices has warned that its second quarter revenue could fall by 11%. Advanced Micro Devices' management blamed the losses on decreased demand from Europe and China.
By forming a close alliance with a major supplier and financing the research into next generation manufacturing processes, Intel is being proactive. Its management is taking aggressive action to preserve the company's market share and share value.
Intel is Taking Some Huge Risks
The potential problem is that this strategy is extremely risky and untried. Intel is spending a lot of cash on this deal. The company is planning to give ASML $1.15 billion U.S. to finance research and development. There is no guarantee of any return.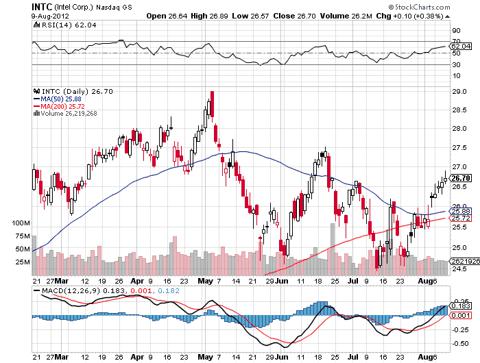 Part of the reason why this is so risky is that Intel does not get any sort of exclusive right to use this new technology, according to Reuters. ASML will be able to sell the technology to Intel's competitors, such as Applied Materials (NASDAQ:AMAT).
Intel CEO Brian Krzanich told reporters that he thinks financing improvements in lithography techniques will speed the development in his sector. That will enable Intel to develop faster and more powerful chips more quickly, and help put the new devices on the market faster.
Risk averse investors should definitely stay away from Intel. At this point, it is taking a huge risk on a dubious deal. Intel's price is already low at around $27, but it could still fall a long way. The case of Nokia (NYSE:NOK) proves that tech stocks can lose all of their value quickly because of a few missteps.
Investors could also consider an ETF that is heavy on Intel. Candidates include Powershares QQQ (NASDAQ:QQQ), currently trading around $66, and Technology Select Sector SPDR (NYSEARCA:XLK), currently trading around $30.
If you have stomach for risk in the technology sector, check out Intel. It is pursuing an interesting new business strategy that could deliver a lot of extra cash. If you don't like taking risks, stay away from Intel because it is gambling heavily on the success of another company's chip-making processes. Either way, I believe Intel will be an interesting technology play for value investors. Based on the above information, I recommend buying Intel at this time.
Disclosure: I have no positions in any stocks mentioned, and no plans to initiate any positions within the next 72 hours.