Global Market and Traditional Asset Volatility
Global financial markets have been extremely volatile ever since the U.S. housing market collapsed in 2007. Events like the Lehman bankruptcy, Fannie and Freddie bailouts, euro zone debt crisis and U.S. fiscal stalemate have shaken the global financial system time and again in the last five years - and along with that, the regular investor's faith in the markets of the First world.
With the ongoing debt crisis in the euro zone and concerns over U.S. fiscal deficits, markets are expected to remain volatile for a long time. Another investor concern is the prospect of a hard landing in China, which has generally been the engine of global economic growth of late. Adding to the uncertainty are tensions in the Middle East, and the U.S. Presidential election.
In such an environment, managing a portfolio can be difficult, to put it mildly. Yes, you can park your money in safe havens like Treasuries, German Bunds, and U.K. government bonds. But, these safe havens are right now yielding very low or even negative returns.
Gold, traditionally a safe haven asset, has behaved more like a risk asset in the last few months. The precious metal is currently well off its September 2011 high.
That brings us to equities. Despite all uncertainties, all three major indices in the U.S. are higher for the year, thanks mainly to record gains in the first quarter. However, that may change if the U.S. economy continues to see a slowdown or if lawmakers fail to reach an agreement on cutting deficit before the December deadline.
The key, therefore, to investing and managing a portfolio in volatile times is diversification, not only in terms of asset class but also in terms of geography.
Investing in emerging markets is one way of diversifying. Although emerging markets are not completely immune to events in the developed world, as seen by the slowdown in China, they are still fundamentally much stronger than the developed world.
In this article we will focus on India and investing in Indian ADRs.
The Indian Economy
Although the Indian economy has seen a sharp slowdown, it is still growing at a robust pace compared to the euro zone and U.S. Unlike China though, which has seen a slowdown due to the crisis in the euro zone, much of India's problems have been self inflicted.
Analysts following India blame political stalemate and lack of reforms as the main reasons for the slowdown. Despite these problems, India has one of the best demographics. Also, while China's growth has been led by export and investments, India's growth in recent years has been fueled by domestic spending. This is one of India's strong points compared to China.
Indian Companies
India is home to some world class companies. Investors in the U.S. are probably familiar with Information Technology giants Infosys Ltd (ADR) (INFY), and Wipro Ltd. (WIT). Tata Motors Limited (ADR) (TTM), which now owns brands such as the Jaguar and Land Rover, is another company U.S. investors should keep an eye on.
U.S. investors looking to gain exposure to the Indian financial sector can look at ICICI Bank Limited (ADR) (IBN) and HDFC Limited (ADR) (HDB), two of India's biggest banks.
Based in Bangalore, Infosys is a provider of business consulting, technology, engineering and outsourcing services. INFY, which also trades on India's National Stock Exchange (NSE), has a market capitalization of nearly $24 billion.
INFY's ADRs on the NYSE have fallen more than 18%, year-to-date. INFY's shares trading on the NSE are down more than 15%, year-to-date.
INFY's disappointing performance year-to-date highlights the fact that the company has been impacted by the global economic uncertainty. The company's financial results have been hurt by a cut in IT spending by large corporations, especially in the U.S. and Europe. In its most recently reported quarter (ended June 30, 2012), the company's revenue grew by 4.8%. INFY's results have also been hurt by exchange rate volatility. According to V. Balakrishnan, Infosys' CFO, global currency volatility continues to be a big challenge for the industry.
Despite these challenges, INFY remains a strong player in the IT industry. At the end of June 30, 2012, the company had $3.7 billion cash and cash equivalents.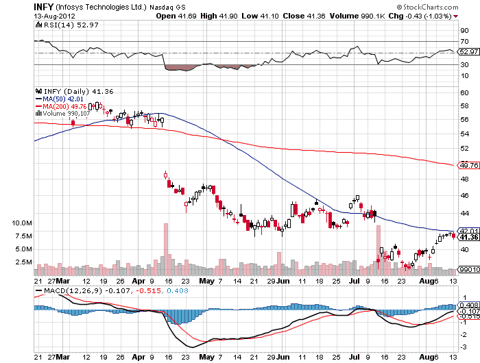 Infosys ADR Performance, Source: Stockcharts.com.
Wipro Ltd.
Also based in Bangalore, Wipro is another Indian IT giant. The company offers a range of IT services, software solutions and research and development services in the areas of hardware and software design to companies globally.
WIT's ADRs trade on the NYSE. In India, Wipro trades on both the NSE and the Bombay Stock Exchange (NYSE:BSE). WIT's ADRs are down more than 19% this year. On the NSE in India, Wipro's shares have fallen more than 10% this year. On the BSE, Wipro is down 11% for the year.
Like Infosys, Wipro has also suffered due to a cut in global IT spending. For the quarter ended June 30, 2012, WIT's total revenue rose 24% on a year-over-year basis. T K Kurien, CEO of Wipro, said that company delivered revenue in-line with guidance in a volatile environment.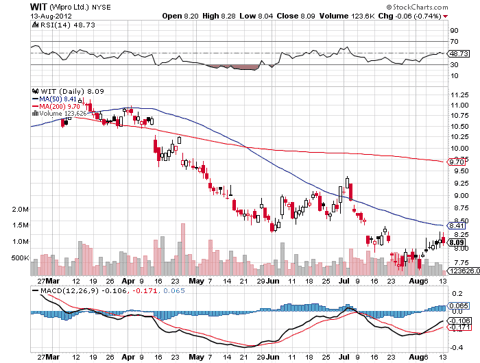 Wipro ADR Performance, Source: Stockcharts.com.
Tata Motors Limited
Mumbai-based Tata Motors Limited is an automobile company and part of Tata Group, one of India's oldest and most successful conglomerates. With the acquisition of brands such as Jaguar and Land Rover, TTM has now become a global company.
TTM's ADRs have gained more than 23% this year. TTM's shares on the NSE and BSE have gained more than 28%, year-to-date.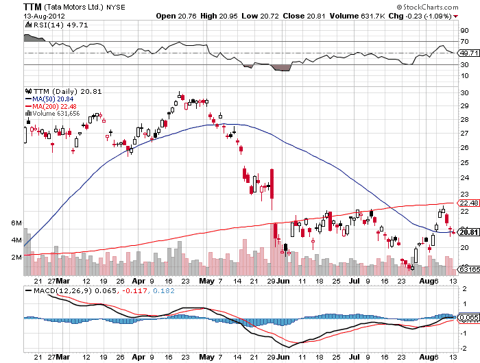 Tata Motors Limited ADR Performance, Source: Stockcharts.com.
ICICI Bank
ICICI is a diversified financial services company, offering a range of financial products and companies. It is one of the largest banks in India.
IBN ADRs are up more than 30% this year. IBN shares on the NSE are up nearly 40% this year, while on the BSE they are up more than 38%.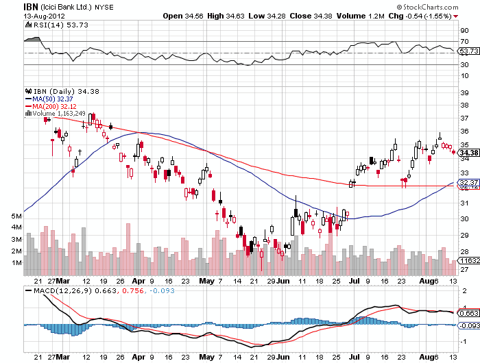 ICICI Bank Limited ADR Performance, Source: Stockcharts.com.
HDFC Bank Limited
HDFC Bank is a provider of banking and financial services in India. Along with ICICI, HDFC is one of the biggest private sector banks in India.
HDB ADRs on the NYSE have gained 35%, year-to-date. On the NSE, HDFC shares are up more than 41%, while on the BSE they are up more than 42%.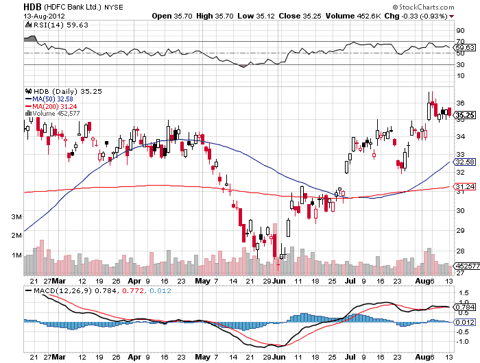 HDFC Bank Limited ADR Performance, Source: Stockcharts.com.
Investing in Indian ADRs
The companies listed above are some of the best in the world in terms of management. Also, more and more, Indian companies are now gaining global foothold through M&As. However, when investing in Indian ADRs, U.S. investors should look for companies that are more reliant on the domestic economy - note that among the 5 companies listed here, those that are more reliant on the Indian domestic economy have done very well despite global economic slowdown.
Although companies like Infosys and Wipro are fundamentally strong with a professional management, their exposure to U.S. and Europe makes them vulnerable in an environment like the one we are seeing today. Both companies, however, have been looking to diversify by offering their services in other emerging markets.
U.S. investors should also look to companies that have an excellent corporate governance record.
In the long-term, as the Indian economy grows, Indian companies will offer excellent returns.
Disclosure: I have no positions in any stocks mentioned, and no plans to initiate any positions within the next 72 hours.