The Japanese government, unlike the United States government, actually believes in constructing an energy policy to help guide energy resource investments. As Mike Tyson put it, "everybody has a plan until they get punched in the face." In 2011, Japan took a serious hit to face, and then some, caused by a terrible earthquake and subsequent nuclear radiation leaks at the Fukushima nuclear power plant. As a consequence of their horrific experience, the Japanese are re-thinking their energy policy and may in fact decide that nuclear power is no longer for them.
The Financial Times published an article August 8th titled, "Japan trade deficit leaps in first half", in which the author discusses how the country is balancing the trade-off between a growing trade deficit and the public outcry to permanently shut down their nuclear power plants. "As the government aims to map out a new energy strategy, growing numbers of demonstrators have taken part in anti-nuclear protests outside the office of prime minister Yoshihiko Noda, while a series of town-hall meetings around the country has confirmed broad support for eliminating atomic power altogether. On Monday Mr. Noda said for the first time that he would give active consideration to the 'zero-nuclear' option."
Should the "zero-nuclear" energy policy come to pass, it will likely have a meaningful impact across the energy sector as Japan will have to procure new sources of energy supplies. Liquefied natural gas ((NYSEMKT:LNG)) will likely be a meaningful component of Japan's energy mix. "Japan has long-term supply contracts with eight different countries producing liquefied natural gas." Despite these long term supply agreements, Japan has had to turn to spot contracts for additional LNG supply. "In the last fiscal year, [Japan] added 10 more on a spot basis." Several companies already held constructive views on LNG and to the extent Japan actually does structurally change their energy mix, the LNG story will likely get even better.
The following graph was provided by Golar LNG (NASDAQ:GLNG), a global LNG shipping company, at a conference. Golar noted on the graph that the number of countries importing LNG has doubled since 2005. Additionally, the graph shows the relative values of natural gas in the geographic regions - which is notably stronger in Asia than anywhere else in the world. It is difficult to imagine a strategic shift away from nuclear power in Japan as anything but supportive of LNG prices in Asia. The graph also demonstrates the tremendous global arbitrage opportunity for the companies that can successfully export natural gas from N. America to supply Asia.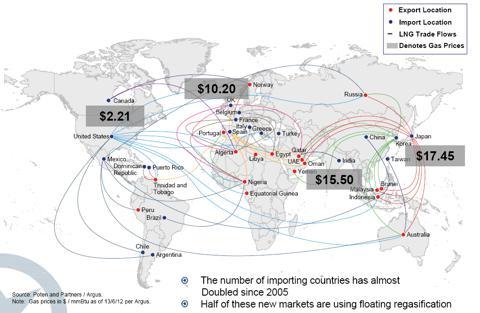 So far, Federal authorities have granted one company, Cheniere Energy (LNG), the approval necessary to build an LNG export facility which will hopefully turn out to be a very profitable undertaking for LNG shareholders. Despite regulatory approval, it is probably fair to suggest that until the first LNG cargo is successfully loaded and out to sea, political interests still represent a significant risk overhang to Cheniere. Never underestimate the government's ability to screw something up. Thus, another way-arguably safer from a risk standpoint-to play the growing LNG market is through the companies responsible for transporting LNG to end markets.
LNG shipping companies, such as Golar LNG and Teekay LNG Partners LP (NYSE:TGP), are the likely winners as the overall LNG markets grows, provided they don't overbuild shipping capacity such that freight rates collapse. Shipping will benefit as import and export facilities are constructed all over the world (regardless of the strategic direction the U.S. decides to take beyond Cheniere). LNG shipping companies, in my estimation, are a less risky way to participate in a growing market.
Disclosure: I am long GLNG, LNG.