McDonald's Corp. (NYSE:MCD) is the largest fast-food company in the world with over 33,000 restaurants in 119 countries. MCD operates in the Services Sector and Restaurants Industry.
Dividend Reliability A stock's dividend reliability is determined by its dividend payment history as well as its current financial health. Total of four points available.
The number of Consecutive Dividend Payments -10 to 25 Years = 1 Point; More than 25 Years = 2 Points
Free Cash Flow Payout Ratio - Less than 60% = 1 Point
Debt to Total Capital - Less than 45 % = 1 Point
Dividend Growth A company needs to be growing its dividend on an annual basis. The growth of its dividend should be at a respectable rate, and the free cash flow payout ratio should not be increasing over time. Total of four points available.
Number of Consecutive Dividend Increases - 10 to 25 Years = 1 Point; More than 25 Years = 2 Points
1 Year Free Cash Flow Payout Ratio vs Avg 5 Year - 1 year free cash flow ratio <= Avg 5 year = 1 Point
1 Year Dividend Growth Rate vs Avg 5 Year -1 year dividend growth rate > Avg 5 year = 1 Point
Fair Value If we're going to buy a stock, we don't want to purchase it when its overvalued. Total of 2 points available.
Current P/E vs Avg 5 Year P/E - Current P/E < Avg 5 Year P/E = 1 Point
PEG Ratio - PEG < 1.5 = 1 Point
| | | | |
| --- | --- | --- | --- |
| Factor | What we want | Actual | Points |
| Dividend Reliability | Consecutive dividend's paid > 10 years | 36 years | 2 |
| | Free Cash flow payout ratio ttm < 60% | 68% | 0 |
| | Debt to total capital ttm < 45% | 49% | 0 |
| Dividend Growth | Consecutive dividend raises > 10 years | 35 years | 2 |
| | 1 yr free cash flow payout less than or equal to Avg 5 yr cash flow payout | 68%>59% | 0 |
| | 1 yr dividend growth rate greater than or equal to Avg 5 yr dividend growth | 12%<21% | 0 |
| Fair Value | Current P/E < Avg 5 year P/E | 16.6<19.6 | 1 |
| | PEG ratio < 1.5 | 1.8 | 0 |
| | | | |
| | Total Score | | 5/10 |
Strengths - One of the best brand recognition factors in the world. Excellent locations in cities, along interstates, and at popular destinations (airports, near theme parks). Efficient operating guidelines within each restaurant. Cultural diversity in food choices based on location of restaurants. Global presence.
Weaknesses - Higher training costs due to frequent turnover of lower level employees. Quality issues can arise due to franchises being run differently. Lack of organic food choices. Domestic growth will need to come from existing restaurants due to market saturation.
Opportunities - Increased focus on healthy foods (also a threat). Continued growth in the specialty beverages (coffee, smoothies) arena. Continued expansion of business into newly developed parts of the world.
Threats - Increases in commodity prices can have a direct affect on profit margins. An increased focus on health could reduce frequency of visits. Contamination risks, including e-coli, could lead to lawsuits. Governmental regulation of fast food. Yum Brands (NYSE:YUM) and Burger King (BKW) are constantly innovating their menus in order to compete directly with MCD.
Conclusion - MCD scored 2 points in dividend reliability, 2 points in dividend growth, and 1 point in fair value for a final score of 5/10 points, which rates it as a Hold.
The recent weakness in MCD's price has peaked my interest in investing in this dividend growth monster. I have sat on the sidelines for several years hoping to get in at cheaper prices only to see the price continue to go up (along with the dividend). I would like to see the free cash flow payout ratio get back to under 60% where it has historically been, and I'd also like to see the debt-to-total capital come down some as both of these numbers are approaching "dividend income stock" levels as opposed to "dividend growth." I also cannot knock the stock for having a lower 1-year dividend growth number vs. its 5-year, when both are double-digit.
My current concern is the recent report of same-store sales being flat and declining sales across three of its regions. Also, the current drought conditions in the Midwest is increasing commodity prices. MCD stated that they secured a lot of grains and other commodities at costs before they ran up due to the drought, so this may not have much of an effect on their bottom line. Despite these issues, I find it hard not to initiate my first position in MCD. The current price dip is what dividend growth investors lay in the weeds and wait for, and this seems like a good opportunity to pounce before I miss the boat again.
Click to enlarge.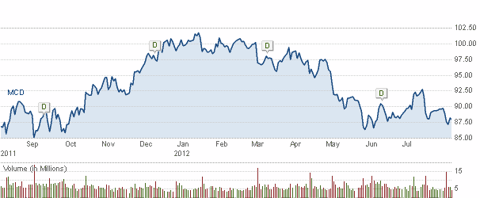 Disclosure: I have no positions in any stocks mentioned, and no plans to initiate any positions within the next 72 hours.
Disclaimer: This analysis is intended to give investors a general overview of a stock's dividend growth highlights that I feel are important. The analysis can be used to help determine whether further, deeper examination should be done. As always, investors should do their due diligence before buying a stock.