We previously published our report analyzing Sprint Nextel (S) versus Deutsche Telekom-owned (OTCQX:DTEGY) T-Mobile USA back in May. We were stunned about how Sprint and T-Mobile USA have seen a reversal of fortunes over the last 3-5 years.
Because we have a long position in Sprint and because we added to it a couple of months ago, we're glad that Sprint and T-Mobile have switched places in terms of competitive strength in the wireless industry. Previously Sprint had a tenuous hold on its distant third place ranking in postpaid customers and had to deal with the emergence of T-Mobile in addition to competitive pressures from AT&T (NYSE:T) and Verizon (NYSE:VZ). While Sprint still has to deal with the dominance of AT&T and Verizon, we can safely say that it has been able to put significant distance between it and T-Mobile recently.
There are a number of factors that we would attribute this shift in competitive strong but the primary factor we see regarding Sprint's steady forward progress and T-Mobile's steady regression is that Sprint has the Apple (NASDAQ:AAPL) iPhone and T-Mobile USA doesn't. Sprint has tremendous appreciation for Apple's cutting-edge, game changing iPhone smartphone device while T-Mobile USA has advertisements mocking Apple's iPhone as well as AT&T (the company dumb enough to offer $39B to acquire the broken-growth company known as T-Mobile USA). T-Mobile USA does host one million iPhone users on its 2G network even though it doesn't offer the device for sale.
We are disappointed that Sprint has not yet turned a profit during CEO Dan Hesse's tenure, while T-Mobile USA is still marginally profitable. We are also disappointed that T-Mobile is still generating more free cash flows than Sprint. However we can certainly justify why Sprint only had $209M in YTD 2012 FCF while T-Mobile USA had nearly three times as much ($623M).
Sprint increased its CapEx budget to invest in its Network Vision strategic reorganization in order to consolidate multiple network technologies into one new, seamless network with the goal of increasing efficiency and enhancing network coverage, call quality and data speeds for customers across the United States. As part of this strategic reorganization, Sprint has joined AT&T and Verizon in adopting the 4G-LTE wireless communications network. Sprint has rolled out the 4G-LTE service to 15 cities in the United States in July and will roll it out to four more cities in August. Major metropolitan areas that Sprint rolled out 4G-LTE service to include Kansas City (Sprint's hometown area), Atlanta, Dallas, San Antonio and Houston. We can't stress enough that Atlanta, Dallas, San Antonio and Houston are major ILEC hubs for AT&T and we are glad that Sprint is taking the fight to AT&T. T-Mobile USA won't have 4G-LTE until next year.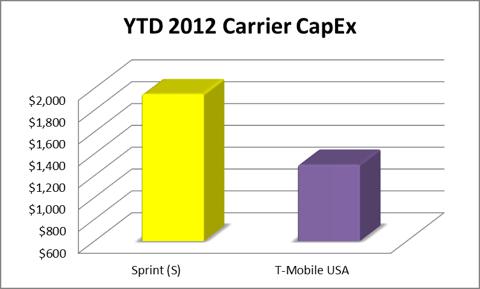 Source: Sprint and T-Mobile Q2 Earnings Releases.
In our previous report, we analyzed the significant progress that Sprint has made in improving its customer service culture operations and execution under Hesse. We pointed out how Sprint's CEO Dan Hesse had strong leadership experience at AT&T Wireless, where he helped lead its growth and enabled it to win several J.D. Power awards for service quality. Since bottoming out in Q1 2010, Sprint has enjoyed nine straight quarters of subscriber growth. Since Sprint only has 4.4M customers remaining on the Nextel iDEN network. With the Nextel iDEN network being shut down as of June 30th, 2013, Sprint will no longer have to deal with unhappy Nextel customers leaving Sprint after that date. Sprint's Q2 customer growth figures were not as good as we would have preferred; however, it was at least able to recapture 60% of the defecting Nextel post-paid customers.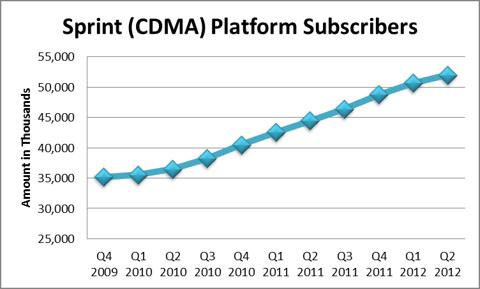 Sources: Sprint's 2011 Annual Report and 2012 Q1 10-Q Report
The Sprint CDMA platform has seen 10 straight quarters with subscriber growth, including 8 straight quarters with growth exceeding 1.3M, and it averaged over 1.9M new subscribers during this period. We're not upset that subscriber growth has been predominately low-margin prepaid and wholesale customers, because at least Sprint has solidified its leading position in the prepaid segment and emerged as a leading carrier for mobile virtual network operators. These low-margin segments have also seen the fastest growth within the wireless communications industry and we believe that trend will continue. Sprint's CDMA postpaid segment has seen subscriber growth in 10 out of the last 11 quarters, the last 9 quarters and 225K or more in the last 8 quarters.
We believe that Sprint's steady progress in customer growth is proof of its strides towards improving the customer experience, which has been recognized by major 3rd party organizations like J.D. Power and Associates, the American Customer Satisfaction Index, ATLANTIC-ACM, Frost and Sullivan and Forrester Research. We also believe that Sprint's improved customer service is why Apple allows Sprint to be the third major US carrier of the iPhone. Granted Apple insisted that Sprint commit to purchasing $15.5B worth of iPhones and a number of Sprint's bear's growled that Sprint could not meet this contract. In our most recent featured analysis of Sprint, we thought we put that concern to sleep.
We previously discussed the growth of T-Mobile USA and its $50B blockbuster acquisition by Deutsche Telekom (OTCQX:DTEGY). Despite suffering an $18B asset impairment charge in 2002 due to the implosion of the tech and telecom bubble, T-Mobile USA generated strong growth for Deutsche Telekom by growing its subscriber base from 7M in 2001 to a high of 33.8M in 2009. However, T-Mobile USA's subscriber levels have seen a small and steady decline to 33.2M as of Q2 2012. The real concern for T-Mobile USA is that it is seeing its postpaid contract customers churn out, and T-Mobile USA is lucky to replace them with low-margin prepaid customers.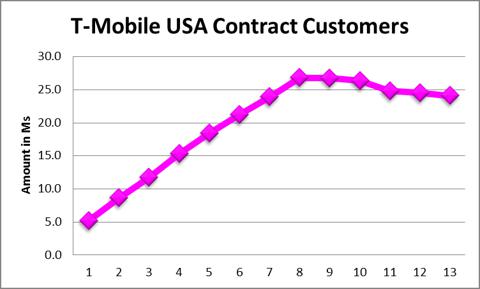 Sources: Deutsche Telekom 2001-2011 Annual Reports and T-Mobile USA Q2 Press Release.
T-Mobile USA stopped growing its customer base around the same time Sprint began to see growth in its customer base. We believe that Sprint's improvements in customer service have served to take market share away from T-Mobile USA, and because Sprint has Apple's iPhone whereas T-Mobile made sport of the iPhone, only to spend $4B to upgrade its network in order to accommodate 1 million subscribers who brought old iPhone devices onto T-Mobile's slow 2G GSM network. We think that is why even though Apple's sales of its iPhone smartphone slowed in the most recent quarter, it decided not to let T-Mobile USA join the iPhone club in the US. We think that is why Philipp Humm decided to step down as T-Mobile USA's CEO.
For customers and investors, we still believe that the best alternative to the AT&T and Verizon U.S. wireless duopoly is Sprint. We think Sprint offers stronger absolute and risk adjusted investment prospects, as well as a better customer value experience versus T-Mobile USA and its parent company Deutsche Telekom for the following 8 reasons.
Sprint offers the iPhone. T-Mobile has the iPhone only in Europe.
Sprint generates 90% of its revenues from the faster growing wireless segment. While Deutsche Telekom does not break out revenue by product, we expect it to generate a larger share of its revenue from wireline operations, which are declining.
Sprint has joined the 4G-LTE club, while T-Mobile USA won't have 4G-LTE until 2013.
T-Mobile USA's parent, Deutsche Telekom, is primarily exposed to Europe, which is in the grips of the Eurozone debt crisis. Sprint operates in the US, which is the cleanest dirty shirt amongst the world's economies.
Sprint is the only company that still offers unlimited high-speed data. Verizon and AT&T are phasing out unlimited data, and T-Mobile USA throttles data after 2GB of use.
Sprint and T-Mobile USA have essentially switched places in terms of customer satisfaction ratings. It even dropped below AT&T, a company that has historically had low customer satisfaction ratings. Despite not merging with AT&T, T-Mobile has joined AT&T at the bottom of the 2012 American Customer Satisfaction Index.
The Sprint platform (excluding Nextel) gained more total subscribers than all the other companies during the last quarter and the last 12 months. Sprint gained more subscribers than Verizon and T-Mobile International AG combined.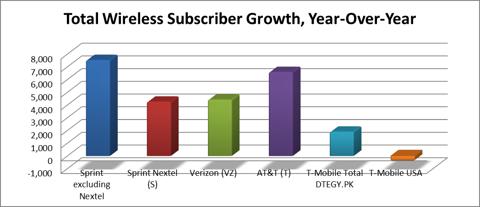 Sources: Mobile carrier Q1 earnings releases. Amounts in thousands.
Sprint only has 12 more months of suffering Nextel run-off, and improved its Nextel retail postpaid contract subscriber retention rate from 27% in H1 2011 to 39% in Q4 2011, 46% in Q1 2012 and 60% in Q2 2012.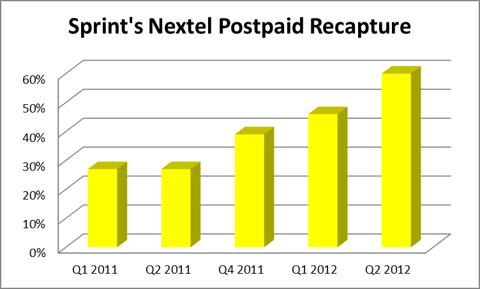 Sources: Sprint's Q1 2012 and Q2 2012 earnings releases.
Based on these 8 reasons, we not only reinforced our long position holding thesis in Sprint, but also that T-Mobile USA is the sick man of the mobile communications world. We can see how even while Sprint was in the midst of a multi-year, multi-step transition process, it was still able to outperform Deutsche Telekom by a wide margin since the end of 2008. We expect Sprint to continue to solidify its hold on 3rd place in the US mobile communications market because Sprint has the iPhone and T-Mobile doesn't.
Though we added to our long position a couple of months ago, we don't believe that Sprint is out of the woods yet. We are not foolhardy to say that Sprint is in the same league as Apple or the AT&T-Verizon duopoly, but at least it's not losing customers like T-Mobile USA is.
Disclosure: I am long S, AAPL.
Additional disclosure: Saibus Research has not received compensation directly or indirectly for expressing the recommendation in this report. Under no circumstances must this report be considered an offer to buy, sell, subscribe for or trade securities or other instruments.