In tiny Colossus Minerals (OTC:CSIMF) this June, we appear to have a perfect storm of a summer rally brewing.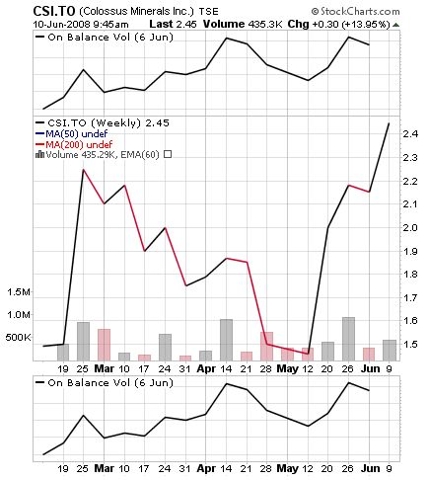 First, no one has ever heard of the stock. Second, the company is cashed up with roughly $20 mm, fresh from its IPO. Next, it just hired an IR firm to make investors aware of the stock. But most importantly, it controls up to 75 percent of what is left of the richest pit on planet earth. And that could be about $2 billion worth of gold, platinum and palladium in one tiny 100 hectare (246 acre) patch of ground in Northern Brazil called Serra Pelada.
You owe it to yourself to watch the Australian 60 Minutes video from the 80s on this one.
We also learned that some very interesting and talented mining people are joining the company in one way or another.
For example, in March the company announced that Greg Hall had joined the board as a director.
 

Greg Hall is a seasoned geologist with over 35 years of international experience. From 1988-2005, he was employed by the Placer Dome group of companies, of which the last five years he served as Chief Geologist -World Wide. Placer Dome was acquired by Barrick Gold Corporation in early 2006. Over the course of his illustrious career, Mr. Hall was directly involved in a senior capacity in the discoveries of both Barrick Gold's Granny Smith mine and Rio Tinto's Yandi iron ore mine. In addition, he took part in the discoveries of Keringal and Wallaby in Australia's Eastern Goldfields, as well as the definition of AngloGold Ashanti's Sunrise gold mine.

 
Catch that? 18 years at Placer Dome of which he spent the last five as "chief geologist-worldwide." I would say that if Greg Hall cares enough about what happens at Colossus to join the board, that is a good sign.
If you have not read the Midas Letter report on Colossus that is posted on the company website, you should.
Adding to the perfect storm is the very thin float: 43 percent of the stock is owned by institutions or management and directors. So that leaves a float of 57 percent of the 42 mm shares outstanding, or ~ 24 mm shares.
And I suspect the insiders have bought even more since that report came out in April.
Disclosure: Long CSIMF.PK.