By G C Mays
I usually report on producer and consumer price changes at the beginning of each quarter. However, this time I decided to wait an extra month because, by the middle of July, it was clear that things had changed with respect to food goods. Crop prices surged suddenly as summer drought persisted through the pollination period for corn (NYSEARCA:CORN), dousing hopes of a bumper crop after farmers planted a record 96 million acres this spring.
Between the beginning of the second quarter through July, price increases for food goods look fairly modest throughout the value chain. In fact, both intermediate and finished foods producers were able to raise prices against falling raw materials prices if viewed over the entire period.
(click images to enlarge)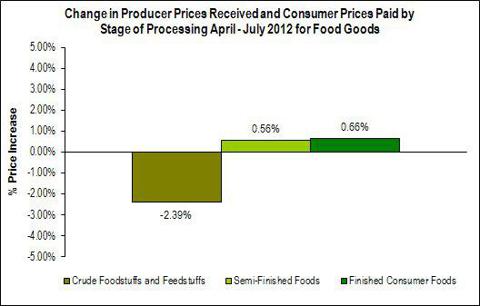 Source: The Mays Report
However, the producer price indexes for wheat (NYSEARCA:WEAT), corn and soybeans (NYSEARCA:SOYB) surged by 20.2, 20.5, and 13 percent, respectively, in July. The indexes were also up double-digits during the four months between April and July.
There was an overall 28 percent rise in the grains index during the month of July. More than 50 percent of the July surge in the intermediate foods index was due to a 3 percent rise in the price of animal feed. Raw and intermediate food goods producers passed these increases downstream as finished foods increased 0.5 percent in July, with more than half the increase attributed to gains in beef, veal and pork prices.
Food processor Archer Daniels Midland (NYSE:ADM) is down nearly 5 percent since corn prices hit $8.19 per bushel on July 20, as the prices of corn, and soybeans are key input costs in the company's oilseed and corn processing businesses.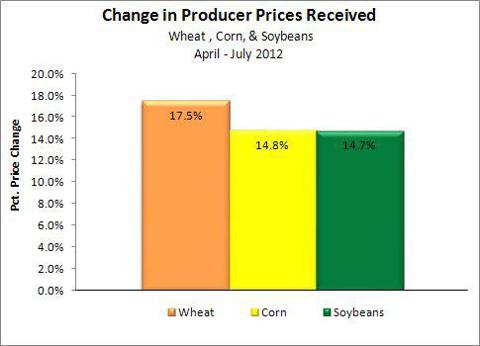 Source: The Mays Report
There is usually a fair amount of correlation between crop and fertilizer prices, as investors expect that farmers will buy more fertilizer to increase yield. However, many fertilizer companies had good earnings quarters, but reported lower volumes sold in many categories. Muted price gains and losses by comparison over the same period in part show this.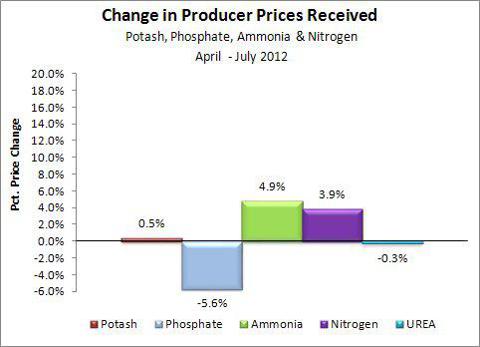 Source: The Mays Report
Potash Corp. (POT) reported that Q2 sales volumes of phosphate slumped by -7.6 percent year over year, while Mosaic (NYSE:MOS) partly offset those declines with sales gains of 1.7% in its fourth quarter, which ended May 31. CF industries (NYSE:CF) showed respective year over year sales volume declines of -19.1%, -1.3%, -4.5%, and -7.1% of its ammonia, urea, AN or ammonium nitrate, and UAN, which is a solution made of urea and ammonium nitrate.
This divergence between fertilizer and crop prices further illustrates the likelihood of a peak in the fertilizer business cycle interrupted by severe drought. The drought certainly added a degree of difficulty to an already tough scenario to analyze, given the ever-present potential for quantitative easing, which would send stock and commodity prices higher. Given that corn prices have been range bound since July 20, this could serve as a small example of what could happen to demand should the Fed decide to begin another round. In my opinion, investors not wanting to monetize profits at this time should consider protecting gains with long-dated puts or stops.
Disclosure: I have no positions in any stocks mentioned, and no plans to initiate any positions within the next 72 hours.