By many accounts, IEC Electronics (NYSEMKT:IEC) has been a U.S. manufacturing success story. It has found a niche in the printed circuit board (PCB) market and exploited it well. The nature of its product offerings (low volume, high reliability) and solid execution enables the company to enjoy much higher margins than the typical PCB manufacturer. It has also grown revenues organically at 20 percent per annum in recent years, though IEC does expect that to slow in the coming years to around 17 percent, with FY2012 coming in lower at an estimated 9-14 percent. Still, the company is taking market share in a highly fragmented and competitive industry, and should be commended for its operational execution.
Yet, one look at the stock price tells a completely different story:
2-Year Stock Chart - IEC Electronics, Inc.
(click image to enlarge)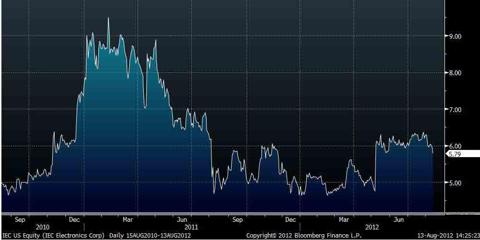 Clearly something is wrong here. Where is the appreciation from the market for the growth in revenues and EPS from $68M and $0.52, respectively, in FY2009 to an estimated $145M and $0.80 in FY2012?
I will outline three reasons why I think the Board of Directors is asleep at the wheel and has no idea how to create shareholder value for this public company.
1. Executive Compensation: incentivized to grow revenues, with no penalties for levering up the balance sheet and not increasing the stock price.
You can read along with me in IEC's revised Proxy Statement dated 12/30/2011. Named executive officers receive 1.) base salary, 2.) annual cash incentive, 3.) LT equity incentive, and 4.) other personal benefits. The named executive officers are Barry Gilbert, Chairman & CEO; Jeff Schlarbaum, President; and Don Doody (no laughs please), Vice President.
Let's first look at the annual cash incentive awards. The cash bonus had a predetermined set of performance targets and payout amounts that were weighted at 40 percent revenues, 35 percent net income before taxes, and 25 percent cash flow. The higher these numbers were in FY2011, the higher the cash bonuses the three named executive officers received.
So what would you do if you were in one of these guys' shoes? Grow revenues by any means possible, of course! IEC has made four acquisitions in recent years, the largest being Southern California Braiding Company (SCB) in December 2010. Besides little slivers of equity, these acquisitions were funded entirely with debt. As a result of the acquisition of SCB, IEC saddled its balance sheet with nearly $47M in bank debt. Oh, and by the way, IEC does not believe in holding cash on the balance sheet. It prefers to rely on one bank for 100 percent of its liquidity -- more on that later. So that maxed out debt/EBITDA of around 5x in December 2010. That isn't an insane multiple, but when your balance sheet shows zero cash, and you are a company of IEC's size, the market is rightly going to be skeptical.
Stock awards -- the dollar amount awarded is based on net income before tax. Again, how do they get a higher NIBT? Grow revenues by any means possible, with no regard for what it does to the balance sheet and shareholder value. I was happy to see that in 2011, IEC began awarding shares with a cost basis of the share price as of the date of the award (see form 4s dated 2/2/2012 here and here). Prior to that, the company was handing out shares to executive management with a ZERO cost basis (see SEC form 4s dated 11/19/2010 here and here). What does management care if the stock price goes up another 10-20 percent? It's free money to them, no matter what. Where is the alignment of interests between management and shareholders? I cannot find it.
2. Acquisition Policy
IEC has in the past, and continues to now, state that acquisitions are part of its growth strategy. After the 18+ month effort to integrate SCB into IEC, Chairman and CEO Barry Gilbert publicly stated on the last quarterly earnings call that "We believe it is time for us to continue moving forward and consider taking some larger steps expanding our business." That line sent shivers down my spine.
For a company whose stock has gone nowhere but down for nearly all of the last two years, you would think the Board and management would understand the reasons why that was the case. The market does not want to see IEC make another large acquisition. With approximately $30M in debt still to be paid off from previous acquisitions, the thought of even considering another large, debt funded acquisition is horrifying (The CEO is on the record stating the company will not use equity unless the stock price is significantly higher than the current level).
Growth financed with debt is not a positive for the stock price. It will help management reach their bonus revenue and net income targets and line their pockets, but it will not add to shareholder value anytime soon. The stock is just starting to wake up from its long coma. The businesses are performing well, and fiscal Q4 should be solid. Why not be satisfied with double digit organic growth while you pay down debt and maybe even build some cash on the balance sheet, all the while building shareholder wealth? Making another large acquisition at this point will only do the exact opposite. The market is telling IEC that right now.
3. Balance Sheet Management
How many publicly traded companies can you name that do not carry cash on their balance sheets, besides IEC of course? I'm sure you can't name one! There is a reason for that: investors do not want a company to rely on a bank for 100 percent of its liquidity, no matter how solid that company believes its relationship with its bank is. No credible investor will care that a company holds both debt and cash on its balance sheet. All they should really care about is net debt (debt minus cash). The added interest expense from holding a small amount of cash is a small price to pay for at least some degree of financial flexibility.
Based on IEC's stated policy of growth through acquisitions funded by debt, I fear this company will never show cash on its balance sheet, which will only serve to turn off nearly the entire crop of sophisticated institutional investors (institutional ownership is a low 8.2%, per Yahoo Finance). This will only lead to the stock price continuing to trade well below its potential at a single digit P/E multiple (currently ~7X).
In conclusion, I believe the above shows that IEC's Board of Directors is asleep at the wheel. They have no idea how to direct a publicly traded company. IEC is essentially run like a private company. If that were the case, then I would have no issues.
Shareholders are currently seeing no benefits from the rise in revenues and net income, while management continues to benefit and be incentivized by the "growth through any means" philosophy. I fear that only an activist investor of sufficient size will be able to make the necessary changes at the Board level, and it is not an easy proposition to find someone like that.
If IEC announces another large acquisition in the coming months, I suggest that all existing shareholders "head for the hills," as they will almost certainly be able to buy back the shares for much cheaper at a later date as IEC struggles for the next 12-18 months to integrate another company under its umbrella while being saddled with additional debt. I encourage all shareholders to speak up and be heard. This Board of Directors is failing you. It is time for a change. History is on your side, not theirs. They have no excuses.
Disclosure: I have no positions in any stocks mentioned, and no plans to initiate any positions within the next 72 hours.