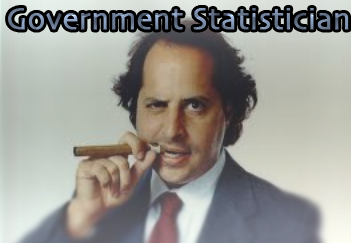 Retail Sales data was released Tuesday and on the surface the headline data was a pleasant surprise. Expectations were for a rise of .3% but the number came in at .8%. One very sour note was June data was revised to -.7% from -.5% which was a bummer. But the real story was in a new calculation method by the Census Bureau (ably assisted by the Bank of Spain…I kid you not) which changed their methodology for seasonal adjustments as noted here & here. Without this adjustment the data would have showed a -.9% decline. This follows along with all the adjustments made in the CPI (released tomorrow) since 1980 that made inflation data always look better ultimately and Employment data with birth/death adjustments.
Other data released Tuesday included the PPI (.3% vs .2% expected & prior .1%) and Business Inventories which fell (.1% vs .2% expected & prior .3%)
In the eurozone German Economic Minister Phillip Roesler stated Greece would not get a third aid package if it did not implement reforms, stating: "We don't' want the Greek government to be insolvent but we could deal with the consequences if necessary."
While German economic data was weak, it wasn't as weak as feared Tuesday causing a rally in the DAX. Nevertheless, the 17 nation EMU economy overall is moving into recession with -.2% GDP. But expectations are high that the ECB and other central banks would be injecting more liquidity and bailouts, sending most shares higher. Speaking of central banks, the Bank of Japan released minutes indicating they would be will to do more QE and the PBOC is now actively in the process of doing reverse repos providing short term lending to banks.
Earnings saw good results from Home Depot (NYSE:HD) but more disasters in social media stocks (NASDAQ:SOCL) where (NASDAQ:ZNGA), (NASDAQ:FB) and now (NASDAQ:GRPN) have lost nearly $58 billion since their share issuance. This is reminiscent of the dotcom days.
The dollar (NYSEARCA:UUP) was flat and gold (NYSEARCA:GLD) was weaker. Crude oil (NYSEARCA:USO) recovered from Monday's late selling given ongoing troubles in Norway, Iran sanctions and Middle East tensions. Commodity markets (NYSEARCA:DBC) overall were mildly higher with energy but weakness in agricultural markets. Bond markets (NYSEARCA:IEF) were weaker in advance of another round of auctions Wednesday.
U.S. stocks drifted about aimlessly and are no doubt waiting for more important data as this week unfolds. Further bulls look for a QE3 outcome from the Jackson Hole rendezvous near the end of the month.
Volume was once again very light and breadth per the WSJ was mildly negative.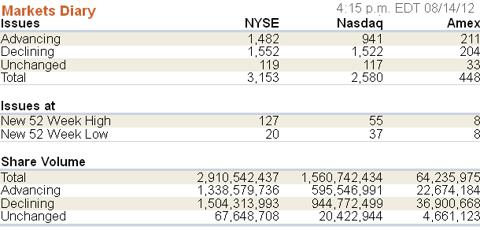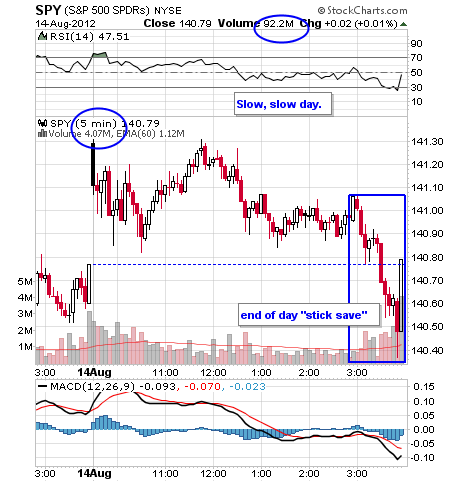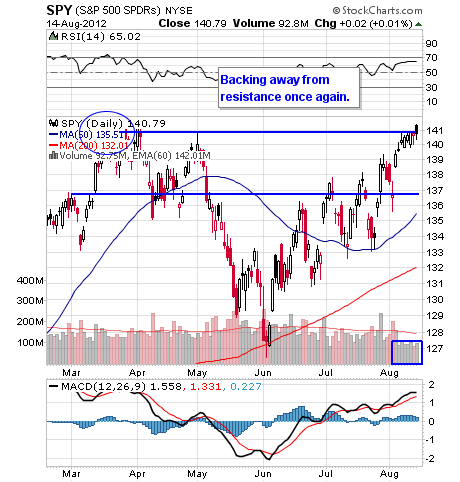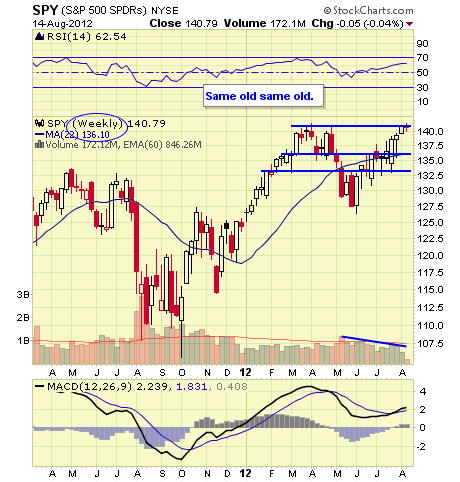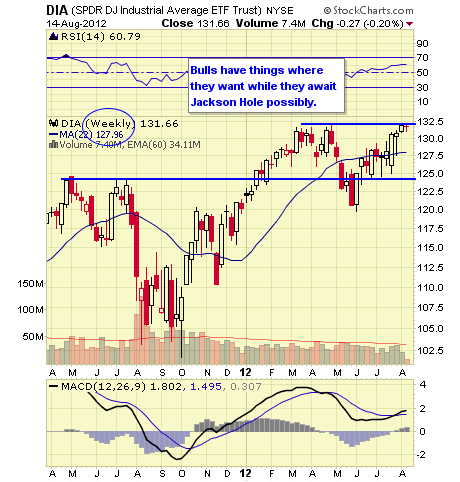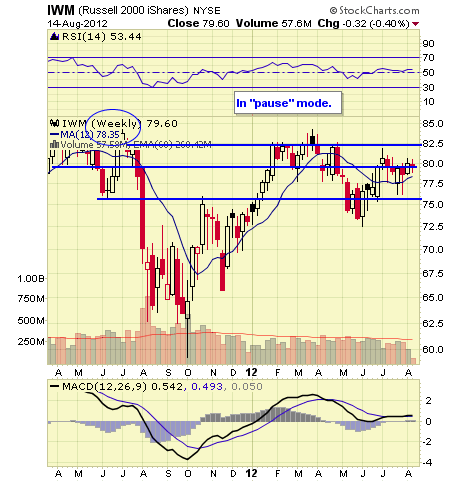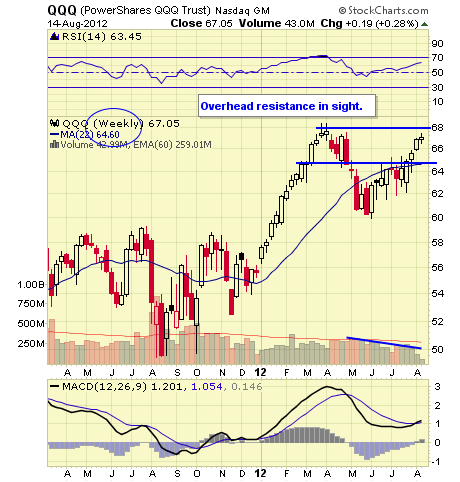 Continue to U.S. Sector, Stocks & Bond ETFs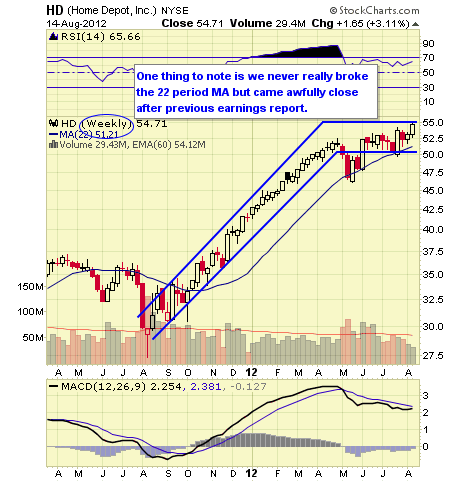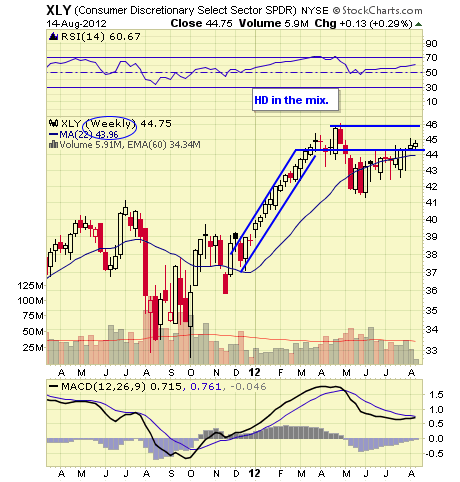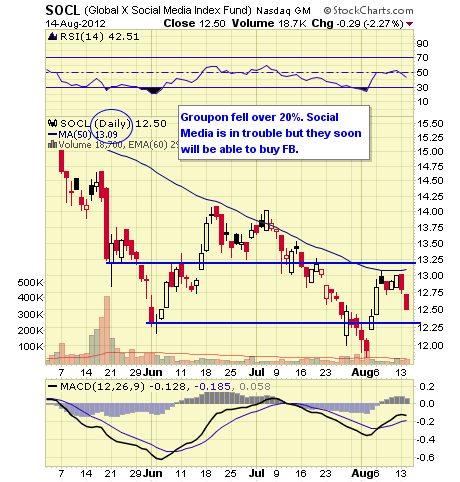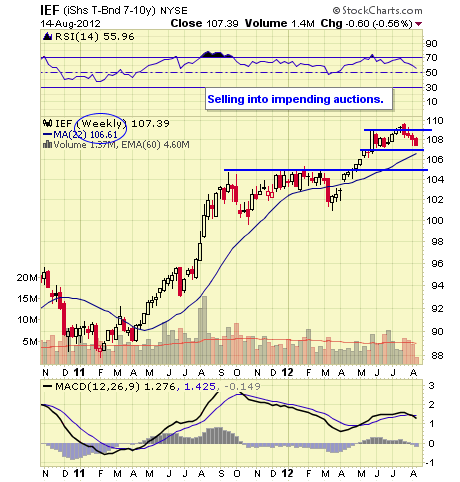 Continue to Currency & Commodity Market ETFs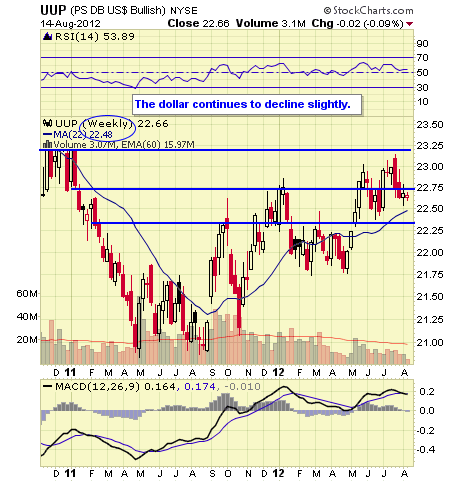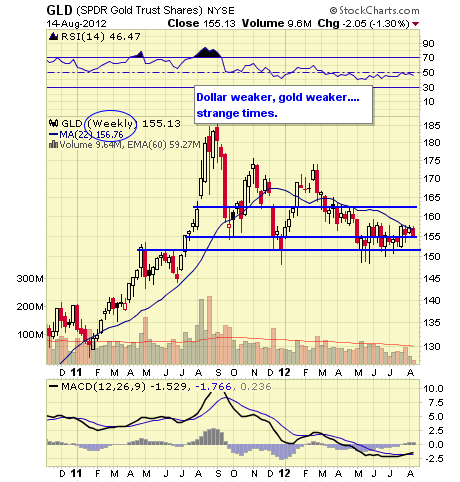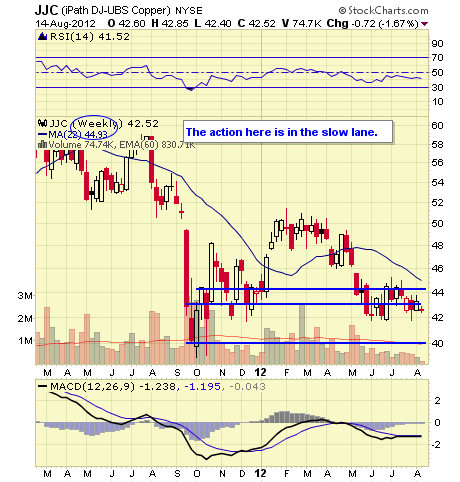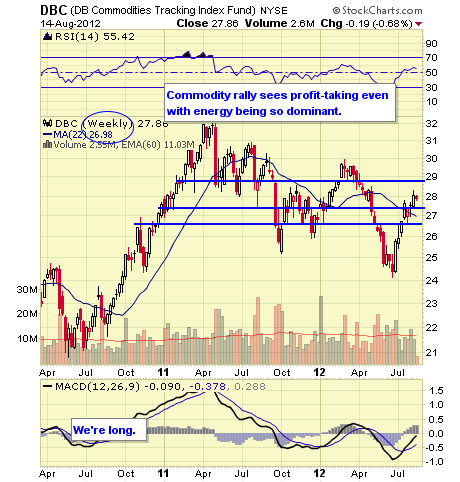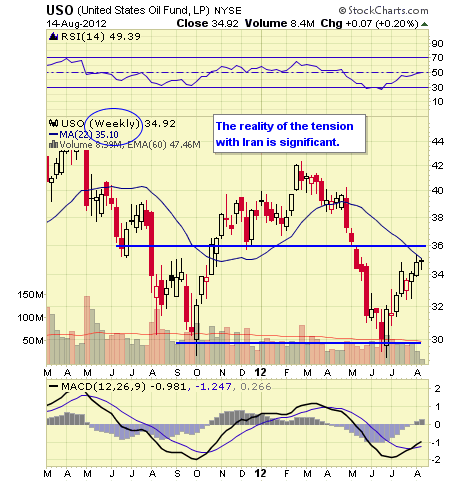 Continue to Overseas Sectors & ETFs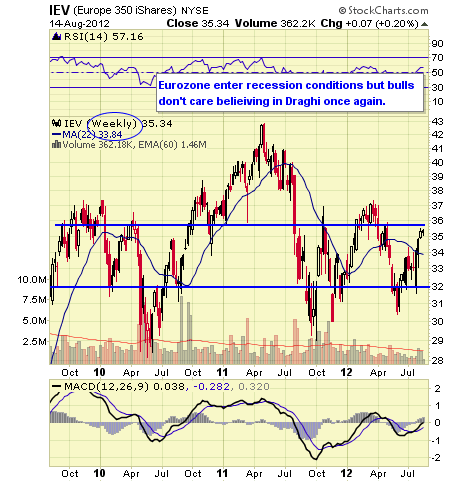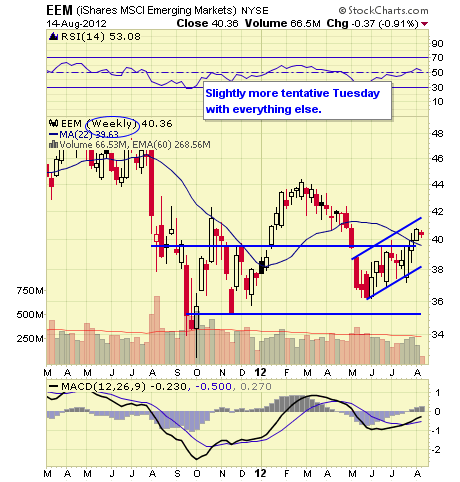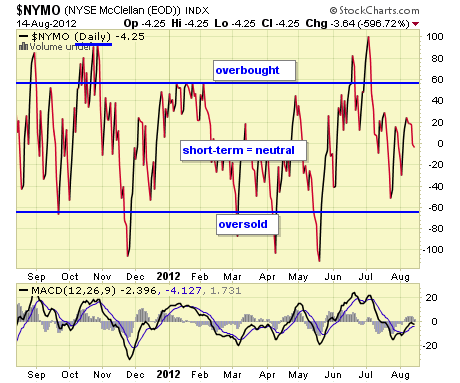 The NYMO is a market breadth indicator that is based on the difference between the number of advancing and declining issues on the NYSE. When readings are +60/-60 markets are extended short-term.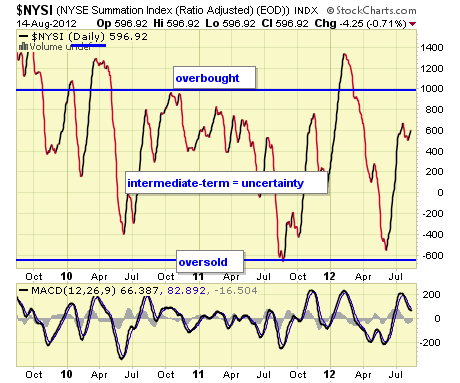 The McClellan Summation Index is a long-term version of the McClellan Oscillator. It is a market breadth indicator, and interpretation is similar to that of the McClellan Oscillator, except that it is more suited to major trends. I believe readings of +1000/-1000 reveal markets as much extended.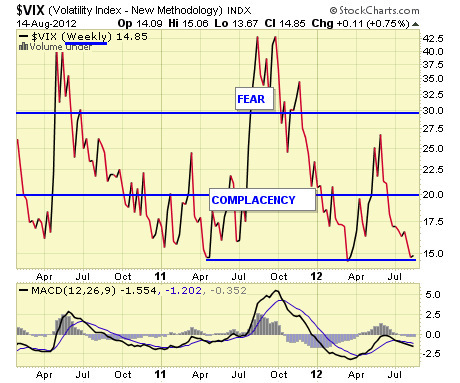 The VIX is a widely used measure of market risk and is often referred to as the "investor fear gauge". Our own interpretation is highlighted in the chart above. The VIX measures the level of put option activity over a 30-day period. Greater buying of put options (protection) causes the index to rise.
Wednesday features the CPI, Empire State Mfg Survey, Industrial Production and Housing Market Index. These should enliven things.
Disclaimer: The ETF Digest maintains active ETF trading portfolio and a wide selection of ETFs away from portfolios in an independent listing. Current "trading" positions in active portfolios if any are embedded within charts: Lazy & Hedged Lazy Portfolios maintain the follow positions: VT, MGV, BND, BSV, VGT, VWO, VNO, IAU, DJCI, DJP, VMBS, VIG, ILF, EWA, IEV, EWC, EWJ, EWG, & EWU.
The charts and comments are only the author's view of market activity and aren't recommendations to buy or sell any security. Market sectors and related ETFs are selected based on his opinion as to their importance in providing the viewer a comprehensive summary of market conditions for the featured period. Chart annotations aren't predictive of any future market action rather they only demonstrate the author's opinion as to a range of possibilities going forward. More detailed information, including actionable alerts, are available to subscribers at www.etfdigest.com.
Disclosure: I have no positions in any stocks mentioned, and no plans to initiate any positions within the next 72 hours.