The roster for recent IPO earnings this second quarter has been anything but catch and release. Investors who went short or boldly bought put options before earnings hooked a number of whales.
Since Facebook's (NASDAQ:FB) May 18th IPO, the stock has fallen by more 46%. Last month Facebook debuted its first reported revenue and earnings. After the report the stock skidded to new lows. As you can see in the chart below, Facebook stock which was previously trading at $29.49 hit a 52 week low of $19.82. Facebook stock served as a big profit maker for option strategies and short traders.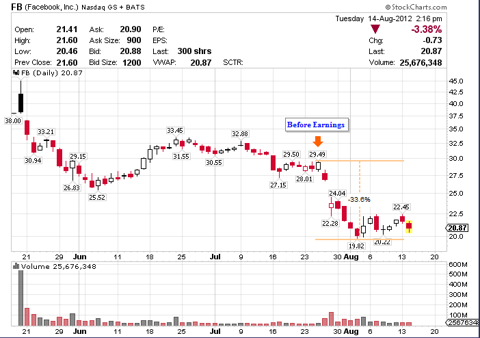 Zynga (NASDAQ:ZNGA), the social media game maker of Mafia Wars, FarmVille, Zynga Poker and other games, has plunged by 70% since it offering of 100 million shares at $10 in mid-December. In the chart below, Zynga stock traded $5.08/share before earnings and after earnings price slid to $3.00 share. Those who were bold enough to short Zynga ahead of second quarter earnings netted a 50% return, and option traders profited by 131% utilizing a strangle.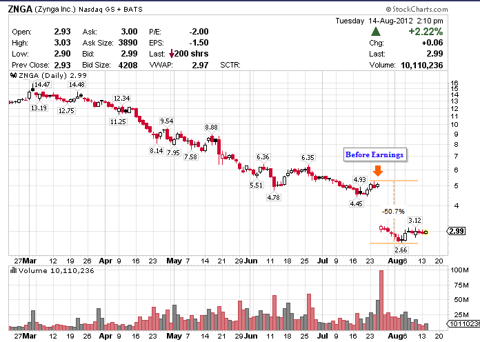 Cafe Press (NASDAQ:PRSS), an internet company that caters to consumers of personalized T-shirts, coffee mugs and other gift items, has seen a decline of more than 50% since its IPO in March of this year. Its offer price was $19 and the stock is now trading at $9 and change. Last month its earnings brought the stock to $7.68/share. Shorts were able to return nearly a 50% single day return.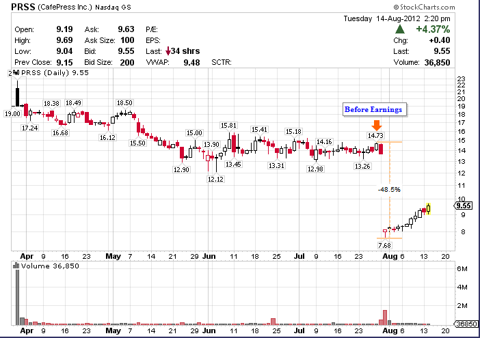 This negative trend of recent IPO social media's earnings have been especially devastating to one of the only ETFs to target the space, the Global X Social Media Index (NASDAQ:SOCL). Below is a chart for Global X ETF, shows the fund once again headed for lower prices. In less than a month shorts were able profit handsomely with a 15% return.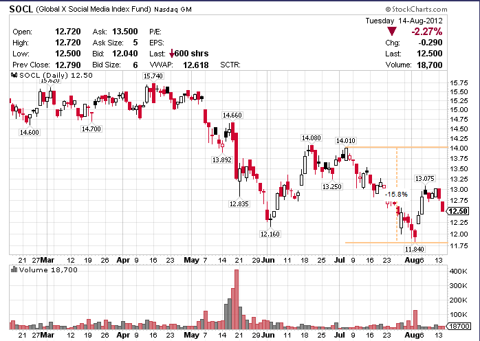 In a similar fashion, Groupon (NASDAQ:GRPN) the online coupon distributor missed its expected revenue and the stock took more than a 25% clipping. Since its $20 IPO debut last year, Groupon shares are down by more than 70%. Yesterday, Groupon stock closed at $7.55/share, and after second quarter earnings the shares traded $5.48.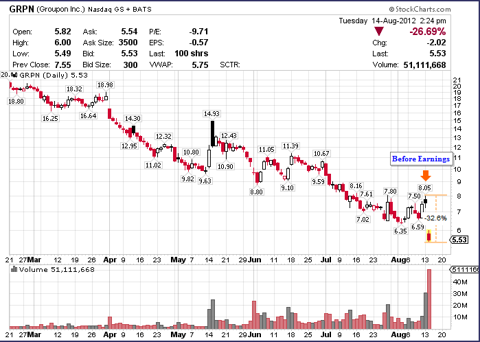 In a earnings climate like we are having, stocks can lead to incredible gains for aggressive options traders. Often times many stock options traders go fishing for the big catch, and every once in awhile they hook a trophy fish with a little minnow. One way to catch a big fish with a little minnow is to either bait the hook with a long call or a long put strategy.
In stock options, a long put position becomes more valuable as the price of the underlying stock depreciates relative to the strike price. The profit potential for trading a long put is considerable, and the original investment is the only potential loss. A long put is simply the purchase of one or more option contracts (1 contract = 100 shares).
As a trader you use a long put option when you are bearish on a particular stock or market direction. You can also use a long put strategy if you believe the markets could become volatile in the near future. Purchasing put options is a different way to profit from a bearish market without buying shares of stocks. Implementing long put strategy is not difficult at all.
To take advantage of Groupon's missed earnings I will explain how to trade a long put option strategy. Groupon Inc. -- closed at $7.55/share -- Below is a calendar of Groupon options expiring at the market close Friday, August 17, 2012.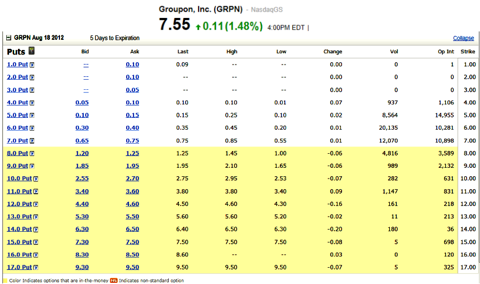 To employ the long put option strategy, a trader enters in one single put position. In this example, Groupon closed at $7.55 August 13, 2012. The previous five days Groupon shares ranged from $6.60 to $7.90. The uncertain direction of Groupon shares increased volatility and added an expense to my put contracts purchase. However, uncertainty surrounding Groupon's earnings is why I made a 100% return.
The options I traded expired at the close on Friday, August 17, 2012. Given the time frame, this is a very high risk trade with a rather substantial return. Therefore, the investment in this trade should be manageable. I spent a total of $700 to execute the long put strategy.
To employ the long put strategy using Groupon shares, I traded one option position -- one call. I purchased 10 contracts (1 contract = 100 shares) for a put position. The put was for a $7.00 strike price and costs $700 ($0.70 per option contract x 100 shares x 10 contracts).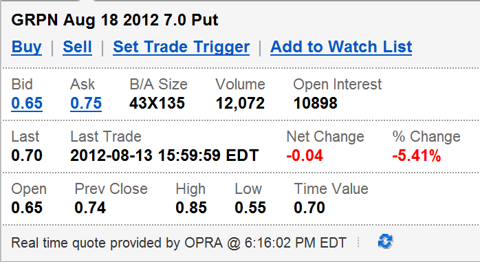 I had ten contracts for August 17, 2012 -- 7.00 put that cost $700 -- you have the right (meaning you can close the trade at anytime no matter the price of a stock) to sell 100 shares (100 shares = 1 contract) of Groupon until August 17, 2012.
With shares of Groupon decreasing below $6.00/share (August. 14, 2012), I placed a sell order for $1.40 a contract equal to $1,400 ($1.40 per option contract x 100 shares x 10 contracts) So subtracting the option value, $1,400, from the original investment, $700, I net a total gain of $700 -- a 100% Groupon Coupon Return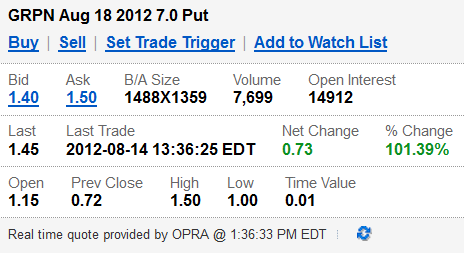 You might also want to study other option strategies before attempting to clip big discounts on stocks. Here are two other articles related to Facebook and Zynga I wrote regarding stock option strategies -- long straddle and long strangle. Both the straddle and strangle methods are more sophisticated, but less risky.
Disclosure: I have no positions in any stocks mentioned, and no plans to initiate any positions within the next 72 hours.