Visa (NYSE:V) and Mastercard (NYSE:MA) have been some of the strongest performers on the market since January 2011, both approximately doubling their value since then. They have both continued to increase earnings per share at a strong rate, but have they outgrown their earnings to the point where they have been already priced towards their future earnings? After some research, I tend to believe so. Below is a chart of PE ratios for Visa, Mastercard, American Express (NYSE:AXP) and Discover Financial Services (NYSE:DFS) over the past 3 years. You may want to ignore Visa's last quarter where they reported a litigation reserve, which drove earnings down for the quarter. Visa was sitting with a PE of about 20 before last quarter.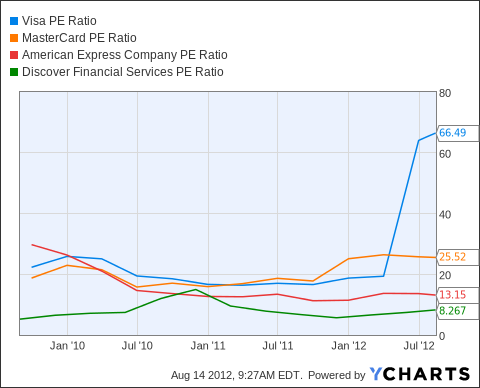 V PE Ratio data by YCharts
American Express and Discover boast much stronger PE ratios at the current time. If we look at earnings growth and forward PE, Visa and Mastercard close the gap some, but not entirely.
| | | | | |
| --- | --- | --- | --- | --- |
| Ticker | 2012 EPS | 2013 EPS | EPS % change | Forward PE |
| V | $6.15 | $7.17 | 16.58% | 17.95 |
| MA | $21.85 | $25.69 | 17.57% | 16.61 |
| AXP | $4.40 | $4.75 | 7.95% | 11.88 |
| DFS | $4.20 | $4.01 | -4.52% | 9.20 |
The real clunker here looks like Discover, as they actually project decreased earnings for 2013. However, their forward PE is still the strongest, whereas Visa and Mastercard have strong EPS growth, but a forward PE that is still above the average of the S&P 500, which is about 13.8 currently.
So Visa and Mastercard earnings per share have been growing at an astronomical rate right? Here is a chart showing EPS growth (by percentage) from January 2009 until the second quarter of 2012.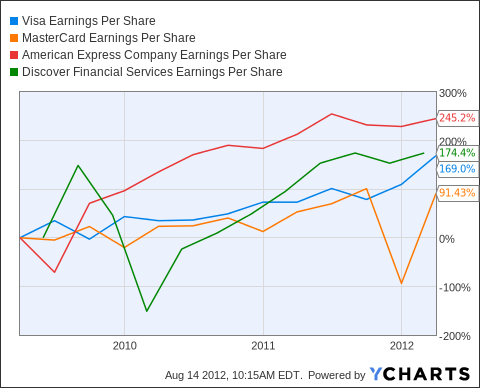 V Earnings Per Share data by YCharts
Surprise! Both American Express and Discover have outgrown Visa and Mastercard in earnings since 2009.
The last graph I want to present is price change over the last 3 years.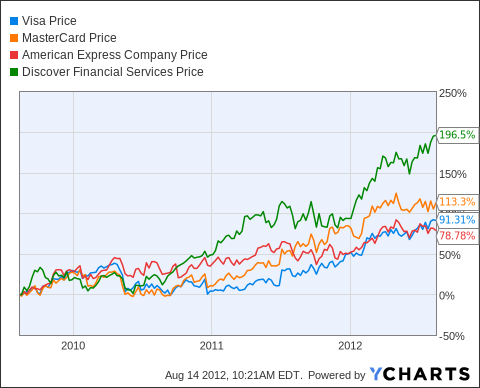 V data by YCharts
What is interesting to see here is that Discover has taken off to nearly a 200% gain, as they were hurt the most by the great recession dip in 2009. The other three companies have done well, with American Express lagging Visa and Mastercard.
Conclusion: I think the best chance in stock appreciation from these 4 stocks is in American Express. I believe the valuation for Visa and Mastercard is too high currently, and the growth of these stocks will slow down or stop until earnings catch up to place them more in line with the S&P average. Discover appears to be a strong value, but it's hard to love a company that isn't growing with all of its competitors growing.
Disclosure: I have no positions in any stocks mentioned, and no plans to initiate any positions within the next 72 hours.