Analyzing bank stocks must have been a fairly dull task a year or so ago. All the big Canadian banks looked like good long- and short-term bets, and investors could more or less take their pick. But massive writedowns and potential economic woes have changed the market considerably, and picking bank shares has become a far more interesting game.
Take for instance a couple of notes from Dundee Securities analyst John Aiken following the big banks' recent second quarter earnings season: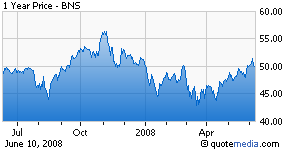 Bank of Nova Scotia (NYSE:BNS), which has a much-praised overseas expansion strategy and which has avoided the worst of the financial sector turmoil, earns itself  "a tough ratings change" from Mr. Aiken.
In a note Mr. Aiken said:
Scotiabank has been well rewarded for its second quarter, generating the greatest return (up 6%) since the start of reporting season. However, as a result of this strong run, we believe that its valuation has gotten ahead of itself and no longer reflects the potential near term risks it faces in its international operations.
 Dundee rates Scotiabank's stock a "sell."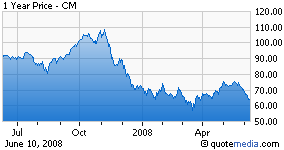 On the other hand, Canadian Imperial Bank of Commerce (NYSE:CM) has been through a much rougher patch and there are still question marks about the bank's ability to come out fighting. But these problems are more than priced in to CIBC's stock which has been "sufficiently punished," said Dundee's Mr. Aiken.
He added:
The market recognized the weakness in CIBC's core earnings and has pushed its valuation down over 7% since the bank reported is second quarter earnings.
It's difficult to see how CIBC can match the revenue growth of its peers, and there's still the possibility further writedowns — up to C$3.6-billion more — that could force the bank to raise equity, as it did in January, and dilute existing shareholders.
The Dundee analyst expects more upside in some other banks, but nevertheless upgraded CIBC from "sell" to "neutral."