MarkWest Energy Partners LP (NYSE:MWE), which pays a dividend of 6.34%, engages in the gathering, processing, and transportation of natural gas, NGLs, and crude oil. It is also involved in the fractionation, storage, and marketing of NGLs. I may have left out items. MWE's net operating margin is approximately 39% fee-based. This is relatively immune to commodity price changes. However, the remainder of the business is exposed to varying degrees to commodity prices. In 2012 approximately 65% of commodity exposure is hedged. Currently for FY2013 only about 55% is hedged. That percentage goes down to less than 30% for FY2014. This makes the outlook for MWE worrisome in the near future. There may be no near-term chance to acquire more hedges at relatively high prices for commodities.
The above worries are already starting to be seen in the company's results. MWE reported adjusted EBITDA for June 30, 2012, of $130.5 million versus the year-ago Q2 result of $120.0 million. This doesn't sound too bad. However, MWE generated distributable cash flow (DCF) of $91.2 million for Q2 2012 versus $109.2 million for Q1 2012. This provided 1.03x distribution coverage. This was down considerably from the 1.35x coverage for the Q1 2012. The exposure to commodity price declines accounted for much of the decline either directly or indirectly. The Northeast segment's operating profit of $24.2 million was down 22.1% year over year. This was due to reduced NGLs fractionated and a dip in crude oil transported. The Southwest segment's operating income was down 13.8% year over year due to lower throughput. The Gulf Coast segment's operating income was down 30.4% year over year due to decreased NGLs sales volumes coupled with higher expenses. The Liberty segment by contrast more than doubled its operating income in partial compensation for the other segments. It further helped that operating expenses for Q2 decreased 30% year over year to $187.2 million.
With the above changes in mind, it is appropriate to look at the natural gas and NGLs price movements. The EIA chart below shows the historical and near-term projected natural gas prices.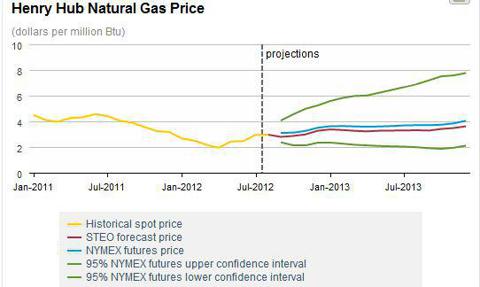 The historical prices show the price bottomed in April. The projections show a slow return to higher prices over the next couple of years. Many think this will be largely dependent on the winter weather this year. If you want prices to go up, the early projections for the upcoming winter weather are for an el Niño year -- colder than normal U.S. weather. This should help natural gas prices rise. It should help NGLs prices too. Some people in rural areas use propane for heating, etc. Plus a rebound in natural gas prices will tend to raise NGLs prices at the same time.
In addition to this NGLs are being used more often to produce ethylene, propylene, styrene, etc. These had formerly been produced from naphtha (an oil derivative). They can be produced for roughly half the price or less from much cheaper U.S. ethane and other NGLs. Some existing refineries have already been converted to be able to use ethane as a raw stock material for ethylene manufacture. Other refineries are in the process of converting to NGLs use as input stocks. Exxon Mobil (NYSE:XOM), Chevron Phillips Chemical Co., Dow Chemical (NYSE:DOW), and Shell (NYSE:RDS.A) have big new refineries planned to produce polyethylene, etc. This is by no means a complete list. The point is that they will provide increased demand for NGLs in the near future. Some might suggest that they will soon run out of customers. However, they will first replace all U.S. ethylene, etc. manufacture from naphtha with NGLs raw stock-based manufacture. Along the way companies will begin to ship more of this NGLs-based manufacture of olefins, etc. to Europe and other destinations that do not have cheap NGLs to manufacture from. The far cheaper raw materials costs will give the refining/manufacturing companies a huge price advantage over most of their competitors around the world. They should have no trouble selling huge amounts. This means that U.S. NGLs prices should eventually rebound. This recovery is also in part dependent on pipelines being built such as the ATEX Express from the Marcellus to the Gulf Coast. This is being built by Enterprise Products Partners (NYSE:EPD) and its partners: Enbridge (NYSE:ENB), Anadarko (NYSE:APC) and DCP Midstream Partners (DPM). The pipeline is schedule to go online in Q1 of 2014.
The mundi index chart below shows that propane prices have already started to rebound.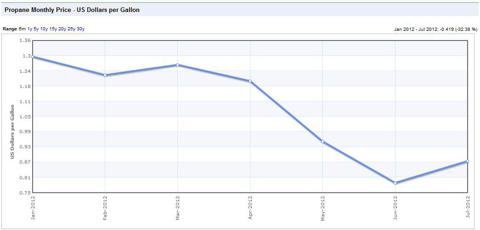 The current propane cash price is $0.9485 per gallon. This is far down from the $1.20 price per gallon at the beginning of April 2012. However, it is far higher than the beginning of June low of approximately $0.70 per gallon. There is every reason to believe that this price recovery will continue throughout 2012 and beyond.
On top of all of this MWE has continued to expand its business through both external purchases and internal organic growth projects. This has meant the issuance of both new stock and new debt instruments. I won't go into these here, except to say that the offerings have been well received. The latest stock offering may have had some impact on the recent fall in the stock price. When the underwriters priced the 6 - 6.9 million new common units at $50.72, the price fell on Tuesday August 14, 2012 to $50.47 -- seemingly as a direct result. This may present a buying opportunity. At the least it probably presents a chance to start averaging in to one of the historically great MLP performers. If you want to read about all or at least many of MWE's new projects and acquisitions, you can do so by following this link.
The two year chart of MWE lends some technical direction to this trade.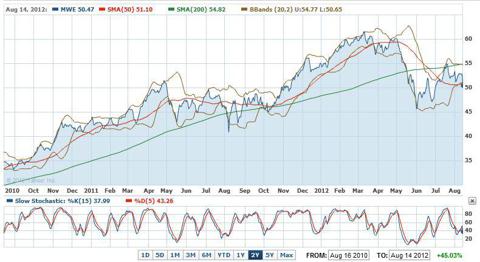 The slow stochastic indicates that MWE is near oversold levels. In the main chart the price line is at the lower Bollinger Band (over sold). The 50-day SMA has moved below the 200-day SMA, but it seems to be turning back upward. The 200-day is still moving strongly upward. Overall this historically strong performer still looks strong. It pays a great 6.34% dividend after the recent stock price fall. It trades at a PE of 19.22. This may seem high to some, but it is historically very reasonable for high growth MWE, which has a next five years EPS growth per annum estimate of 17.13%. You get the dividend on top of this growth. Long term this looks like it may well be a great time to buy MWE. Given the weak natural gas and NGLs prices currently, you may wish to average in. MWE could go lower, but it should perform well longer term. It has a 13% CAGR on its distributions since its IPO. It has a stock price appreciation of 349% since its IPO in May 2002. The S&P 500 has appreciated less than 50% over that period.
MWE has performed badly in recessions. If you have a strong sense that the U.S. is heading into a near-term recession, you may wish to hold off buying MWE. If you think long term, you may want to buy it irrespective of your recession worry. The 6.34% dividend is a good reason to buy and hold this strong grower. Over the long term it should perform much better than bonds. It does have an average analysts' recommendation of 1.6 (a buy) and a four start CAPS rating.
Note: Some of the fundamental fiscal data above are from Yahoo Finance.
Disclosure: I have no positions in any stocks mentioned, but may initiate a long position in MWE over the next 72 hours.