I have long considered Diana Shipping (NYSE:DSX) to be the strongest play in the volatile industry of dry bulk shipping. Until recently, Diana Shipping traded at a valuation premium to weaker peers, but with continued global economic weakness, especially in the high-profile Eurozone, DSX stock has dropped 29% in the past 6 months. During the past 6 months, Diana Shipping has continued to strengthen their balance sheets through a net addition of $34.8M cash ($0.43/sh) while also expanding the fleet by four vessels.
Disconnect in the Market?
The Diana Shipping on the market today, with 31 deliverable vessels and $5.55/sh in cash is in the strongest financial position that the company has ever witnessed, yet DSX is also trading near an all-time low. Diana Shipping traditionally has chartered ships for long-term contracts, and many of these contracts are due to expire. Analysts and traders are projecting an abysmal 2013 with an even worse 2014.
Chartering Issues
Expectations is the name of the game, and DSX is projected to have an abysmal 2013 as no less than 14 vessels (48% of floating fleet) come off charters. (Chart from Diana Shipping website)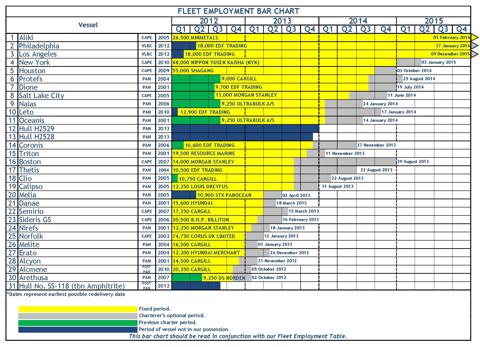 The negative impact of these charter expirations will be massive if current spot rate weakness holds up. Of the 14 expiring charters, all 14 will likely re-charter for less than the carrying rate, and 10 vessels currently generate a massive premium. Case in point is "Norfolk - #25" which is earning $74,750 per day until January 2013. If January rates are similar to those in July, the Norfolk will likely earn $12-$15k per day on its new charter. This vessel alone corresponds to a revenue drop of $22.36M on an annual basis. The Norfolk is an extreme example, but cumulatively, DSX will likely lose close to $60M in annual-run revenues by the end of 2013. With a current profit-run rate of $148M, this figure could dissolve to close to $80M. If rates continue to decrease throughout 2013, this profit figure could potentially approach $0 by mid-2014 if no recovery occurs.
Supply/Demand Fundamentals
Ship owners went on a shopping bonanza in 2007-2009 in response to easy credit and high spot rates. Many of these purchases hit the markets in 2009-2011, but 2012 projected deliveries still total nearly 140M dwt, with 60M dwt scheduled for 2013. The only bright side is that scrapping is near an all-time high. If scrapping reaches 35M dwt in 2012 (previous record was 23M dwt in 2011), this still will only offset 25% of new fleet growth.
Genco's (NYSE:GNK) recent 2Q-12 presentation highlights the good news that 90% of Chinese shipyards have not received a single newbuilding order in 2012, while 25% have not received orders since 2009. The Chinese government has attempted to keep their shipyards busy by promising new credit, but these attempts appear to have failed, at least in the dry bulk sector.
Based on current projections, it appears that rates will continue to drop into 2013, which will result in several bankruptcies and a further decrease in secondhand vessel values. Rates will likely not begin to gain positive traction until late 2013, and will not be "positive" by historical standards until well into 2014.
The Future is Bleak…and this is a Good Thing?!
Diana Shipping, above all other shipping companies, stands to gain the most from a rough 2012 and tumultuous 2013. Weak companies such as Eagle Bulk (NASDAQ:EGLE) and Excel Maritime (NYSE:EXM), along with countless private companies are close to bankruptcy. As weak companies go bankrupt, assets will likely be sold by bond-holding banks in fire sale fashion.
As an example of rates to come, Diana recently picked up a brand new (August 2012 deliverable) vessel for $25M. Similar vessels sold for over 3x this amount during the shipping boom. Diana will likely be able to purchase 5 to 10 year old Capesize vessels in the range of $20-$25M if no charters are attached. With $451M in cash, assuming a $100M current buffer and conservative debt financing of 50%, DSX could hypothetically purchase 31 Capesize vessels (5.6M dwt) at midpoint ranges. This represents a potential 1.5-yr fleet growth of up to 180% in dwt and 100% in total vessels.
2014+ with Nearly 3X the Fleet
If Diana Shipping reaches 2014 under the aforementioned scenario and rates begin to rise, DSX could easily turn annual operating cash flows of $320-$400M ($4-$5/sh). With a full fleet of 60+ vessels, Diana would likely begin to amortize debt and pay off dividends instead of hoarding cash. Total debt would be approximately $800M against almost $200M in cash (projecting $100M+ of OCF over the next 6 quarters). Debt finance costs would run close to $50M and with aggressive annual amortization of $80M, at least $190M would be available for a potential dividend ($2.35/sh).
Investment Thesis?
I believe that Diana Shipping presents an unprecedented investment opportunity in the dry bulk shipping sector. The disaster scenario that the market is pricing-in would greatly benefit DSX in the long-term. Diana Shipping has one of the most conservative management teams in the industry, and they have correctly managed every step of the downturn thus far. If there's one company to trust for the long-term in this industry, it is Diana Shipping.