As the years go by, we see technology change right in front of our eyes. Who would have thought about a laptop 50 years ago, or an iPhone or iPad just 20 years ago? Probably not too many people. As technology changes, we must constantly adjust. Well, the same is true for your portfolio, it must adjust over time.
Nowhere is that more evident than, you guessed it, the technology sector. There comes a time where growth slows and investors are looking for something else. In most cases, a dividend appears. In the late 1990s, we saw Intel (NASDAQ:INTC) and Hewlett Packard (NYSE:HPQ) start paying a dividend. Microsoft (NASDAQ:MSFT) started its current quarterly dividend nearly a decade ago. Just in the past few years, tech giants Cisco (NASDAQ:CSCO) and Oracle (NYSE:ORCL) even started returning some money to shareholders. This year, Apple (NASDAQ:AAPL) announced it would start paying a dividend again, and yes, it used to pay one.
So the latest name to join the party is Dell (NASDAQ:DELL). In June, the company announced it would start paying a dividend in the third quarter. This move is finally here for shareholders, who have seen shares of this company only go lower and lower over time. Today, I'll examine the new Dell dividend and explain why this new investment strategy for investors might actually work for this name.
Lackluster Performance:
Dell investors have not been excited about this stock in a long time, as the following table shows (all performance below is adjusted for splits and dividends).
| | | | | | | | |
| --- | --- | --- | --- | --- | --- | --- | --- |
| Change | DELL | AAPL | HPQ | ORCL | CSCO | MSFT | INTC |
| -month6 | -%32 | %25 | -%33 | %11 | -%14 | %0 | %0 |
| -year1 | -%18 | %68 | -%39 | %15 | %9 | %23 | %33 |
| -year3 | -%14 | %280 | -%54 | %46 | -%18 | %36 | %55 |
| -year5 | -%54 | %411 | -%57 | %67 | -%42 | %18 | %30 |
| -year10 | -%55 | %8267 | %49 | %221 | %22 | %58 | %79 |
There is no one time period in which Dell shares are up. In recent periods, Dell has challenged HP for the worst performance. Over the past decade, Dell is not only the only name that is not up, but it also is down more than 50%. Investors are looking for hope, and this company has not provided it lately.
Looking for growth?
Investors in Dell don't see much promise when it comes to the business front at the moment either. Current estimates call for Dell's revenues to decline by 3.6% this fiscal year (ending in January). Despite analysts calling for a 1.4% rise in 2013 revenues, the 2013 expected figure is just $60.65 billion, down from the $62.07 billion Dell saw in 2011. Now, I'm not looking for Dell to grow revenues as fast as Apple right now, in the 20% to 50% range, but at least some growth would be positive. Only HP is expected to also show a decline in revenues this year. While Microsoft, Intel, and the others aren't growing fast, they at least are giving investors growth somewhere between 3% and 10%. That's something.
On the earnings per share front, Dell posted a profit of $2.13 in their previous fiscal year. This year, analysts are looking for a profit of just $1.92. A slight rebound next year should get earnings back over $2, but you're still looking at a 6% decline over two years. That doesn't give you a positive feeling.
Share buybacks not working?
Dell has not reported their latest quarter yet, but let's return to last quarter's 10-Q filing. Dell stated that they "repurchased approximately 17 million shares of common stock for $300 million" during the quarter. At 17 million shares, that equals an average price of $17.65. But Dell's average closing price for the quarter was just $17.03. Now, shares are barely holding onto the $12 level.
Dell may be buying back shares, but they are doing so at elevated levels. Dell had approximately $5.7 billion remaining on their share repurchase plan, and they need to do a better job of buying shares. We've seen how Cisco shareholders have been upset with that company's buyback plan, which has failed to inspire many. Dell is close to that path, and if they continue to spend too much on shares, it will make shareholders angry going forward. Also, it won't provide as much help to future earnings per share.
The Dividend - A ray of hope?
So with all of the negativity, it's time to look to the future. Dell announced that it would be starting its dividend this quarter. They expect the initial dividend to be 8 cents per quarter, or $0.32 per share. Based on Tuesday's close, that would be a yield of 2.63%. The chart below that I've put together shows where that would stand versus the other names I've discussed.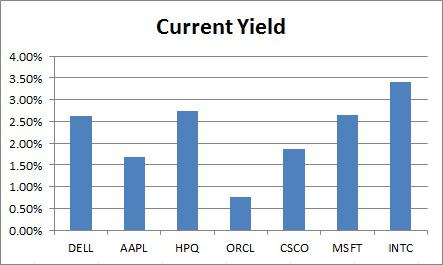 As you can see, Dell's dividend would actually be quite nice. It is just below the current yield of both Microsoft and HPQ, two names that have been paying dividends for quite some time. Apple, which is also starting a new dividend this quarter, would have an annual yield one full percentage point below Dell. If shares stay stagnant, or Dell raises the dividend, you could see this name yielding 3% soon. That's not too bad of a yield for a technology giant.
Conclusion - A new day is here:
For Dell investors, we've now entered a new stage in this company's history. Long gone are the days where investors looked for strong revenue and earnings growth. In fact, this year won't show any growth at all. Dell has underperformed several of its peers and the markets for some time now, and investors are looking for that to change.
The new dividend does bring some hope. Dell will now be returning more to its shareholders, in addition to buying back shares. A 2.6% plus yield is rather nice for a technology giant, especially for a starting dividend. Other names in this space have taken 10-15 years to get their dividend yield that high. Will the dividend turn things around? Only time will tell. But for frustrated Dell shareholders, there is a new investment strategy these days, a dividend one.
Disclosure: I have no positions in any stocks mentioned, and no plans to initiate any positions within the next 72 hours.