GNC (NYSE:GNC) is the market leader in the fragmented nutritional supplement market. GNC has outperformed quite well recently rising almost 60% over the past year due strong top line growth and improving margins. I believe that GNC is well positioned to continue outperforming the market due to forces and initiatives that will allow them to sustain top line growth, improve all of their margins, and generate increased cash flows.
A great starting point when examining growth opportunities is examining the legitimacy of the growth opportunities stated by the company. It appears the company is focusing on same store sales growth (SSSG), opening of new stores, increased online sales, international expansion, and a shift to higher margin products.
SSSG can be driven by current customers spending more than they do or gaining more customers. GNC has experienced high SSSG (10+%) over the past 3 quarters, which is higher than historical SSSG. Although it may not be able to continue these high figures, GNC does not have to in order to be successful; yet current market forces may allow them to operate at higher SSSG figures than they historically have. GNC has had a strong marketing campaign to establish strength in sports nutrition, which has been the fastest growing (20%/year) supplements market. Additionally, GNC's advertising campaign gives the impression of favorable prices. In reality, Vitamin Shoppe (NYSE:VSI) offers lower prices, but GNC's campaign creates the impression of value.
Vitamin Shoppe also has better customer service, as voiced by many individual polls online. However, overall service includes convenience, as detailed in this report. By pursuing a policy of a larger number of smaller stores, GNC is more convenient for a majority of potential new customers and current customers, with 5,988 stores compared with Vitamin Shoppe's, 543 stores. GNC also attracts customers through exclusive deals with supplement producers. GNC has been able to gain exclusive access to certain products, which is extremely important in an industry, where consumer tastes can change rapidly.
GNC's customer base is generally young, and becoming younger with 25% of gold card sales generated by those between 19 and 29 compared with 18% in 2006. They are also well educated, relatively affluent, and exercise consistently. While younger consumers can often be concerned with price, this is mitigated by their relative wealth. And as this group matures and makes more money, they will spend more on fitness products. The fact that their customer base is already relatively educated reduces the need for Vitamin Shoppe's knowledgeable staff. Finally, GNC's use of employees on sales commission as opposed to Vitamin Shoppe's choice of salaried employees, will allow GNC to consistently sell more expensive and high margin products.
Same store sales growth will also be fueled by overriding economic factors. These factors include supplements providing a cheaper way to a healthy life, which also makes the product less of a luxury, rising disposable income levels compared to the recession, and continuation of image consciousness.
New store openings will also drive revenue growth. While GNC has 11X the number of stores that Vitamin Shoppe, they are often about 1/3 to 1/4 of the size. This in conjunction with the findings in the earlier linked article about convenience illustrates that the market is not saturated. New stores can encourage consolidation of the industry which is fragmented with wholesalers such as Wal-Mart (NYSE:WMT), drug stores such as Walgreen (WAG), and supermarkets, like Whole Foods (WFM), comprising a significant portion of sales. I believe that GNC will continue to be able to gain market share from these by groups because of the its competitive advantages from specializing in the area.
Additionally, the international market, including Brazil and China, has been relatively untapped by the industry. GNC has one store total in these countries, which have image conscious populations, and most importantly individuals with disposable income is rising rapidly, as evidenced by the growth of the cosmetic industry in these areas. There are difficulties with these markets due to concepts like different consumer preferences, tariffs and different regulations.
GNC is adeptly approaching these areas by exclusively pursuing expansion through franchises, including stores within stores. Franchising reduces capital expenditures and provides for a consistent cash flow, reducing risk. This allows them to leverage currently established stores when, and the expertise of locals running individual franchises. I believe that Chinese and Brazilian expansions, which are company priorities, will be successful. Additionally, international stores will carry a much higher percentage of proprietary products which will boost sales, and increase brand awareness.
The company has also been making a strong push online most recently through the acquisition of luckyvitamin.com. This is a terrific acquisition in my opinion. This was purchased for $19.8MM and has already generated $45MM of revenue over the past 12 months. More importantly it shores up 2 major weakness of the company: price and online retailers. Luckyvitamin.com provides more discount options than gnc.com does, allowing them to gain a foothold in the market for more price-conscientious consumers. Additionally, the online retailers have lured customers away from retail with cheap prices and a wider variety of products; luckyvitamin.com shores up this weakness. Because of the position of luckyvitamin.com, it does not cannibalize sales of GNC.com. While online sales only comprise 4.0% of total sales, they have had 28.4% yoy growth, which should continue as GNC has just entered
Finally, proprietary products should fuel more growth. The percentage of proprietary products has already increased substantially from 48% in 2007 to 56% in 2011. But this trend should continue since employees are still paid on commission and GNC is consistently coming out with new products to augment their line while positioning these supplements to avoid cannibalization.
The increased prevalence of proprietary products will naturally increase gross margin because the company is vertically integrated. GNC manages their whole supply chain from acquiring materials, production, inventory and distribution. They own the trucks and lease out all the real estate. Proprietary production allow them to cut out the middle men and achieve a higher gross margin on products. Additionally, as the company grows, they will be able to leverage their size to obtain better prices on inputs for their own products and prices on third party products. The company's push towards more franchising internationally will also increase all margins. Franchise revenue has an operating margin of around 33% while retail has an operating margin around 16%. Additionally, franchising requires significantly less capital expenditures, allowing this increase in gross margin to be translated into increased free cash flow.
The trend in operating margins can be summarized by the following quote from GNC's 10K:
A significant portion of our business infrastructure is comprised of fixed operating costs. Our vertically-integrated distribution network and manufacturing capacity can support higher sales volume without significant incremental costs. We therefore expect our operating expenses to grow at a lesser rate than our revenues, resulting in positive operating leverage.
This has manifested itself in operating margin growing from 10.6% in 2009 to 13.6% in 2011. More importantly the factors are in place for this trend to continue. Their key expenses to get from gross margin to operating margin are advertising, warehousing/leasing, and manufacturing costs. Advertising will continue to grow more slowly than revenue because they advertise nationally. Leases are the greatest fixed cost and more than half of their leases have more than half of the contract length remaining. This indicates that the company has locked in low rental rates for the future.. Warehousing and manufacturing costs will climb more slowly than revenue growth because the marginal cost of extra production is low. Additionally, the company's vertically integrated facilities do not need any major expansions implying that they will continue to achieve economies of scale.
Factors such as lowered interest expenses and share buybacks will help increase net profit margin. One of the company's main risks is their debt levels, which will discussed shortly. These debt levels have led to significant interest expenses. However, the company has decreased its total debt levels by over 10% the past year which will result in lower interest expenses moving forward. Additionally, the company incurred a $19MM one time expense for restructuring its debt, and removing that in the future will increase net profit margin. The company has begun to buyback shares with $67.5MM purchased by January 2012 reversing the trend of dilution which will boost EPS.
A major risk with the company is its debt level which is currently almost $900MM which represents almost 40% of the company's total liabilities and more than 20% of the company's market cap. More worrisome is the fact that the company's debt is currently at a variable rate, implying that the company is susceptible to a rise in interest rates. A significant decline in revenue could have a synergistic effect with debt because the company's fortunes are definitely cyclical and a decline would cause the interest expense to eat up much more of the company's income. However, I do not believe that the company is in danger of insolvency from this loan because its principal is due after 2018 meaning that the company can not be squeezed. At the same time, the company had an operating income of more than 4X interest expense and this multiple should increase as interest expenses decline, as detailed in the previous paragraph.
The company is also subject to changing consumer tastes and litigation resulting from products. However, by being a retail outlet and not principally a producer, they are relatively insulated from these risks. In litigation such as those against ephedra, GNC had been named; however, they were not the main defendant and were able to escape without any material effect on the company's success. By being a retailer, GNC does depend on innovation nearly as much as a company such as Optimum Nutrition.
In general, this stock is not nearly as attractive if revenue growth does not occur because this also causes margins to decline. Obviously a major threat to growth is loss of market share, causing them to grow revenue slower than the industry. I don't believe stores such as Walgreen's or Whole Foods present legitimate threats because GNC specializes in the supplement area. More legitimate competition comes in the form of Vitamin Shoppe and online retailers such as Bodybuilding.com. We have already discussed some of the competitive advantages over Vitamin Shoppe.
To add on, GNC and Vitamin Shoppe also occupy somewhat unique niches in that Vitamin Shoppe appeals to the price conscientious customer who wants a large selection while GNC appears to have generated a premium reputation and provides access to unique products. Additionally, GNC has the clear advantage internationally as Vitamin Shoppe is just opening its first stores in Canada. GNC also appears to have the leg up online vs Vitamin Shoppe who's revenue grew 20% compared to GNC's 28.4% revenue and combination of premium and discount sites. Online retailers such as Bodybuilding.com will always have a niche because they are able to offer such great deals. However, many will still enjoy the convenience of going to the store and obtaining a product immediately and when purchasing single items, as shipping costs can wipe out discounts.
Finally, the company could inevitably face the erosion of a current revenue base. However, the company's stable revenue has grown absolutely and relatively over the years. In addition to other aforementioned factors the percentage of purchases from gold card members has grown to over 60% of sales indicating loyal customers. Additionally, franchises should remain stable as the company has a 92% renewal rate of franchises indicating that their business model works for the individuals.
Creating an exact price target via a DCF is difficult because of the incredible number of variables and assumptions that must be made due to all the various growth scenarios and potential margin expansions. Comparables are also difficult because the only true public competitor is Vitamin Shoppe. Although not perfect I have added Whole Foods to the comparison because they sell supplements, are the market leader in the organic foods, and represent an outlet for more disposable income. I have also included Estee Lauder (NYSE:EL) because their product is also subject to disposable income, they sell a product related to one's image, have strong expected growth and are looking to expand internationally. The table is as follows: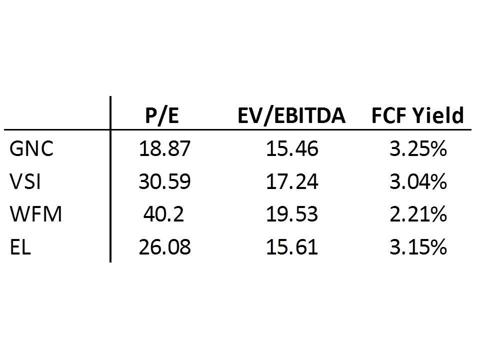 GNC appears to be the cheapest amongst all these; VSI's FCF yield is actually quite impressive for a growing company. However, GNC appears even cheaper when one looks at the results of the past two quarters, as GNC has continued to grow it's FCF yield, in spite of significant negative changes in working capital while VSI's has not been nearly as strong. In short, it does not appear that GNC is expensive.
GNC appears to be a strong option to gain exposure to the growing supplement market as it appears poised for strong top line growth combined with margin expansion at all levels while maintaining an extremely strong position against its competitors and being reasonably priced.
Disclosure: I have no positions in any stocks mentioned, but may initiate a long position in GNC over the next 72 hours.