Cardinal Health, Inc. (NYSE:CAH) was trading above $43.00 just two weeks ago, on August 1st. A few days later, due to "missed" earnings, the company's stock quickly fell almost 10%, to the $39.00 range.
Though Cardinal Health, Inc.'s fiscal fourth quarter net income rose 17%, from $203 million the previous quarter to $236 million, the company's revenue remained flat, $26.8 billion versus Wall Street's projected $27.3 billion (Yahoo Finance). This revenue miss played a large part in the stock's post-earnings tumble.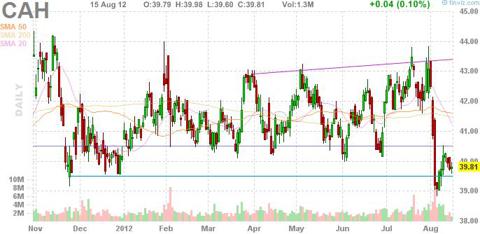 But now that the dust has settled, Cardinal Health, Inc. looks to be offering a bargain to investors looking for such. As mentioned, the company's stock fell to the $39.00 level after missing revenue projections. But the stock has since consolidated just above this level, around $39.50. Cardinal Health, Inc. has continually used this price level as support over previous months and has not traded below this price for more than a week since Q4, 2010.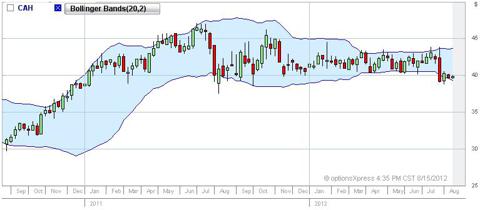 The post-earnings fall has also made some of the company's fundamentals a bit more appealing to value investors. Notably, the company's price to sales (P/S) ratio, price to book ratio (P/B), price to earnings (P/E) ratio, and forward price to earnings (Forward P/E) ratio have fallen to 0.13, 2.20, 13.02, and 10.56, respectively.
It's also worth mentioning that analyst opinion still stands at six strong buy, seven buy, five hold, zero underperform, and zero sell recommendations, with an average price target of $46.81. As Cardinal Health, Inc. is now trading just above support at $39.50, this average analyst target equates to a 17.58% upside.
In summation, those who owned Cardinal Health, Inc.'s stock through its most recent earnings report have my condolences. The rest, however, may find significant value in, what appears to be, a market overreaction to a strong company's slight misstep.
Disclosure: I have no positions in any stocks mentioned, but may initiate a long position in CAH over the next 72 hours.