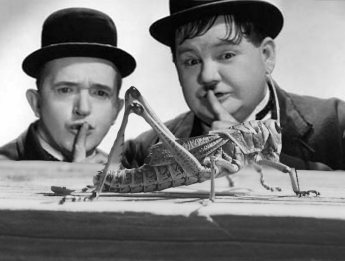 It's hard to imagine markets being this quietly determined to move higher without any dissent. Bears are in hibernation consistently put-off by fear of QE3 and HAL 9000s. (Rosengrens & Fisher duel over QE.) Economic data remains mixed with some better housing data but much worse manufacturing data given today's poor Empire State Manufacturing Survey (-5.85 vs 7 expected and prior 7). Within that data was very poor employment trends and much higher prices paid data.
The CPI came in flat which was strange given the 20% rise in most energy prices. Homebuilders Sentiment rose to 37 from 35 which is the highest since February 2007 but we know what happened after that. Industrial Production was slightly higher (.6%) and energy inventories dropped substantially allowing for more price gains.
A chart from the Fed shows "completed" new homes and presents a rather different picture.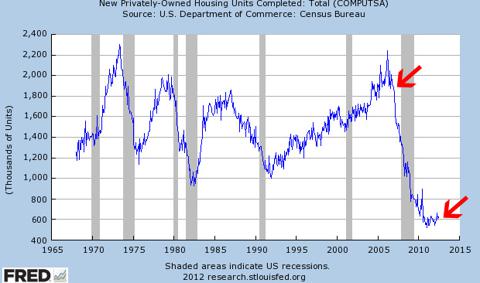 Meanwhile eurozone bulls remain enthusiastic there will be a "fix" even as Germans continue to shout "nein, nein, nein." I guess bulls just don't believe German rhetoric.
Little noticed in headlines are higher energy costs stimulated by more war talk with Iran and much lower inventory data. Saudi Arabia, Qatar and the UAE just ordered all their citizens to leave Lebanon immediately as the Syrian conflict escalates and headlines shout Israel is preparing an attack on Iran. Given such a publicized headline might mean it's not going to happen, at least not right away. If Obama is successful in securing a second term I doubt he'll be attacking anyone other than RNC headquarters.
Beneath the surface are some disturbing preparations the government is engaging in. The Fed and Treasury have asked the TBTF banks to prepare an emergency plan should there be an economic collapse. Homeland Security has been practicing for civil disorder on a massive scale. Over the past two days several articles have appeared suggesting various government agencies are ordering massive amounts of deadly hollow point bullets as noted. This is all quite disturbing and not denied by the government. I sound paranoid.
As noted stocks continued their stealth rally led mostly by tech (NYSEARCA:XLK), bonds continued to sell-off during current auction, commodity prices (NYSE:DBC) were higher, and the dollar (NYSEARCA:UUP) was slightly stronger putting gold (NYSEARCA:GLD) back on the defensive.
Trading volume is the lowest since 2007 as the summer wears on and most investors must be awaiting Jackson Hole results. Breadth per the WSJ was positive overall.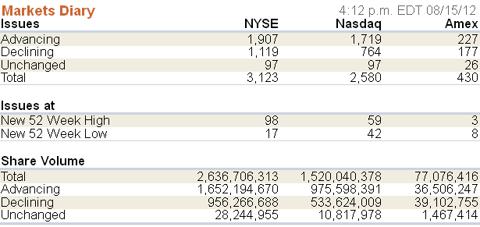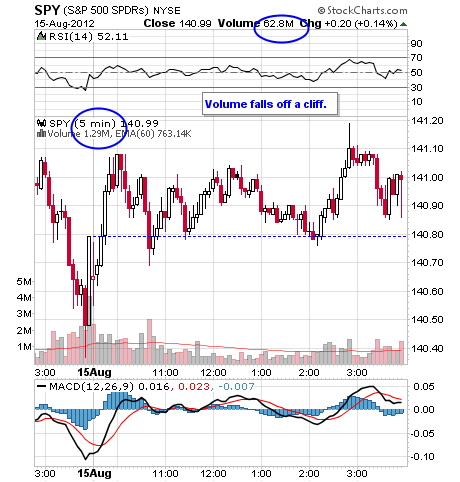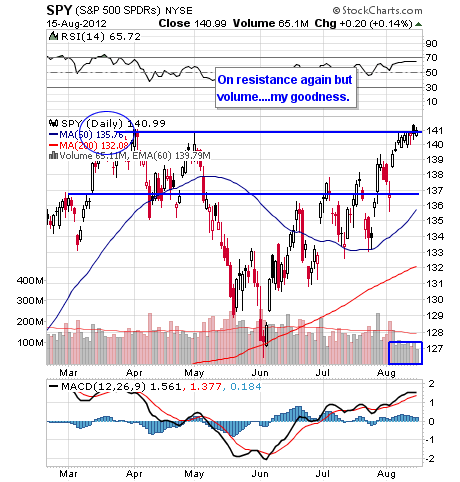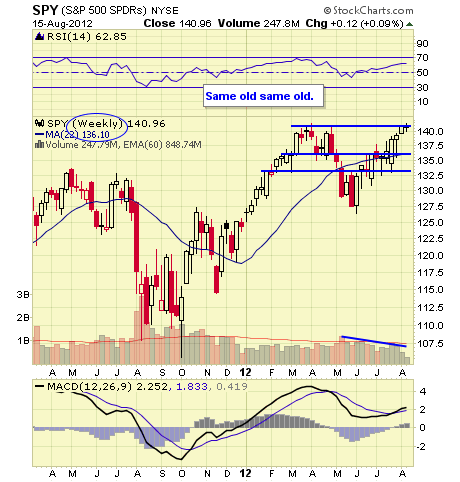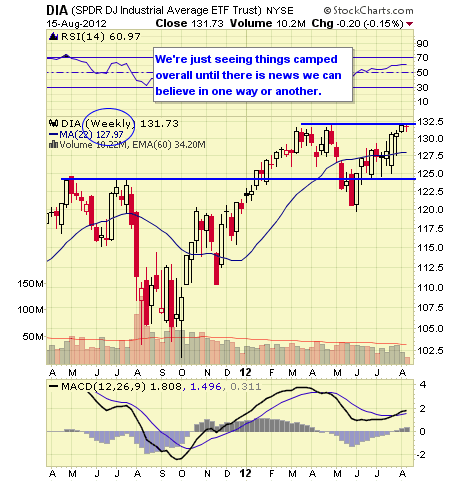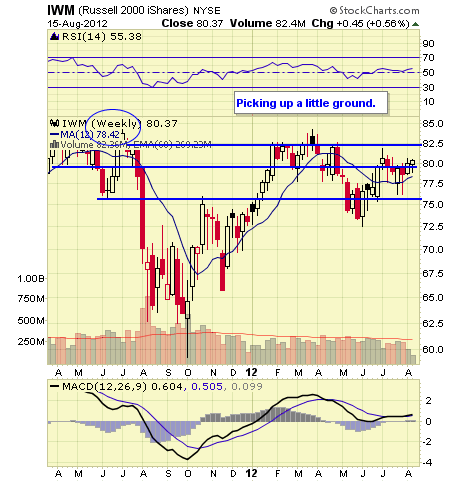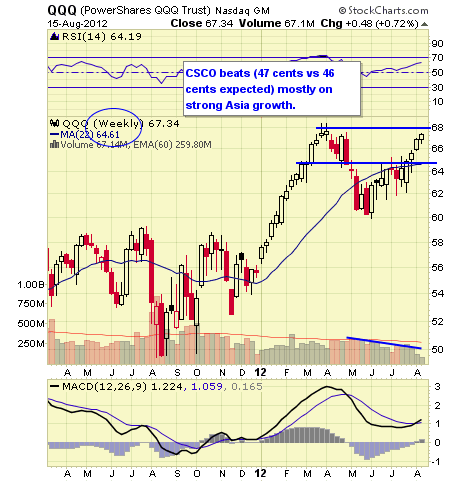 Continue to U.S. Sector, Stocks & Bond ETFs.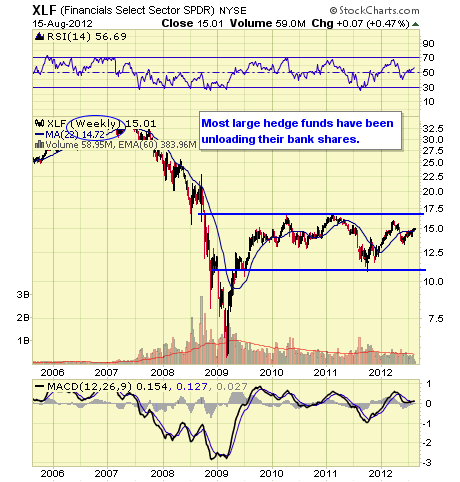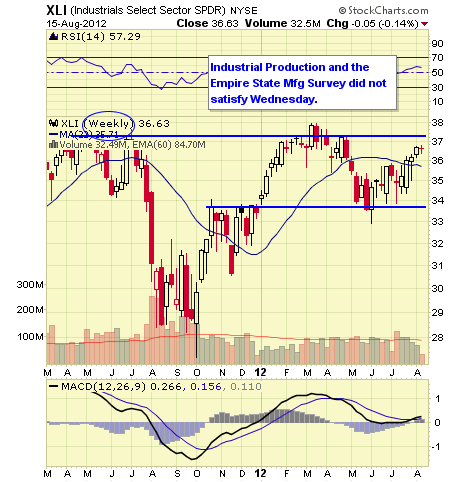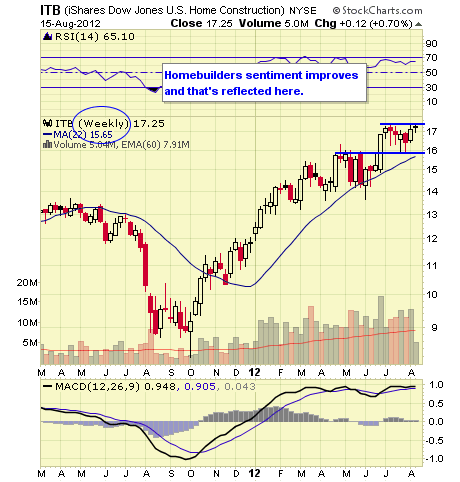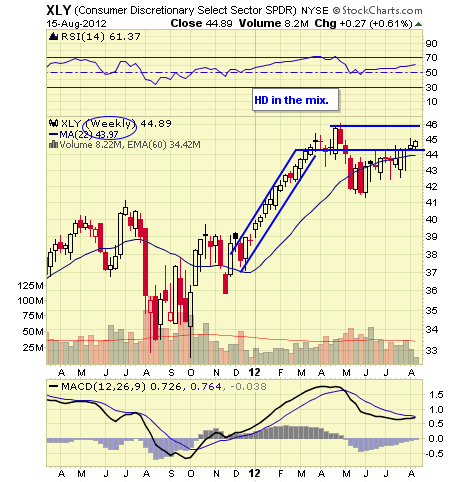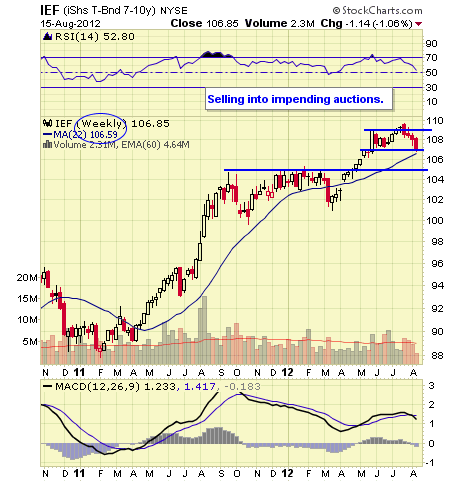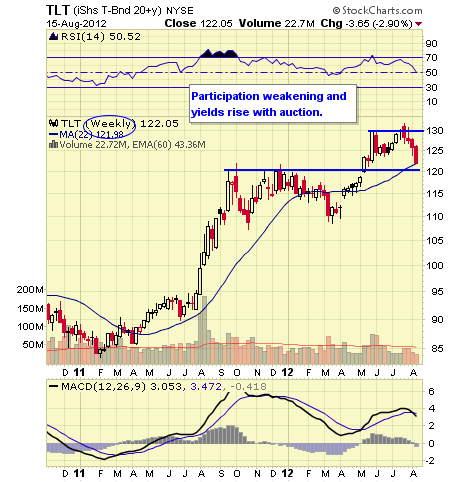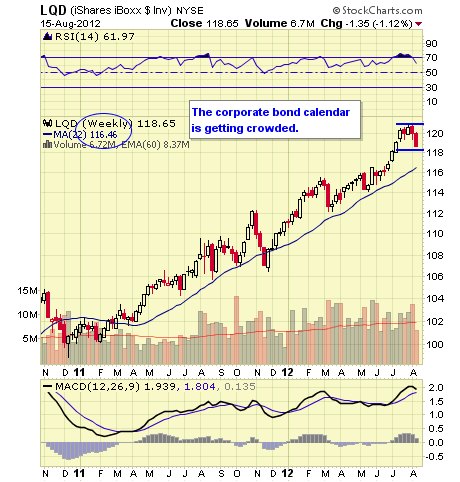 Continue to Currency and Commodity Market ETFs.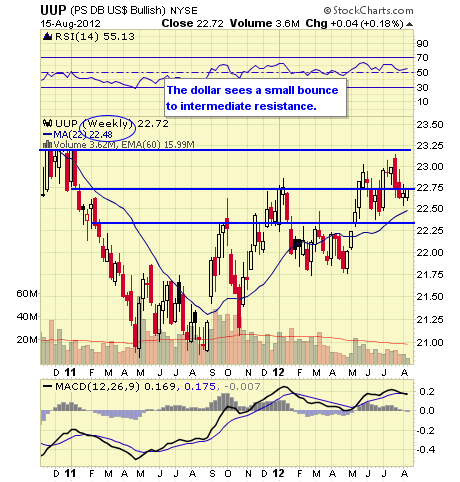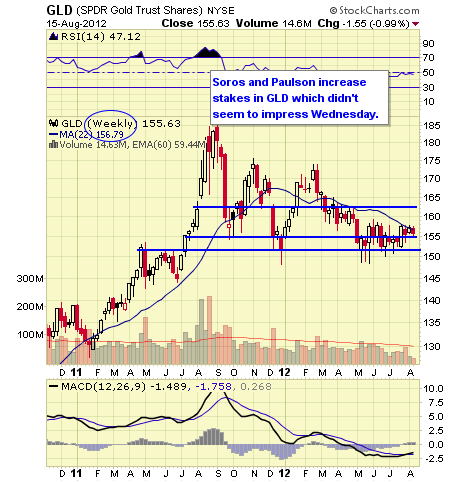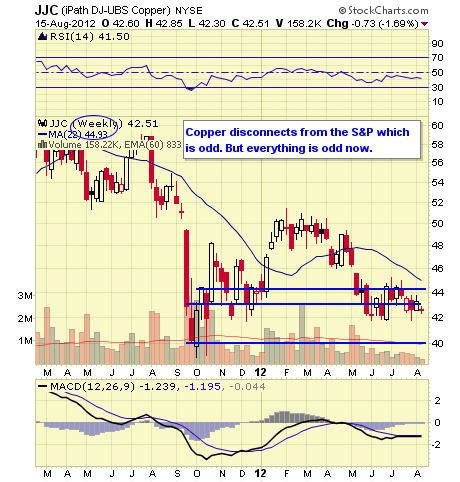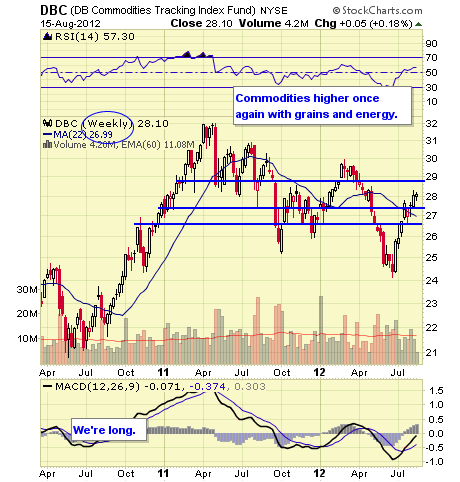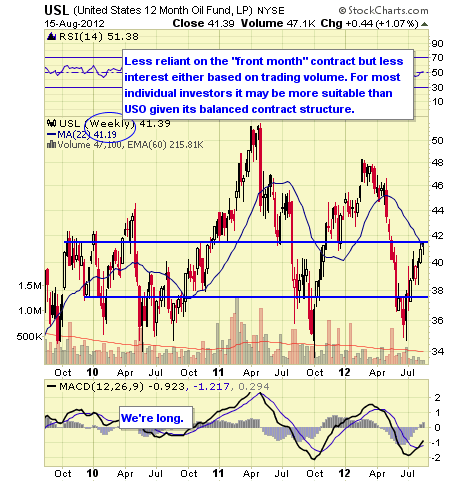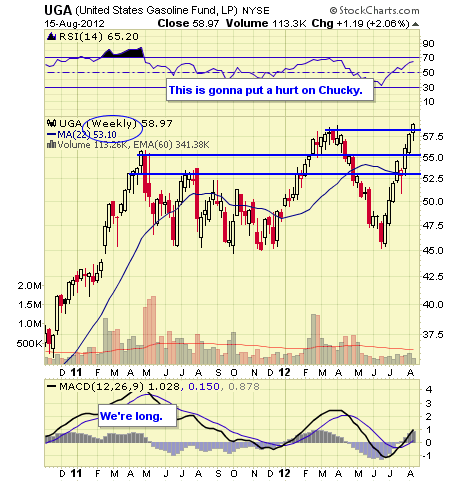 Continue to Overseas Sectors and ETFs.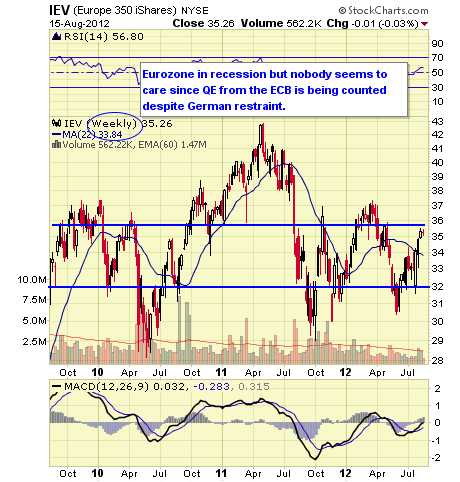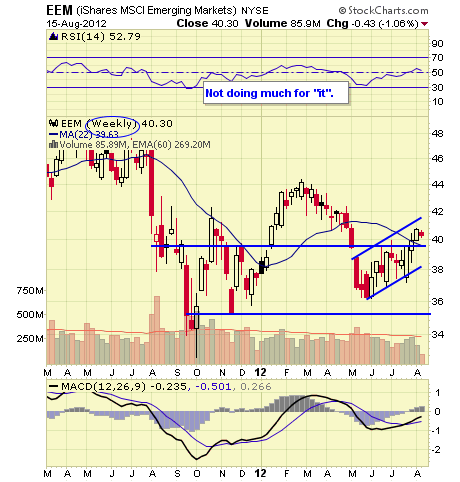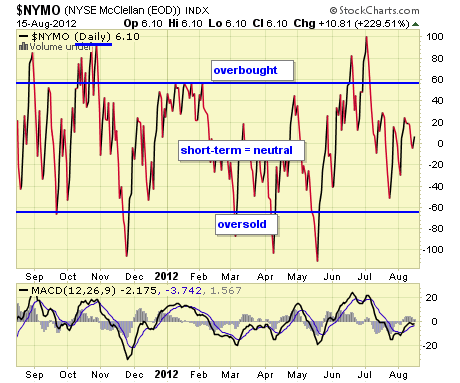 The NYMO is a market breadth indicator that is based on the difference between the number of advancing and declining issues on the NYSE. When readings are +60/-60 markets are extended short-term.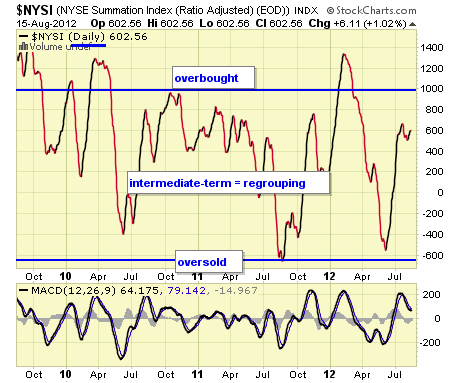 The McClellan Summation Index is a long-term version of the McClellan Oscillator. It is a market breadth indicator, and interpretation is similar to that of the McClellan Oscillator, except that it is more suited to major trends. I believe readings of +1000/-1000 reveal markets as much extended.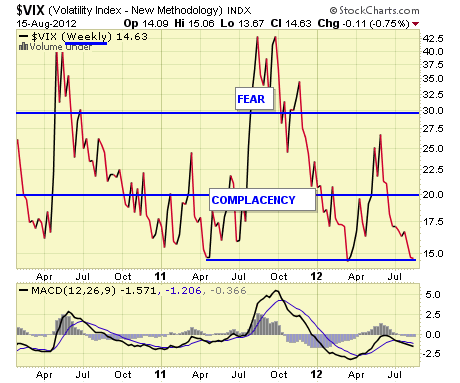 The VIX is a widely used measure of market risk and is often referred to as the "investor fear gauge." Our own interpretation is highlighted in the chart above. The VIX measures the level of put option activity over a 30-day period. Greater buying of put options (protection) causes the index to rise.
This is as light a volume day ex-holiday shortened trading we've seen since early 2007. It may seem an unimpressive point but a melt-up with this lack of participation can be undone quickly with disappointment.
Thursday is Jobless Claims with expectations of 365K (they're just guessing now); Housing Starts expected at .675M; and the Philly Fed with -5 expected. These should be watched closely.
Disclaimer: The ETF Digest maintains active ETF trading portfolio and a wide selection of ETFs away from portfolios in an independent listing. Current "trading" positions in active portfolios if any are embedded within charts: Lazy & Hedged Lazy Portfolios maintain the follow positions: VT, MGV, BND, BSV, VGT, VWO, VNO, IAU, DJCI, DJP, VMBS, VIG, ILF, EWA, IEV, EWC, EWJ, EWG, & EWU.
The charts and comments are only the author's view of market activity and aren't recommendations to buy or sell any security. Market sectors and related ETFs are selected based on his opinion as to their importance in providing the viewer a comprehensive summary of market conditions for the featured period. Chart annotations aren't predictive of any future market action rather they only demonstrate the author's opinion as to a range of possibilities going forward. More detailed information, including actionable alerts, are available to subscribers at www.etfdigest.com.
Disclosure: I have no positions in any stocks mentioned, and no plans to initiate any positions within the next 72 hours.