In part one of this article, Bancolombia's (NYSE:CIB) asset quality and key risk measures were analyzed and found to be well within acceptable parameters and superior to many of its peers. However, it was identified that significant increases in loan loss provisions were impacting upon profitability through increased economic cost and margin compression.
In this, the second-part, the analysis will focus on Bancolombia's performance indicators, growth prospects and valuation to determine whether it currently offers any value for investors. This is because Bancolombia has been extremely effective in efficiently growing revenue and converting it into strong returns for shareholders. But it is currently unclear whether this is still the case.
Mixed performance metrics
Bancolombia has historically been one of the strongest performing banks in Latin America, with superior performance ratios to its local competitors like Citigroup (C) and BBVA (BBVA), as well as regional peers like Banco Santander Brasil (BSBR). However, for the first half of 2012, its ability to deliver value for investors has declined. As the chart below shows, despite Bancolombia having a solid net interest margin ('NIM') of over 6% and an outstanding efficiency ratio of 41%, both of which are superior to many of its peers, it is only delivering a moderate return on equity of 13%.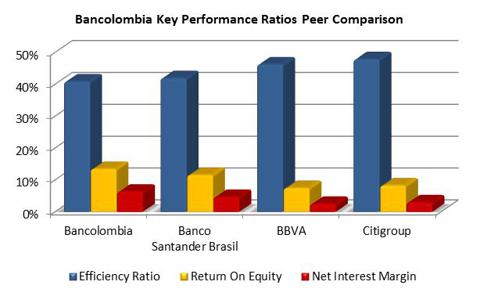 Source data: Bancolombia, Banco Santander Brasil, BBVA & Citigroup financial filings Q1 2011 to Q2 2012
This indicates that something is preventing Bancolombia from being able to deliver the results it should be, considering the quality of its loan book and the strength of its other performance ratios. This I suspect is a result of the economic cost associated with the significant loan loss provisions currently being carried by Bancolombia, which is being reflected in operational expenses outstripping interest income growth.
I also expect Bancolombia's NIM to come under pressure through the remainder of 2012 now that the Colombian central bank has made its first official rate cut in two years. This is because over the last two years, the central bank's consecutive interest rate increases have allowed returns to grow at a faster pace than the cost of funding. By cutting the official rate, it will not only place downward pressure on the NIM, but also allow funding costs to catch-up. It is also likely that this pressure will continue, with the central bank and Colombian government considering further stimulus measures in light of the current global headwinds.
Macro environment and market outlook
In 2011, the Colombian economy expanded by 4.7%, which while lower than Peru's 6% was well ahead of Brazil's 2.75%. It is expected that economic growth will decelerate through the remainder of 2012 and this saw the full year forecast growth rate revised downwards to 5%. But this growth rate is still higher than many other countries in the region, such as Brazil.
The majority of Colombia's growth is expected to occur on the back of foreign investment primarily in the mining and energy sectors. It is also expected that there will be an uptick in industrial production, domestic consumption and demand for credit, with the government having recently reduced the official rate by 25 basis points to 5 percent.
Colombia, like many other countries in the region, is under-banked with only around 58% of a population of 45 million using the formal banking system. This penetration rate is higher than Peru but lower than Brazil and Chile. The lower uptake of banking services can be attributed to higher poverty rates and historical disruption of the formal economy caused by the ongoing internal conflict. Furthermore, there has historically been a degree of distrust of financial institutions, particularly in poorer more rural areas. But these attitudes, along with the country's growing wealth and emerging middle-class, are changing.
In addition, according to the World Bank, total private sector loans in Colombia's financial system only represent 45% of the country's GDP. While this is almost double Peru's 26%, it is under Latin America's regional average of around 50%. It is also substantially lower than the more economically developed countries like Brazil and Chile with ratios of 61% and 90%, respectively.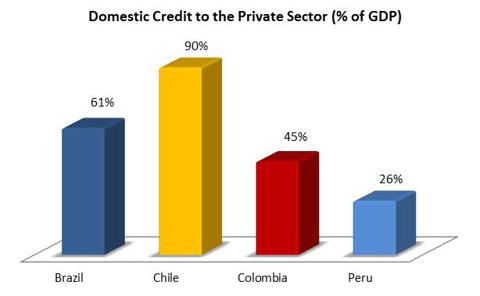 Source data: World Bank
This indicates that despite strong growth over the last decade in Colombia's banking system, there are still substantial growth opportunities for banks operating in Colombia. Much of this opportunity is in the higher risk but significantly higher margin consumer lending, micro-finance and SME segments, along with growing demand for insurance and pension products.
Growth catalysts
Bancolombia has embarked on a regional growth strategy expanding its business into Central America with the 2007 acquisition of Banco Agricola in El Salvador and commencing operations in Panama. This makes Bancolombia less dependent on Colombia for growth and reduces the impact of growing competition in the Colombian banking and finance market.
All of this indicates that there are tremendous growth opportunities for Bancolombia in its core business of traditional retail banking. As a result, I expect to see Bancolombia maintain the growth trajectory of its loan book, which for the last six quarters has continued to grow by an average of 4% per quarter. The bank has also been able to grow its deposits over the same period at a quarterly growth rate of 4%.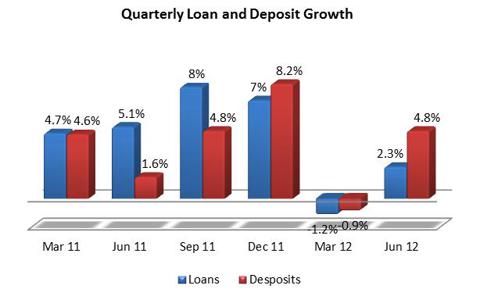 Source data: Bancolombia financial filings Q1 2011 to Q2 2012
Colombia's rapid economic development has seen a growing commercial sector and middle-class, which is creating increased demand for insurance, investment, pension and capital market products. This demand can only increase as the economy grows and I expect to see Bancolombia, by virtue of its size and market presence, growing increased revenues from these types of non-traditional banking products.
I also expect Bancolombia to experience significant growth as a result of its regional growth strategy. This has seen it become the dominant bank in El Salvador through its El Salvadoran subsidiary Banco Agricola and enter the Panamanian banking market.
Growth risks
Investing in a Colombian bank is not risk free, and despite the connotations associated with Colombia and its history of narcotic trafficking and violence, the regulation of the financial system is remarkably transparent. In addition, the Colombian government has a proven history of taking a hands-off approach towards foreign investment and the operation of the country's economy. In addition to this, there is little to no recent history of resource and economic nationalism, unlike Brazil, Bolivia, Peru and Argentina.
However, there are still significant risks for investors, which include:
Rising political risk, with increasing government economic intervention in the region. In the case of Colombia, this is most likely to manifest itself in government actively seeking to devalue the currency and take measures to attract further foreign investment. It also manifests in the form of conflict between political groups.
Security risk with a variety of armed groups that are in conflict with each other and the government.
Increasing regulatory risk created by a lower collective global risk tolerance for the banking and financial services sector. In addition to which, Latin American governments are focused on ensuring their regulatory frameworks comply with international standards. This will add to the regulatory burden for the sector causing accounting and economic costs to rise thus impacting profitability.
Investors should also recognize that Latin American governments have a habit of using regulatory frameworks as political levers. The Colombian government does this by taking a macro-prudential approach to regulation, which makes Colombian banks vulnerable to increased government interference in their operations.
Worsening global headwinds originating in Europe, which will continue to see economic growth slow. However, in comparison to other Latin American countries, the effects on Colombia will be less because it has a lower level of economic connectivity with Europe.
Colombia has significant dependence on the U.S for trade and any disruptions in the U.S. economy will be a handbrake on economic growth in Colombia.
While any investment in Latin America brings greater country risk for investors, Colombia has historically demonstrated a more hands-off and less interventionist approach to the economy. Furthermore, the majority of political risk in Colombia as in the rest of Latin America is related to issues of resource nationalism and control of national assets rather than the financial or consumer sectors of the economy.
Shareholder remuneration
Bancolombia commenced paying a dividend in 2001, and since then these have increased year on year as illustrated by the chart. Dividends are paid quarterly and the last payment was $0.40, which went ex-dividend on 26 June 2012. The bank currently has a dividend yield of 2.8% with a payout ratio of 21%. This dividend, while not representing a monster yield, provides investors with a consistently growing source of income with a sustainable payout ratio.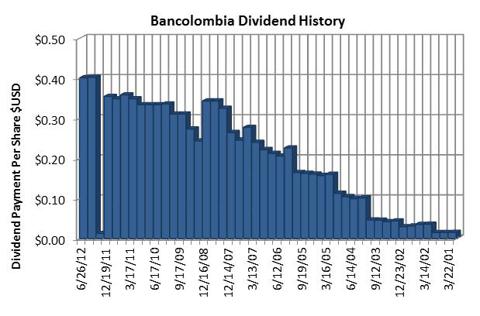 Source data: Bancolombia
Bancolombia's dividend has grown along with the business, and the dividend will continue to grow as the bank takes advantage of the opportunities present in Colombia and continues expanding its operations and diversifying into other Latin American markets.
Future outlook and valuation
Bancolombia is currently trading with a price-to-earnings ratio of 13, which would indicate that at its current price it is fairly valued. It also indicates that it is cheaper than BBVA which has a P/E of 15, but more expensive than Banco Santander Brasil and Citigroup which both have P/Es of 8. But Banco Santander Brasil and Citigroup do not have the same growth prospects as Bancolombia with issues regarding asset quality combined with flat economic growth and thin margins affecting profitability.
The growth history of Bancolombia is also impressive, with net interest revenue growing at an average annual rate of 6.8% and operating income by almost 8% over the past five years as the table illustrates.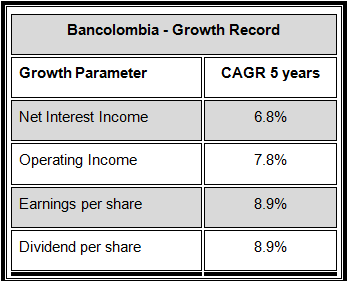 This rate of growth while not exceptional for a Latin American bank has been consistent. It also shows that both earnings per share ('EPS') and dividends have grown at a consistently higher rate than either Colombia's average annual GDP growth rate from 2007 to 2011 or the risk free rate.
Bottom line
Bancolombia has a solid business model combined with a culture of conservative and disciplined risk management. This has allowed the bank to build a high-quality loan portfolio which has seen it avoid or significantly mitigate many of the credit quality issues and related financial impacts being experienced by its peers. As a result, Bancolombia is well positioned to continue growing in Colombia and leverage off its strengths to further expanding in Latin America. All of which allows Bancolombia to take advantage of the region's high economic growth rates and low banking penetration rates.
However, I am concerned that Bancolombia will continue to struggle to deliver value for investors over the short to medium-term, as it wrestles with the economic cost created by the high loan loss provisions demanded by Colombia's central bank. I also expect to see Bancolombia's NIM come under renewed pressure from a combination of this economic cost, a lower official rate and higher funding costs. This I believe will see Bancolombia's growth remain flat over the medium-term with little upside for investors. As a consequence, I believe there are better opportunities for investors seeking exposure to Latin American banking. My preference at this time would be Peru's Credicorp (NYSE:BAP), which I analyzed earlier this month.
Disclosure: I am long CIB.