Not too long ago, Research In Motion (RIMM) controlled the smartphone market with its Blackberry phones. They were small and light, yet powerful and versatile with their full QWERTY keyboards. Business people in particular had a tough time giving up their BlackBerry phones for Apple's (NASDAQ:AAPL) iPhones and Google's (NASDAQ:GOOG) Android phones. These days, it's hard to find a BlackBerry still in use. It seems as though RIM is looking at its last days as a publicly traded company and everything hinges on its next operating system for phones: BlackBerry 10.
If you have read my previous articles, you know I like to start by valuing a company with the Graham valuation method and the Reverse Discounted Cash Flow method. With RIM, this valuation method gives me negative numbers, which essentially means exactly what analysts predict for RIM -- a slow and painful death. So why would I be recommending an investment in RIM?
Valuation methods work for companies that have a steady growth rate that can be used to predict what the market will be willing to pay to invest in the company. RIM's situation is such that there is absolutely no growth because it has failed to keep up with the smartphone market. However, the company has promised a huge comeback and made management changes to that end. Obviously, valuations methods fail to take into account a catalyst like a new platform for a smartphone company.
BlackBerry 10 has been in the works for years and has been consistently delayed to the disappointment of the marketplace. Its new projected release date is January 2013. Whether RIM will keep its promise or delay again is hard to predict, but that's exactly the basis of my strategy for an options play on RIM. On the one hand, if it decides to delay BlackBerry 10 again, we should see a sell-off once again. On the other hand, if BlackBerry 10 is released on time and exceeds expectations, we should see a rally. Either way, it's unlikely that the price will remain where it is come January 2013.
With my strategy, I want to make it so that we profit if there's a rally (if BlackBerry 10 beats expectations) or a sell-off (in case BlackBerry 10 is delayed or underwhelms), which means we will lose money if the price decides to stay where it is. For my first spread, I will use an expiry of January 2013. For my second spread, I will use the January 2014 expiry. Which one you prefer to buy into depends on several factors.
BlackBerry 10 is set to release in January 2013, which means using a January 2013 expiry will allow you to capture the market's knee-jerk reaction to the new platform. There won't be any sales data or consumer polls, so stock price will be based on whether investors like or dislike the platform. Using the January 2014 spread will give the market time to gauge how well consumers are receiving BlackBerry's new platform and whether it will be enough to keep RIM afloat and propel growth.
For the January 2013 spread, I'm using four legs. I will go long four put contracts and four call contracts at a strike price of $7. I will use a short position on one put contract at a strike of $13 and one call contract at a $1 strike to cover the cost of my long position and commissions. Here's a breakdown:
| | | | | | |
| --- | --- | --- | --- | --- | --- |
| Expiry | Strike | Put/Call | Quantity | Cost/Premium | Long/Short |
| January 2013 | $7.00 | Call | 4 | -$162.00 | Long |
| January 2013 | $7.00 | Put | 4 | -$107.00 | Long |
| January 2013 | $13.00 | Put | 1 | $565.00 | Short |
| January 2013 | $1.00 | Call | 1 | $645.00 | Short |
You will collect a total premium of $134 (don't forget that our long positions are four contracts each, while our short positions are only one contract) after covering your long positions. With this spread, we have two breakeven points at a share price of $4.40 and $9.71. Between these two prices, our maximum loss is $1050.00 at a price of $7.00. Outside of this range, we have unlimited profits if there is a rally and a maximum profit of $1600.00 in case of a sell-off. Here's the chart from Optionistics' option calculator:
Click to enlarge images.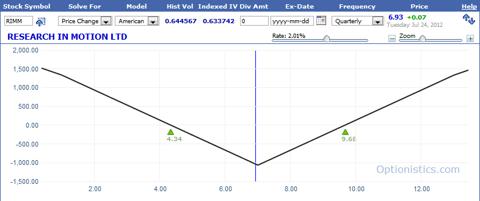 The risk here is that the market won't have enough time to decide how it feels about the new platform and price will be constrained between support and resistance levels. For this reason, you may be more interested in the January 2014 spread, which will be backed by three quarters' worth of earnings reports.
The disadvantage to using the January 2014 spread is that there is less profit for every dollar the share price moves. The risk/reward ratio for the January 2013 spread is much better, in my opinion. The advantage to using the 2014 spread, however, is that if things don't seem to be going in our favor, we have plenty of time to trade away our positions and take only a small loss.
For the 2014 spread, I only have two legs. My first leg will be a short call position at a strike price of $3. My second leg will be two long call positions at strike price of $8. My total premium collected will be $58.00 after covering long positions. This should cover commissions with most brokers. Here's the breakdown:
| | | | | | |
| --- | --- | --- | --- | --- | --- |
| Expiry | Strike | Put/Call | Quantity | Cost/Premium | Long/Short |
| January 2014 | $3.00 | Call | 1 | $480.00 | Short |
| January 2014 | $8.00 | Call | 2 | -$211.00 | Long |
For this spread, you will lose money if the price stays between $3.85 and $12.28. Our maximum loss is $440.00 at a share price of $8.00. Our maximum profit on the downside will be $58 per spread as long as the price is below $3. On the upside, we have unlimited profits. Here's the Optionistics chart: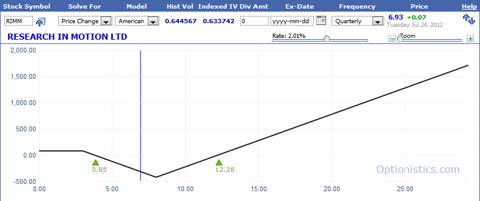 As with any type of investing, it's up to you to do your homework and figure out what kind of risks you can afford to take. Options are generally less risky than straight short positions and allow you to configure spreads depending on your outlook for a particular equity. With both spread outlined above, you know your maximum losses, which is always a plus.
Disclosure: I may initiate an options spread as outlined above in RIMM in the next 72 hours.