"It's safe to say that it's (Bavituximab phase II trials) going to be a very positive result, it's just a question of magnitude," said Peregrine Pharmaceuticals (PPHM) CEO Stephen King on the Wedbush Life Sciences Conference Call.
The above quote encapsulates Mr. King's supreme confidence about his company's flagship cancer drug, Bavituximab (or Bavi for short). If you are interested in Peregrine and haven't listened to its Wedbush Life Sciences Conference Call, I suggest you do. It's only a half hour long, and it has the latest news about the company. Mr. King's confident statements put his neck and reputation on the line - and unneccesarily in my opinion. With the recent dynamite performance of Bavituximab and the stock, he is under no pressure to overpromise and underdeliver. Therefore, I don't think he is overpromising. As I'll get into more detail later in this article, Mr. King stated that he has not made any efforts to, and doesn't plan to, do more equity financing for PPHM.
After doing much research on the company and seeing the data, I am also confident in Bavituximab. I know there are many out there who are still very skeptical and think that Mr. King is exaggerating about Bavi's potential. After all, CEOs are supposed to be their company's biggest cheerleader, right?
However, there is a clear catalyst coming up that will either confirm that Mr. King is stating the truth, or is overly optimistic. That catalyst is whether or not the company can secure debt financing in the next few weeks.
In the premarket on 8/14, PPHM had briefly jumped to a 52-week high of $3.21 per share following a five fold increase in the past couple months. Then that same day it tumbled to as low as $2.37 from a barrage of negative articles coming out against it. A common theme of the bears, is that the company only has $18 million worth of cash as of April, 2012, which by the way doesn't include $7.5 million the company has since received in reservation fees from clients. The articles stated that since the company is low on cash, this recent epic runup in share price encourages a big secondary. Another criticism of the company is that it often engaged in ATM financing, which is selling shares on the open market without notifying the shareholders first.
If Mr. King is telling the truth, then the fears and criticisms about equity financing can be put to rest now. At about 24:00 of the Wedbush Conference call, Mr. King said that the company has laid out its financing strategy. Its goal is to obtain debt financing so the company won't have to dilute its shareholders any more. He said that the company should be able to get preferential rates and raise $20-$30 million through a debt facility between now and its next earnings call which will be September 10th. Mr. King sounds very confident that the company will get this debt financing, and he alludes that equity financing is a thing of the past for Peregrine.
Almost all early stage biotech companies are not able to get debt financing. If PPHM is able to secure that, it would be a noteworthy feat and give conviction that it has a great drug pipeline. As of April 30, 2012, the company only had $9.48 million in net assets. For a lender to give the company $20-$30 million, then it would also have to have a high degree of confidence in the success of Bavituximab. The company's assets alone are nowhere near enough to secure the loan. Once the company gets that loan, I would assume the stock will jump as that will silence many doubters. I think the company will get the loan because I don't think the CEO would put his neck on the line and claim to be able to secure debt financing so quickly, within less than a month's time. Instead, he could have been safe and just said: "We're looking into different financing options." If he ends up being wrong and ends up getting equity financing instead, that would hurt his reputation and the share price. Therefore, I don't think he would make the promise of getting debt financing unless he was very confident the company can get it.
Mr. King said that debt financing will tide the company over for another year or so, during which it can continue conducting all its different trials and studies of its major drugs Bavituzumab and Cotara. That gives it plenty of breathing room to negotiate with potential partners.
Bavituzumab Shows Very Compelling Data
The following is page 14 of the Wedbush Conference presentation: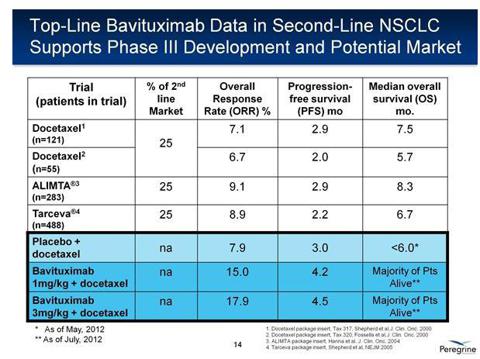 Look at the blue highlighted section of the table. Compared to the normal treatment for NSCLC (non-small cell lung cancer) using docetaxel, adding Bavituximab has shown great improvements.
The overall response rate doubled for the low dose with Bavi, and more than doubled with the Bavi high dose. Next, the PFS, or amount of time the cancer doesn't get worse, lasted an extra 1.2 and 1.5 months, respectively, with the Bavi doses. Finally, the most important statistic, is the Median Overall Survival (NYSE:MOS). With just docetaxel and placebo, patients only lived a median length of under six months. That was reported back in May. As of July, 2012, the majority of patients were still alive with Bavituximab, so the MOS wasn't able to be calculated yet. That's an extra two to three months that the patients have lived their lives, which is significant and the biggest reason why the stock has gone on such an epic run since June. A longer MOS also indicates that the cancer is progressing slower which gives the patients better quality of life. On September 7th, the company will give another survival update. By that time if more than half of the patients taking Bavi are still alive through August and the MOS still can't be determined, the stock should rip to new highs.
This phase II study design was very robust and non-biased. It was almost like a phase III trial. The company used a lot of patients, 117 evaluable, randomly distributed through the three groups. Most phase II cancer trials use less than 100 patients. It's double-blinded with an independent data monitoring committee, and a central radiology review. The independent data monitoring committee found no differences in safety between the bavituximab arms and placebo arms. This trial sets up nicely for a phase III trial which will most likely lead to an FDA approval.
Huge Lung Cancer Market
According to the American Cancer Society, lung cancer is the second most commonly diagnosed cancer in the US, with approximately 226,160 new cases and 160,340 deaths each year. NSCLC is the most common type of lung cancer, accounting for approximately 85%-90% of lung cancer cases. Lung cancer is even bigger per capita in other nations in the world where smoking is more popular.
Bavituxumab also has opportunities in pancreatic, breast, liver, rectal, and prostate cancer. Peregrine is currently conducting trials for every one of these cancer patients with positive results across the board.
Potential Partners
Mr. King said the company has had over 15 face to face meetings with potential partners from May to July, and many more meetings since then. The company's goal is to maintain as much US rights as possible and have a trial design effective on a global basis. Not only in the US, but in Europe and some other locations as well.
As I wrote back in December, PPHM might have a place in the lottery section of your portfolio. If you were adventurous enough to buy some shares, and patient enough to hold on, you might indeed have a jackpot (a 10 to 20 bagger) on your hands.
Disclosure: I am long PPHM.