Cisco Systems Inc., (NASDAQ:CSCO) reported earnings after the market closed on August 15 of 47 cents per share an increase of 18% year-over-year. This was with revenue growth of only 4.4% for the quarter. Earnings for the fiscal year rose 14% to $1.85 per share on revenue of $46.1 billion, an increase of 7% year-over-year. The company also announced they were increasing the dividend 75% to 14 cents per share. However the company said that they aim to return at least 50% of free cash flow to shareholders, a number they have already been reaching with dividends and buybacks. Cisco shares responded positively to the earnings release and the dividend increase, rising over 5% in after hours.
Cisco saw mixed results in the quarter with weakness in Europe and in spending by the federal government, but state government and business spending increased. Uncertainty over the economy should keep some spending on the sidelines for some time and any government could face continued cuts in the future. After elections in the United States it could provide businesses with more certainty and drive an increase in spending. It could also paint a clearer picture of future government spending cuts.
With a forward P/E of 9 and PEG ratio of 1.16 Cisco appears to be neither under or overvalued. It's low P/E and over $48 billion in cash compared to debt of about $16 billion should provide the stock with some downside protection.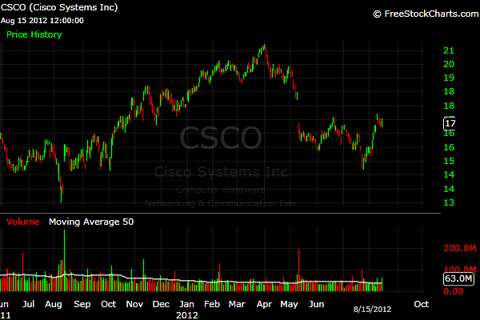 Cisco's move after earnings brings the stock closer to the higher end of its trading range, and Cisco should face resistance near $20 per share. The stock does show strong support near $14 per share, and would warrant a possible investment under $15 per share. While Cisco's higher dividend yield of 3.2% puts it near the top of tech companies, I don't believe this dividend is enough to warrant an investment without a belief of possible capital gains.
Data sourced from: Company filings, and Yahoo!Finance. Chart from: Freestockcharts.com
Disclosure: I have no positions in any stocks mentioned, and no plans to initiate any positions within the next 72 hours.