Blood In The Streets, Spain, Part 1
Blood In The Streets, Spain, Part 2
Blood In The Streets, Spain, Part 3
Blood In The Streets, Spain, Part 4
Blood In The Streets, Spain, Part 5
This is part 6 of a multi-part series on the Spanish (NYSEARCA:EWP) stock market. The logic is, again, the same: as Baron Rothschild once said, "The time to buy is when there's blood in the streets." The blood is certainly flowing in the European periphery.
In looking at the stocks, I'll try to gauge the sensitivity to internal demand, some factors important to their industries, the multiples they trade at and how the local stocks compare to U.S. listed alternatives in the same sectors. Obviously to trade some of these stocks, investors would need an account with a full-service broker.
I will cover the stocks that are members of the Spanish Ibex 35 Index. This index has the following 35 constituents, and in this article I'll cover those bolded:

Abertis
Abengoa
ACS
Acerinox
Amadeus
Acciona
BBVA
Bankia
Bankinter
Bolsas Y Mercados
Caixabank
DIA
Endesa
Enagas
Fomento Construcciones
Ferrovial
Gamesa
Gas Natural
Grifols
IAG
Iberdrola
Indra
Inditex
Mapfre
ArcelorMittal
OHL
Banco Popular (OTCPK:BPESF)
Red Electrica (OTCPK:RDEIY)
Repsol (OTCQX:REPYY)
Banco Sabadell (OTCPK:BNDSF)
Banco Santander
Sacyr Avllehermoso
Telefonica
Mediaset Espana
Tecnicas Reunidas
OHL
OHL is a construction company which has diversified geographically and in terms of segments, namely towards concession businesses (toll motorways being the most relevant). At this point 89% of OHL's EBITDA comes from outside Spain, and 77% from concession businesses. Brazil + Mexico represent 73% of EBITDA.
OHL does not seem too exposed to the Spanish economy.
Taking into account its earnings report for 2011, these are the multiples that OHL trades at today (all values are in Euros):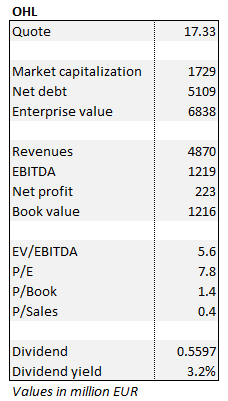 With a utility-like composition to its business, OHL seems quite cheap when compared to the Portuguese Brisa (OTC:BRSAY) or Spanish Abertis (OTCPK:ABRTY). It would seem the market still sees it more as a construction company than as the motorway operator it's slowly becoming.
Banco Popular
Banco Popular is a large Spanish bank. Contrary to many other Spanish stocks, Banco Popular is exposed essentially to Spain's internal market, and is being punished because of it. Banco Popular is reputedly one of the better managed domestic banks, however, its domestic exposure has led to lowered earnings over time.
Taking into account its earnings report for 2011, these are the multiples that Banco Popular trades at today (all values are in Euros):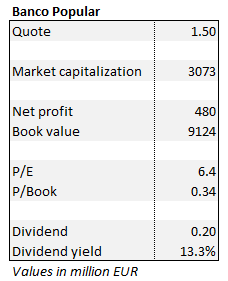 As we can see, Banco Popular trades at a low price/book value, usually awarded to the banks with the largest troubled exposures (in terms of geography). This valuation places Banco Popular in the same league as Portuguese BCP (OTC:BPCGF), and lower than the U.S. counterparts such as Citigroup (NYSE:C) and Bank of America (NYSE:BAC), which trade at 0.36 and 0.44 price/book value ratios
Red Electrica
Red Electrica manages the Spanish electricity transportation network on a concession basis.
Although Red Electrica is essentially exposed to the Spanish internal market, it's in a regulated segment where not much impact is to be expected from the economic weakness and the austerity measures.
Taking into account its earnings report for 2011, these are the multiples that Red Electrica trades at today (all values are in Euros):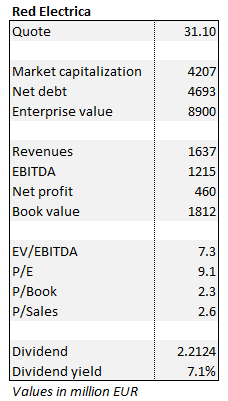 Red Electrica trades very similarly to the Portuguese REN, with the debt implicit in its activity preventing its EV/EBITDA to achieve very low levels. However, the nature of its activity also makes for a stable business, where the dividend yield should be broadly sustainable.
Repsol
Repsol is a large Spanish petrochemical company, with a presence in exploration, production, refining and distributing oil products.
Repsol presently has a large exposure to the Spanish markets in its refining and distribution segments. However, refining margins are usually set on a broader market so aren't really as exposed to the Spanish economic dynamics.
Taking into account its earnings report for 2011, these are the multiples that Repsol trades at today (all values are in Euros):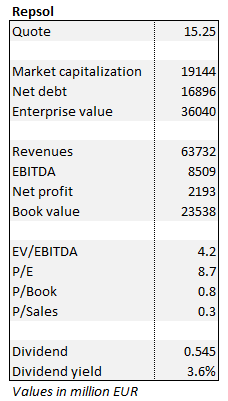 Repsol trades at attractive multiples for the sector it's in, given that the sector's value is mostly determined by changes in worldwide markets. But it has specific problems such as those emanating from the nationalization of its YPF subsidiary by the Argentine government, which greatly increase the uncertainty factor.
In terms of international comparisons, Repsol trades at a discount to Exxon Mobil (NYSE:XOM). XOM trades at a P/E of 10.2 times, price/book value of 2.5 times and an EV/EBITDA of 5.8 times.
Banco Sabadell
Banco Sabadell, much like Caixabank or Banco Popular, is a large Spanish bank that's exposed essentially to the Spanish market. It's thus both on a segment that's directly affected by the Spanish real estate bubble and not diversified geographically. It's the poster child for a company that can suffer with the need for austerity.
Taking into account its earnings report for 2011, these are the multiples that Banco Sabadell trades at today (all values are in Euros):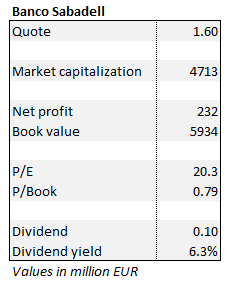 Contrary to Caixabank or Banco Popular, Banco Sabadell does not trade at a large discount to book value. Indeed, it trades more expensively in that regard than either Bank of America or Citigroup, which is rather extraordinary given the market it finds itself in. At this point, Banco Sabadell does not seem attractive or distressed enough.
Conclusion at this point
At this point, we found the following attractive equities:
Two construction and engineering companies, Abengoa and ACS, which given their geographical diversification might already be cheap enough to warrant inspection. Still, construction isn't usually the kind of sector that attracts great attention;

Amadeus might also be interesting because of its long-term prospects;
Bolsas Y Mercados can be interesting on weakness due to the possible consolidation in the sector, where it would be a natural target, while trading at reasonable multiples and carrying a large dividend yield;
Endesa is very cheap for an electrical utility, and might even be cheaper than it looks if we take into account the tariff deficit. It seems like a decent long-term buy;
Enagas might make sense for an income portfolio due to its stable nature. But it's more of a fit for a local than for a foreign investor;
IAG might be interesting as a speculative bet on a global airline/economic recovery since it presents low multiples on an already punished sector worldwide. It can also be an interesting bet if crude were to drop due to excess supply (not motivated by a further economic impact) since fuel is the largest cost for airlines;
Mapfre might make sense given its international exposure and dividend yield, though there's risk in the balance sheet due to the exposure to Spanish assets. It requires the belief that Spain won't default;
OHL seems like a covert toll road operator trading at distressed levels because of its identification with construction. Such makes its equity attractive.

(to be continued)
Disclosure: I have no positions in any stocks mentioned, and no plans to initiate any positions within the next 72 hours.