Shares of Under Armour, Inc. (NYSE:UA) are up over 50% this year, as the company continues to deliver on both the top and bottom line. Investors and analysts just can't seem to get enough of this stock, boosting price targets upwards to $65 per share. Apparently, consumers feel the same way as the company's products are beginning to take market share away from rivals Nike Inc. (NYSE:NKE), lululemon athletica inc. (NASDAQ:LULU) and Adidas (OTCQX:ADDYY).
After Nike (UA's closest rival) revealed a weaker-than-expected quarter to close out its fiscal year in June, it appears money has flowed directly into Under Armour (see chart below). Part of this capital shift could be from Nike's cautionary statements regarding volatile growth overseas (i.e. Europe) and foreign exchange volatility (i.e. Europe). Under Armour, which conducts roughly 94% of its business in North America, is being treated as the darling stock of the sports apparel industry simply due to its lack of international exposure.
Click to enlarge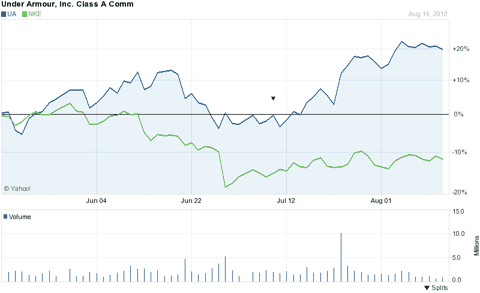 Source: Yahoo Finance
Shares of Under Armour currently trade at 59x trailing twelve month earnings. This compares to a five-year price-to-earnings average of 36x (see chart below). The average analyst estimate for 2012 earnings per share is $1.19, representing growth of 29% year over year. Still a very robust growth rate, but drifting down from 2010 and 2011, which saw EPS growth of 45% and 38%, respectively. Assuming the company traded near its five year average P/E multiple and using the median analyst expectation of $1.19 per share, shares would be fairly valued around the $45 range.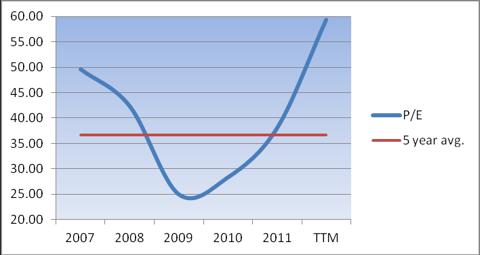 Source: Under Armour 10-Qs and 10-Ks
Another valuation approach is the Enterprise Value-to-EBITDA multiple. While this is typically more useful for corporate takeovers (I do not expect Under Armour to be bought out), we can use this to gauge corporate valuation. Currently, the stock trades just over 30x TTM EV/EBITDA multiple (see graph below). This compares with the five-year average of 18x. Using a projected share price of $40 and managements guidance of 26-27% operating income growth in 2012 (along with a slight increase for deprecation/amortization expense), the stock's EV/EBITDA multiple would be 18.3x, right in line with the five-year average.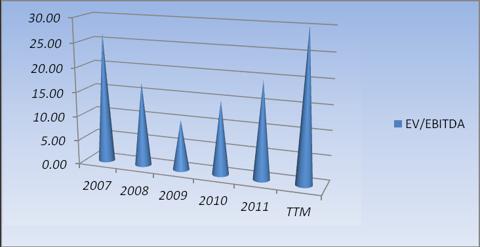 Source: Under Armour 10-Qs and 10-Ks
The brand image Under Armour delivers is something that captures the attention of both consumers and investors. With top-notch athletes like Cam Newton, Ray Lewis, Ryan Howard, and innovative products like heatgear, charged cotton, compression clothing, one may find it difficult not to get caught up in the "hype" this company delivers. Reviewing revenue and earnings elicit further excitement; however, a more in-depth look at specific sections of the financial statements may slow your speed:
The company has no track record of producing stable cash flow from operations
| | | | | | | |
| --- | --- | --- | --- | --- | --- | --- |
| | 2007 | 2008 | 2009 | 2010 | 2011 | TTM |
| Cash Flow From Operations | -$14,628,000 | $69,516,000 | $119,041,000 | $50,114,000 | $15,218,000 | $72,056,000 |
The company has $375 million available on a revolving credit facility. I have observed in prior years the use of these credit facilities during the year, but very rarely does the company keep the credit lines open at the close of its financial year. This allows the 10-k documents to show less debt on the balanced sheet.
Shipping and handling costs are included in net revenues, then expensed through the selling, general and administration expenses. Costs for 2011, 2010, and 2009 were $26.1 million, $14.7 million, and $12.2 million, respectively. While these costs are very small and typically make up 1-1.5% of revenues, they are worth deducting from your top line projections.
This recent article by "Grumpy Old Accountants" shows another small trick that management performs to increase the bottom line.
I am by no means waving the red flag at Under Armour or PricewaterhouseCoopers (UA's accountants), nor do I think they are stretching numbers to meet investors expectations. It is worth noting that such rapid growth cannot continue forever, and management will do whatever it can to keep analysts happy.
The growth story in Under Armour does not appear to be ending; however, through multiple scenarios, I see a stock that has moved well above reasonable valuations and is due for a pullback. Apparently, I am not the only one; as of July 31, the percentage of shares short in this stock climbed to 24.10%.
*Note: All data reported and graphed is pulled directly from Under Armour SEC filings (10K's and 10Q's), then ran through proprietary valuation models. The stock price used was from 8/15/12.
Disclosure: I have no positions in any stocks mentioned, and no plans to initiate any positions within the next 72 hours.