Biotechnology is one of our favorite sectors, because it offers investors the opportunity to invest in companies where the fundamentals truly do matter. For development-stage companies, it is rare to see their stocks rise and fall based solely on macroeconomic headlines and rumors. And in today's volatile markets, where it seems that everything is correlated and every stock is linked, it is refreshing to see that biotechnology companies can still move to the beat of their own drum. We would like to highlight one such company. Geron (NASDAQ:GERN) is a Menlo Park, California, biotechnology company specializing in oncology treatments. The next 12 months will be among the most important in the company's history, and for risk-tolerant investors, now is the time to buy shares.
Overview & A Disclaimer
Geron was founded in 1990 and went public in 1996. Since then, the stock has lost over 77% of its value for the company has been in the development stage its entire life.
Click to enlarge

Frankly, it is rare for a biotechnology company to be operating this long without product to sell. Geron has been in business for over 2 decades. By this point, biotechnology companies are either taken over, go bankrupt, or become large drug companies, such as one of the "Big 4" biotechnology companies. However, the next 12 months will be, in our view, the most important in Geron's history, and we will delve into the company's oncology portfolio below. But first, a disclaimer. Geron is not meant to constitute the core of an investor's biotechnology portfolio. It is a stock that has a great deal of opportunity, but also a great deal of risk. Investors who desire a core biotechnology investment should look to either one of the major biotechnology ETFs (we hold three of them) or any number of the "Big 4" biotechnology companies: Amgen (NASDAQ:AMGN), Celgene (NASDAQ:CELG), Gilead Sciences (NASDAQ:GILD), or Biogen Idec (NASDAQ:BIIB). That being said, Geron does have a place in our portfolio as a speculative stock, and we believe that it would serve investors who are looking for such a stock as well. For the record, unless otherwise noted, our data regarding Geron's drug candidates and its financials will be sourced from one of three places: the company's Q2 2012 conference call, its Q2 earnings release, or its latest investor presentation from the 2012 Jefferies Global Healthcare Conference, held on June 6, 2012.
Oncology: The Next 12 Months Will be Historic
Geron was not always exclusively an oncology company. The company was once a stem-cell company as well. However, Geron decided to halt its work with stem cells in November 2011, due to the costs of moving forward with both its oncology and stem cell programs. Geron, after conducting a strategic review, decided to focus on its oncology programs going forward. The company is in the process of divesting its stem-cell assets, and on its Q2 conference call said that while those efforts are ongoing, it has nothing to announce at this time. In a perfect world, Geron would be able to keep its stem-cell assets, for we do believe in the long-term therapeutic potential of stem cells. But alas, we do not live in a perfect world, and in our view, it is better for Geron to direct a finite amount of resources towards its oncology drugs.
Geron has two oncology drugs in its pipeline, and in our view, both drugs have the potential to change the way that cancer is treated should they be successful. We will break down both of them while providing some scientific background for readers and investors that are unfamiliar with the science behind Geron's drugs. What makes the opportunity at Geron unique is that the company currently has six Phase II trials in progress. Frankly, we have never seen a biotechnology company of Geron's size with so many trials in progress at one time.
Geron's first and most advanced compound is Imetelstat, which is a telomerase inhibitor currently in Phase II trials (the company's other drug is GRN1005, which we will address later in this article). This drug attacks cancer in a different way than existing cancer therapies. There are many variables that enable the growth and spread of cancer; existing cancer treatments target them in a variety of ways.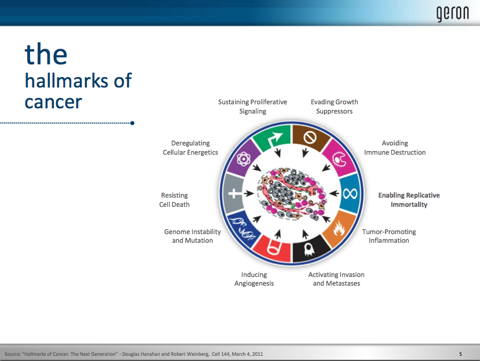 Telomerase is the enzyme that gives some cells "replicative immortality." That means that the cells do not become unstable, no matter how many times they divide. That is a key feature of tumors, for they grow via cellular division. The activation of the telomerase enzyme has been observed in 90% of tumors, and there is ample scientific evidence to show that it plays a key role in the development of cancer. However, existing therapies do not target it.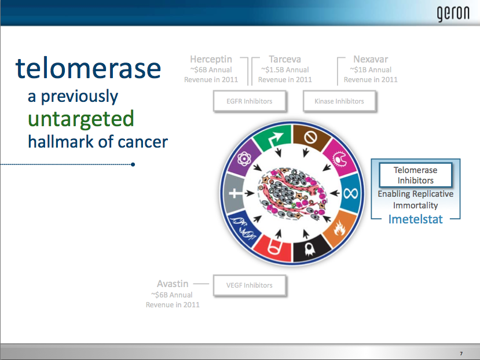 Imetelstat, however, is a telomerase inhibitor. Geron has spent years trying to work out the proper way to target it, and it is not the only company to do so. But, Imetelstat has gone farther than any such compound, and it is currently in Phase II trials. Readers who would like further details on the science of telomerase and/or the specific way that Imetelstat inhibits the enzyme can go here or here. Simply put, Geron's cancer strategy is to stop and/or inhibit the growth of tumors with Imetelstat.
What makes the opportunity in Geron unique at this point in time is that Imetelstat is currently in clinical trials for four different cancers, with both solid tumors and hematologic malignancies under investigation. On the solid tumor front, Geron is focusing on breast cancer and NSCLC (non-small cell lung cancer). On the hematologic front, Geron is focusing on multiple myeloma and essential thrombocythemia (this is a rare chronic blood disorder in which a person's bone marrow produces too many platelets, and it can evolve into leukemia).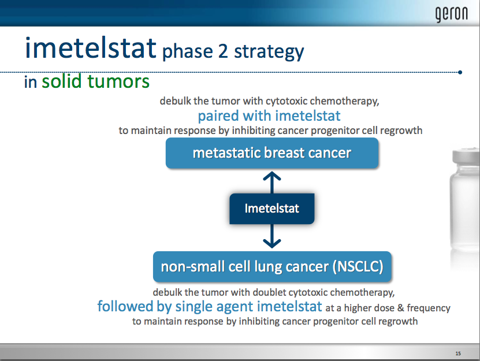 What makes the next 12 months so important to Geron and its investors is that the company will be seeing data from all four of its Imetelstat trials. Phase II data from the lung cancer trial is set to be released in Q4 2012. CEO John Scarlett provided a brief overview on the company's Q2 conference call, saying that, "In our non-small cell lung cancer study, we're evaluating whether imetelstat can extend the duration of response achieved by conventional chemotherapy. In this study, imetelstat is administered as maintenance therapy for patients who have achieved stable disease after treatment with a platinum-containing doublet chemotherapeutic regimen. This study was fully enrolled with 116 patients in May and was randomized 2:1 in favor of imetelstat. As we have commented before, the primary objective is an estimate of progression-free survival, or PFS, in patients receiving imetelstat following chemotherapy. Since PFS is event-driven, analysis and release of top line data will occur after a prespecified number of progression events have occurred. Based on the rate at which progression events have accrued, we continue to expect the release of top line data from non-small cell lung cancer study in the fourth quarter of 2012."
Geron's second solid tumor trial is for breast cancer, where Imetelstat is combined with Taxol in the treatment group and is compared to Taxol alone in the control group. A total of 166 patients are enrolled in this study, and 30% of the patients are also given Avastin. CEO John Scarlett stated on Geron's Q2 conference call, "We believe that using imetelstat in combination with debulking chemotherapy may extend the duration of response and progression-free survival in patients by inhibiting subsequent proliferation of breast cancer progenitor cells. This study, in which the imetelstat treatment and control arms are randomized 1:1, was fully enrolled with 166 patients by February. Like the imetelstat non-small cell lung cancer study, the primary objective for this study is an estimate of PFS in patients receiving imetelstat in combination with paclitaxel, meaning again that top line data will be reported after a prespecified number of progression events have accrued." The data from this Phase II trial is set to be released in Q1 2013. Back in June, Geron had planned a data release for Q4 2012, like in the company's lung cancer trial, but because topline data is set to be reported only after a certain number of progression events have occurred, Geron has pushed its timetable back by one quarter.
Imetelstat is also in Phase II trials for hematologic malignancies. Geron notes that the current drugs on the market for such diseases do not inhibit the reproduction of malignant cells and don't target the underlying causes of the disease in question. In the multiple myeloma study, Imetelstat is paired with Revlimid to determine whether or not there is a decrease in the number of progenitor cells. As CEO John Scarlett stated on the company's conference call, "Our ongoing clinical studies in ET (essential thrombocythemia) and multiple myeloma are, therefore, intended to evaluate our central thesis that inhibiting telomerase in hematologic malignancies may demonstrate the drug's ability to selectively inhibit the proliferation of the responsible malignant clone in patients."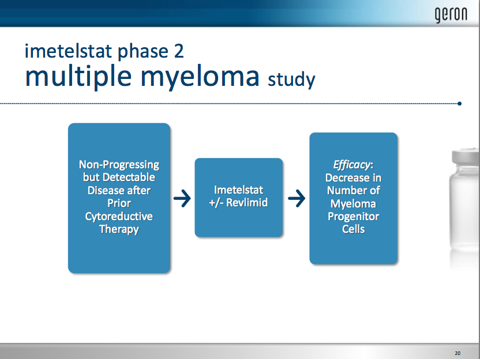 On the company's Q2 conference call, Geron reiterated that it expects data from this study, as well as its other hematologic study in Q4 2012. Geron's other hematologic study, for essential thrombocythemia, is investigating whether or not Imetelstat can inhibit the progenitor cells responsible for the disease.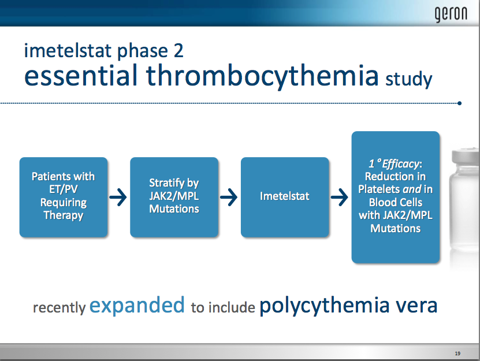 Geron will measure the effectiveness of Imetelstat not only by focusing on platelet production, but on malignant cells as well. The company will use a mutation in the JAK2 gene of white blood cells as a biomarker. Therefore, if Imetelstat is indeed inhibiting the production of progenitor cells, there should be a decrease in the proportion of cells that have that biomarker. Imetelstat is a novel drug compound that, if successful, will open up a new avenue for cancer treatment. But while it is Geron's most advanced drug, it is not the only one. GRN1005 is also in Phase II trials, and in many ways, it may present even more of a long-term opportunity for Geron than Imetelstat.
GRN1005 is an LRP-directed peptide drug conjugate that targets brain cancer, which is extremely difficult to treat. Most existing cancer drugs cannot penetrate the blood-brain barrier, which separates the circulating blood in the body from the brain's extracellular fluid. Only certain compounds, such as oxygen or glucose are allowed to cross. That defense mechanism prevents most cancer drugs from reaching brain tumors. But GRN1005 is different. It uses the LRP-1 transport mechanism, which is a protein found in the plasma of cells that are involved in receptor-mediated endocytosis. GRN1005 uses that protein to bypass the blood-brain barrier and deliver cancer drugs to the brain.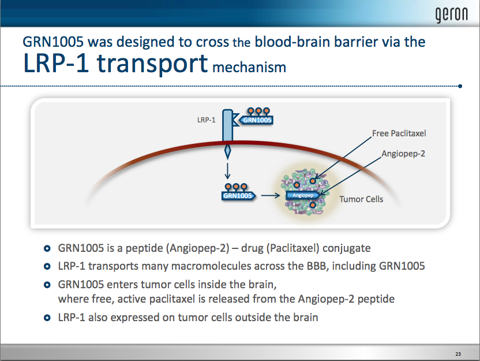 After encouraging Phase I data, GRN1005 is now in Phase II studies to see if the drug is effective in treating breast and lung cancer that has metastasized into the brain. GRABM-L is the Phase II trial for lung cancer, and GRABM-B is the Phase II trial for breast cancer. GRN 1005 delivers paclitaxel, a well-known cancer drug, across the blood brain barrier. The GRABM-B trial is split into two groups, based on whether or not the patients in question have HER2 positive or negative breast cancer. HER2 positive breast cancer occurs in about 20% of cases, and it is more aggressive than other forms of breast cancer. Patients who are in the HER2 positive group are also given Herceptin.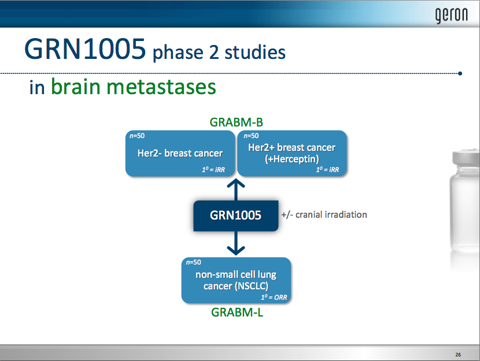 CEO John Scarlett stated on the call that, "In the GRABM-L study, we expect to enroll 50 patients with brain metastases from non-small cell lung cancer. The primary endpoint is overall response rate, which includes both intracranial and extracranial disease assessment. In the GRABM-B study, we expect to enroll 100 patients with brain metastases from breast cancer, 50 patients with HER2-positive disease and 50 patients with HER2-negative disease. The patients with HER2-positive disease will also be treated with Herceptin. The primary endpoint for the trial is intracranial response rate. We expect to report top line data for both GRABM-L and GRABM-B by the end of the second quarter of 2013." The next 12 months in Geron's history are set to be capped off with data from the company's Phase II GRN1005 trials. This drug, if it is successful, will pave the way for the treatment of brain metastases in a whole new way.
Geron's oncology pipeline is among the most unique in the entire biotechnology sector for the company's approach to cancer treatment is wholly different than what is currently in existence. And in our view, Geron's stock will skyrocket in the next 12 months if the data from its Phase II trials is positive. It is rare for a single company to be reporting so much data in such a short time period. This rarity also gives Geron a measure of downside protection. While it is certainly better for all six trials to show positive data, we think that stock will do well if even a minority of the trials show good data.
A Partnership: The Likelihood Has Increased
Currently, Geron owns full rights to both Imetelstat and GRN1005. But that may soon change. On the conference call, CFO Graham Cooper essentially admitted that Geron would be looking for a partner if the company advances its drugs into Phase III trials. Phase III trials for solid tumors (meaning the breast and lung cancer trials) are larger and more expensive than Phase III trials for hematological malignancies. Analyst Karen Jay of JPMorgan asked the key question. She asked, "On the program and potential partnership, I understand that it makes sense to wait for the data for a partnership to decide whether or not to go forward, but how feasible is it from a financial standpoint for you to begin maybe 1 trial on your own, 1 pivotal trial? And then given the proximity of the 1005 data, would you wait for that data set to decide which drug is your Phase III priority, if a partnership hasn't been signed at that point?"
CFO Graham Cooper's response essentially admitted that the company would have a partner for its Phase III solid tumor trials. He stated, "With current resources, I think it's not realistic to expect that we would launch down the path of the Phase III program without a partner. On the other hand, hem -- malignancies hem programs can be more cost-effective, can be run on smaller trials and are within the grasp of a smaller company with more limited resources. So I think at the end of the day, it's going to come down to the data. And the decision on whether to pursue solid tumors, hem malignancies, or both." Whether or not Geron will have a partner depends on which trials succeed. If the company must abandon its breast and lung cancer program, it is possible that the company can manage Phase III trials for multiple myeloma and essential thrombocythemia on its own. But if it needs to do Phase III trials for breast and lung cancer, Geron's $118.967 million may not be enough to get the company through those trials. CFO Graham Cooper also said on the company's Q2 call, "1005 [GRN1005] is a brain mets [metastases] in the salvage space, it is a smaller population. The Phase III clinical program required for registration is likely to be smaller than, for example, non-small cell or metastatic breast cancer. And so the expectation is also that we could hold onto 1005 and pursue the 1005 development program all the way through the end as well. So we're going to have to look at the non-small cell data on imetelstat, the metastatic breast cancer data on imetelstat and that will be determinative of partnering strategy on imetelstat."
Geron is in a bit of a catch-22 here. The company has six Phase II trials, and while it would be wonderful to have all six move on to Phase III, we do not think that a company of Geron's size has the financial capacity to support six different Phase III trials (two of which are solid tumor trials) on its own. That being said, a partnership is better than not moving forward at all. And it opens door for a possible takeover of the company at a premium to its current stock price (which is $1.71 as of this writing). Geron's two drugs may be attractive to a larger company if either one of them can move into Phase III trials.
Using Options to Hedge Some Risk
When used properly, options go from being speculative instruments to ways of reducing risk. And with Geron, there is a way to reduce the risk. Of course, it does come at a cost of reduced upside, for there is no free lunch. Specifically, investors who want to hedge some of the risk in owning shares of Geron can purchase in the money put options. Specifically, we will present the January 19, 2013, $2.50 put and the March 16, 2013, $2 put, both of which we model below. Price data is accurate as of the close of trading on August 15.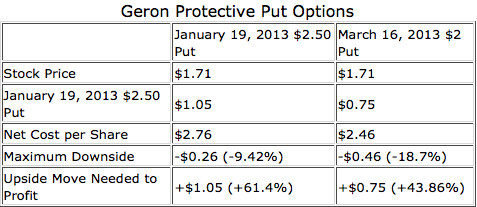 By purchasing the $2.50 puts, investors are limiting their downside to less than 10%. For a speculative stock such as Geron, that is a small amount of downside, for if the company's Phase II trials fail, Geron will plunge much more than 10%. Conversely, investors will need to see a move of over 61% to profit. We do not think that such a move is impossible. If Geron reports solid Phase II data, the stock will soar. The market opportunity in oncology is compelling enough that we see a huge rally in the shares should the company post solid Phase II data. January 2013 puts will enable investors to capture every Imetelstat data release except for breast cancer (it is possible that breast cancer trial data will be reported in the first half of January, but Geron has promised a release in Q1 2013, and it is unlikely that it will happen in the first 19 days of January). Alternatively, investors can buy the March 16, 2013, $2 put. The March puts come with higher potential downside, but also require a lower upside move for profits. And these puts allow investors to be protected through the release of Geron's Phase II data for Imetelstat in breast cancer. There is no right or wrong answer here. Which put option to use, if any, is up to each individual investor.
Conclusions
Geron's drugs have the potential to change the way that cancer is treated. Over the next 12 months, there are six potential catalysts for the company's stock, and investors who have room for some speculation in their portfolios should consider this stock. Are we recommending that investors put all their cash into Geron? Of course not. No investor should ever hold just one stock. But we do believe that the upside potential in Geron is great, and that even if a minority of the company's Phase II trials are successful, the stock can rally. And more conservative investors can utilize put options to hedge some of the risk if they wish. In our view, Geron's best days lie ahead of it, and investors who have room for some speculation in their portfolios should consider adding to or initiating a position in this unique biotechnology company.
Disclosure: I am long GERN, AMGN, CELG, GILD, BIIB.
Additional disclosure: We are long shares of AMGN, CELG, GILD, and BIIB via three biotechnology ETF's.