In June, we wrote about Berkshire Hathaway's recent newspaper investments. We followed up that report with a deep dive of the newspaper portfolio of Berkshire's newspaper investees. In our second installment, we were interested in examining further the newspaper portfolios of the companies that Warren Buffett's Berkshire Hathaway (NYSE:BRK.B) has invested in the past and has invested in recently. In this report we will examine the recent performance of Berkshire's newspaper investments, regardless of whether in the form of public equity, outright ownership, or debt with an equity kicker.
The Washington Post Company (WPO): We've already established Buffett's history with The Washington Post Company and the Graham family. We remembered how Buffett tutored Katherine Graham and her son Donald on how to run a business to maximize shareholder wealth and how Katherine Graham was his ticket to high society. Because of Buffett's involvement, we expect WPO to handle the shakeout in the news industry better than other firms who did not have the vision to diversify into higher-value content like for-profit education as well as the television business.
While The Washington Post may be the name of the parent company, the flagship newspaper and its Post-Newsweek Media community papers only account for 15% of the company's revenue. Unfortunately for WPO, the growth from its cable television has seemed to reverse itself and register a 5% decline in division operating profits for Q2 2012 versus Q2 2011 and a 10% H1 2012 decline versus H1 2011 levels. Its Kaplan Higher Education subsidiary is facing industry-related headwinds thanks to lower student enrollments and government reforms of the industry, which explains the $10M year-to-date loss on its largest and former high-flying star performer.
WPO's Newspaper Publishing division saw its revenues decline by 6.73% from $163M in Q2 2011 to $152M in Q2 2012 (YTD 2012 decline of 7.4% versus YTD 2011 levels). The division benefited from a $2M (8%) increase in year-over-year revenues from its online media properties but this was more than offset by a 15% decline in advertising revenue. Average daily circulation declined by 9.3% for The Washington Post and by 6.1% for the first six months of 2012 versus 2011 levels. WPO managed to beat its Q2 2012 EPS by 19% due to a 34% increase in Broadcast Television division profits, $18M in profits and gains from discontinued operations as well as a 5% reduction in the weighted average outstanding share count.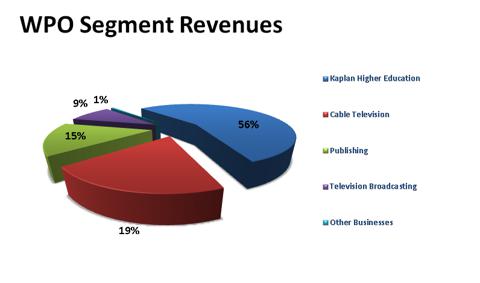 Source: Washington Post Q2 2012 10-Q
Buffalo Evening News: Berkshire also owns the Buffalo Evening News. It was for years the only newspaper fully owned by Berkshire. Though it is private, we can see that it's not a "small-town community newspaper" but rather a regional metropolitan area newspaper. We will concede that if Buffalo's population declines continue its proud, 60+ year streak, then the Buffalo Evening News will be a "small-town community newspaper" without having to do anything on its part to make it happen. Buffett admitted in 2009 that his investment in this paper was not rational. And considering the poor socio-macro-economic environment of Buffalo, NY, and to a lesser extent of the Buffalo metro area, we have to agree with him. Buffalo was once a leading metropolitan area in the U.S. and the 13th most populated American city, but the city has seen its population stagnate and decline since 1930 and this phenomenon has spread to the Buffalo metro suburbs since 1970. Berkshire does not have separate financial statements for the paper, but rather consolidates it into its "Other Service" segment within its Manufacturing, Service and Retailing Division.
Omaha World-Herald: We like this paper better than the Buffalo Evening News since Omaha and its metro area are growing faster than Buffalo. We also like the fact that for years it was led by the Peter Kiewit Foundation and its private shareholders included 275 OWH employees and retirees. As with the Buffalo Evening News, Berkshire did not break out separate financial performance for the paper but based on the addition of 66 newspapers acquired from Media General (MEG) and other community paper organization, we expect Berkshire to begin reporting the performance of Berkshire's newspaper portfolio under the BH Media Group (World Media Enterprises) beginning next quarter.
Gannett (NYSE:GCI): Berkshire still owns $26M of Gannett. We think Gannett is actually one of the better print media companies out there. Granted that's not saying much. Still, we have to take note that Gannett is expected to exceed $500M in free cash flow. Considering that its market cap is only $3.45B, we can take note of this 14% free cash flow to market price "yield".
Gannett increased its annual dividend to $.80 per share, which was 50% of its 2008 dividend peak and represents a 5.3% dividend yield. Gannett saw mixed performance recently as strength in its digital and broadcasting businesses was more than offset by continued weakness in its publishing business. We can see why Gannett has its fans; after all, it has diversified out of print media and gets 30% of its revenue from high growth media content areas. However it still has to deal with the declines of the print media business, which still brings in over 70% of the company's revenue.
The good news for Gannett was that it beat analyst estimates by $.04, and its adjusted EPS only declined by 3.6%. The bad news is that the company's revenues are benefiting from non-recurring events, such as political spending for American elections and the Olympics, and will continue its declining trend next year.
Even with this boost to revenues and cash flows, the company saw a 19% year-over-year decline in net cash flows from operations. GCI's Q2 2012 publishing revenue declined by 5.8% versus Q2 2011 levels, while H1 2012 publishing revenue declined by 5.9% versus H2 2011 levels.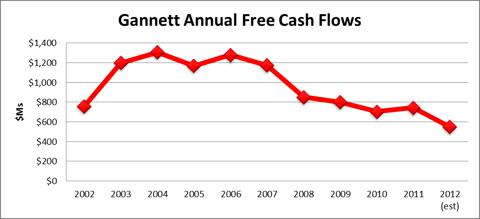 Source: Morningstar Direct
Media General Newspapers (NYSE:MEG): Berkshire Hathaway bought all of Media General's newspapers, with the exception of The Tampa Tribune. MEG's three largest, regional metro daily broadsheets accounted for 57% of MEG's average daily circulation. Two of the newspapers that Berkshire bought from MEG were large regional daily metro broadsheets (The Richmond Times-Dispatch and The Winston-Salem Journal) which accounted for 32% of MEG's average daily circulation. We were surprised to see the legacy Media General newspaper operations record a decline of 9.7% for its Q2 2012 period and a 9.3% revenue decline for YTD 2012, due to the fact that these papers were located in the fast growing Sun Belt area of the U.S. Because the company ceased the accrual of depreciation and amortization on these properties, MEG's legacy newspaper operations recorded a slight profit of $1.6M for the quarter. However, it still lost $8.1 for H1 2012 versus $6.5M for H1 2011.
Media General Broadcast Television: MEG kept the broadcast television operations (Buffett owns a 19.9% equity position in MEG through penny warrants in exchange for a $445 million loan and credit line) and it benefited from the 2012 elections to generate a 17% increase in broadcast television revenues. Core time sales, excluding political revenues, increased 3.9% overall, mostly driven by higher automotive category spending. Retransmission fees increased 80% as a result of contract renewals that reflected competitive market rates. Media General plans to reduce corporate expenses by 35-40%. Political advertising revenues were $12M YTD and are expected to reach $50M for FY 2012. The company plans to use its operating cash flows to make interest payments of $65 million, capital expenditures of $15 million and retirement plan contributions of $13 million.
Lee Enterprises (NYSE:LEE): Berkshire also received 1.655M shares of Lee Enterprise's common stock when it bought $85M worth of Lee Enterprises loans which were to be exchanged into junior debt. After taking a second look at the company, we have a greater appreciation for this investment. Our opinion on Lee has moderated because we break it down into two different companies as follows:
Lee Publications Inc., which we assign its 48 Daily News serving small communities and micropolitan areas and its 300+ weekly newspapers.

Pulitzer, Inc., which we assign its four largest metro-area broadsheet dailies, including the 50% owned Arizona Daily Star and the Wisconsin State Journal
We were disappointed to see Lee Enterprises's revenue for its most recent quarter (Q3 2012 for LEE) register another decline. Lee's most recent quarter saw its revenue decline by 4.3% versus its Q3 2011 levels. One consolation is that its newspaper publishing revenues declined by a lower amount than the publishing operations of WPO, GCI and MEG (before MEG sold 98% of its newspaper portfolio to Berkshire) because Lee's newspaper portfolio is primarily small-town community newspapers versus large metro area daily broadsheets.
Lee's YTD revenue declined by 3.93% and its 50% owned affiliates also saw similar YTD revenue declines as well. Free cash flows were only $7M in the quarter. However, this was partly due to $8M in payments relating to working capital assets and liabilities. The company also paid $8.3M in debt repayments net of a $1.4M increase in the amortization of debt present value adjustment.

Source: Most Recent Earnings Release from these companies
In conclusion, we have broken down Berkshire's newspaper investments into two categories. The first category relates to Buffett's legacy newspaper investments in the Washington Post Company, Gannett and the Buffalo Evening News. With the exception of the Buffalo Evening News, Berkshire's legacy newspaper holdings were in the form of public company ownership shares and all three holdings published large, left-wing metro area daily broadsheets.
Berkshire's most notable recent newspaper investments were the Omaha World Herald, Media General's newspapers and $85M in Lee Enterprises' junior debt. These operations Berkshire either owns outright, through debt with an equity sweetener or both, and are primarily community papers (with the exception of the Omaha, Richmond and Winston-Salem papers) We can see what the living legend of investing, Warren Buffett, saw in Lee Enterprises and why he wanted to keep his equity position secret; regardless of what he did with the stock (he received from his 2nd lien term loan investment in that company) and regardless of the fact that his purchase of Lee's 2nd lien terms from Goldman Sachs was in the news.
Our thesis is that while Lee is a turnaround project, it is still generating positive free cash flows and using those cash flows to pay down debt. Because the company took on $1.5B in debt to acquire legacy Pulitzer in 2005, we believe that Lee would be seeking to use the cash flows to pay down debt even if it wasn't required to under its first term loan indenture terms.
Disclosure: I am long BRK.B, LEE.
Disclaimer: Saibus Research has not received compensation directly or indirectly for expressing the recommendation in this report. Under no circumstances must this report be considered an offer to buy, sell, subscribe for or trade securities or other instruments.