One thing we all do on a daily basis is to get dressed. At least most of us that aren't nudists. While some readers may be more inclined to buy the aspirational brands, others will be satisfied with the simple basics. The following 4 stocks have brand recognition and a solid foundation for growth once the consumer begins to spend. And combined, they can pretty much dress you up from head to toe.
1. Coach (COH)
Coach has developed a much-desired brand name that commands premium pricing. They recently reported a rise in earnings of 27%, beating analyst estimates. Despite the slowdown in sales growth, the expanding men's business initiative and the new Legacy line should bode well for the future. They are still in the early stages of building their European and Asian presence and despite slowing growth in Asia, I still see this as a great opportunity for them. The stock has a yield of 1.8% and while the price multiples don't necessarily look cheap, the PEG ratio, at 0.7, does. The average Wall Street estimates have EPS growth at 21% in 2012 and 18% in 2013.
I would watch this one closely however. The daily chart below is still not convincing enough that the stock has fully corrected.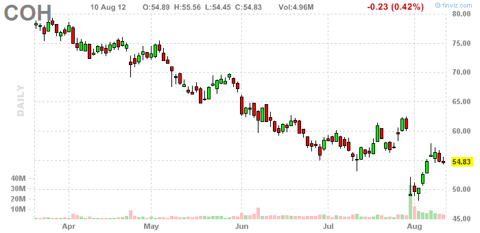 2. Crocs (NASDAQ:CROX)
Everywhere I look I see people wearing Crocs. Initially, designs were very casual clog-like sandals that I would only wear around the house or when I didn't think I would see anyone I know. What can I say, I like to look good. But as they caught on, I started seeing them everywhere. In addition, they began to expand their designs and with it an ever growing target market. With over 50% of their revenues generated outside the U.S., they are well diversified. At a price earnings multiple of 12, the stock trades at a significant discount to peers and the forward PE ratio is a very interesting 9.3. If the price of the stock breaks through 17, I'd be very bullish.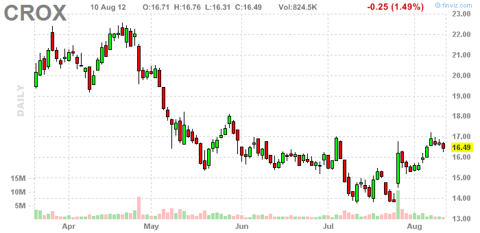 3. Chicos FAS (NYSE:CHS)
If I were to base my investment decisions on what I spend my clothing budget on and what I see in my closet, I would have 100% of my portfolio invested in Chicos. Well, technically, it's not just my closet, but my dresser too. While their namesake brand Chicos does not really attract my attention, I do spend quite a bit at White House Black Market and Soma. Meanwhile, the more affluent than me baby-boomer generation are very loyal to Chicos and they are probably the fastest growing segment of consumer. I also love the bathing suit offered through their catalog business, Boston Proper. I haven't quite pulled the trigger on any of those purchases because I like to try things on first, but I am so happy with both White House and Soma products that I may just venture out of my comfort zone and get my bikinis mailed to me. With same store sales increases of 9.6% on average across all brands, they are one of the top performing retailers. The current Price/Cash Flow multiple of 8.4 is below their 5 year average of 10.1 and average EPS growth estimates are 27% and 16% for 2013 and 2014, respectively. The stock can't seem to get past 16, but if it does, it has a lot of room to run.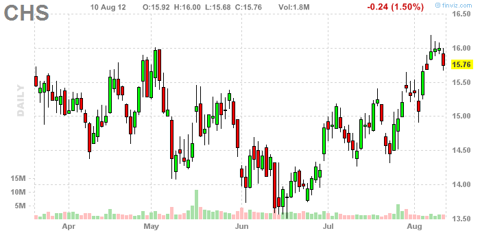 4. Hanesbrands (NYSE:HBI)
What can I say about Hanesbrands. For those of you who don't know, their brands include: Hanes, Champion, Playtex, Bali, Leggs, and Wonderbra, among others. Hanesbrands is either the #1 or #2 player in almost every category it competes in, and they make core clothing items that need to be constantly replenished. It's no surprise the company's revenues recovered so quickly in the last two years. The stock has been on a tear since December and is close to it's 52 week high. Regardless of what happens in the global economy, the consumer will continue to replace their core clothing. I think there could be some multiple expansion from 17 to 19 regardless of the market environment.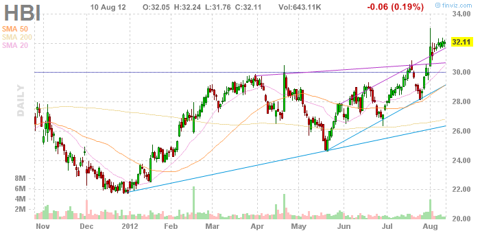 All four of these companies are long term winners in my eyes. Will be investing in each slowly over the next 3-6 months.
Disclosure: I have no positions in any stocks mentioned, but may initiate a long position in HBI over the next 72 hours.