The Importance of a Proper Investment Plan
Most "do-it-yourself" investors fail miserably over the long-term. As a matter of fact, the majority of professional investors fail to beat the returns of the broader market indices every year. That said, there is one common trait that every successful investor shares…an investment plan!
Unfortunately, simply setting up an investment plan isn't enough to succeed these days. You also have to have the discipline to carry out that plan (come rain or shine). Contrary to popular belief, the market does not control your investment success…you do!
While the specific details of a dividend investor's personal investment plan will vary based age, risk tolerance, etc., we suggest that investors use the plan below as a guide:
Identify, research, and invest in dividend stocks with the best risk/reward profiles.
Identify low-risk entry points for each stock.
Adhere to strict asset allocation targets (for asset classes, industries, and individual stocks).
Maintain a disciplined exit strategy for each stock by closely monitoring changes fundamental and technical data points.
Utilize portfolio hedging techniques and conservative option strategies to manage downside risk.
Over the next 5 articles, we will highlight each step of our recommended investment plan so that you can build and monitor your own DIY Dividend Portfolio.
Part 1: Identifying the Right Dividend Stocks
We use a combination of fundamental and technical analysis to determine which stocks to buy and when to buy them. For dividend stocks in particular, we have a proprietary rating system that ranks over 700 U.S. dividend stocks on a weekly basis.
Our composite rating is derived by ranking each stock based on 28 key fundamental and technical data points in five sub-rating categories:
Risk-Reward Profile (e.g., current yield, Calmar ratio)
Financial Stability (e.g., sales and EPS growth, ROE, leverage)
Dividend History (e.g., historical dividend stability and growth)
Future Dividend Potential (e.g., payout ratio, EPS estimates)
Relative Strength (e.g., 12-month total return and trends)
Most online brokers offer their clients stock screening software for free. Investors can utilize this software to determine which stocks are the most desirable for their portfolio. Our overall rating and each sub-category rating range from 1 (lowest) to 99 (highest). When choosing investments for our own DIY Dividend Portfolio, we tend to target stocks with an overall rating of at least 80.
This select group of top-rated stocks have an average dividend yield of 4.3% and average beta of 0.63. In general, companies with low betas will tend to be less volatile than the general market and will help dampen portfolio volatility. Stocks in defensive sectors like Wal-Mart (NYSE:WMT), Abbott Laboratories (NYSE:ABT) and Southern Company (NYSE:SO) have the lowest betas.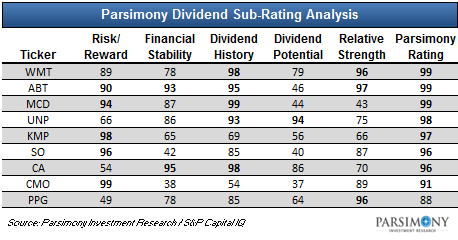 When analyzing the sub-ratings for each stock, you can see that most top-rated stocks generally have very strong scores (90+) in several of the sub-rating categories as well.
Many of the companies on this list have long and stable dividend histories (as dictated by their high Dividend History rating). As a matter of fact, Wal-Mart, Abbott Labs, and McDonald's (NYSE:MCD) are all members of the S&P 500 Dividend Aristocrats club, which have followed a policy of increasing dividends every year for at least 25 years.
Also, you will notice that Union Pacific (NYSE:UNP) and CA Technologies (NASDAQ:CA) have very high ratings in Dividend Potential. Both of these companies have 5-year average payout ratios below 25% and both are expected to grow earnings over 10% per year over the next 5 years. In addition, they both have 10-year average dividend growth rates over 15%. Now those are numbers that dividend growth investors dream about!
Even some "high-yield" stocks such as Kinder Morgan Energy Partners (NYSE:KMP) and Capstead Mortgage Corp. (NYSE:CMO) score very well in several categories, including Risk Reward Profile. Both of these stocks have a 5-year total return over 100%. This suggests that investors are actually getting paid for the risk that they are taking, which is a compelling reason for dividend investors to keep an open mind about potentially adding a few "high-yield" stock to their DIY Dividend Portfolio. Just make sure you choose the right ones!
Conclusion
We created our ranking system to help us find the best dividend stocks. If you rank all of the stocks in a universe against their peers on a consistent basis, it becomes clear which companies are the strongest and which offer the best investment opportunities going forward. The ranking system also helps us monitor the health of the stocks going forward.
Whether or not you use a rating system like the one described above to find great dividend stocks, the key takeaway here is to formulate a consistent process for picking your stocks. There are some great tools out on the web so you should never be "throwing darts" when building your DIY Dividend Portfolio.
Note to readers: We will detail how to pick low risk entry points for these top-rated stocks using our "Buy Zones" in Part 2 of this series, so please make sure to "follow" us.