When you enter the website of Osiris Therapeutics (NASDAQ:OSIR) you are immediately hit with their crowning achievement to date: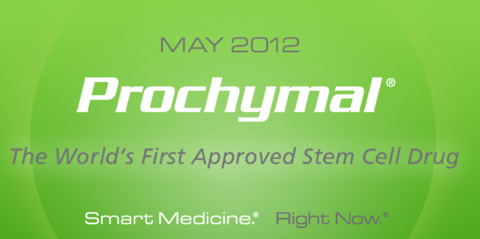 After six years as a public company, Osiris is justified to toot its horn regarding the May 2012 approval for the treatment of acute graft-vs-host disease (GvHD) although this marketing approval for its stem cell therapy, Prochymal®, is limited to Canada and Norway solely for children. As a result of these limited approvals, OSIR shares traded as high as $14.46 from about $5 a share and have currently settled in at around $9.00. The reason for the market's strong reaction isn't limited to this single approval but to a potential platform of drugs that its regenerative medicine platform represents. Osiris is currently working on several therapies.
If the OSIR approval is any indication of things to come, investors looking for the next big area in biotech just might want to keep an eye on the stem cell sector. It is truly mindboggling how many human afflictions regenerative medicine has the potential to not only treat, but to cure. To give you an idea on how interest in this area of medicine is growing exponentially, a search of the words "stem cells" yields 4,125 clinical trials at clinicaltrials.gov: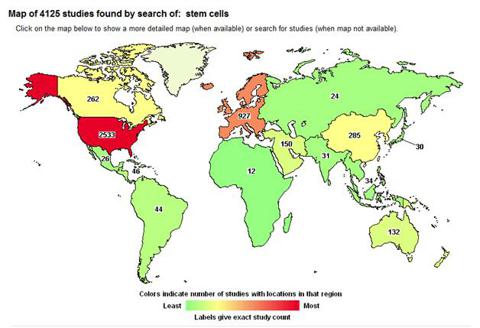 Like many high reward/high risk market sectors, valuations of stocks in the stem cell arena can swing wildly over time between the boundaries of unbridled investor exuberance to the troughs of "get me out of this stock at any price!." In a complex, ever developing sector like regenerative medicine, sorting the contenders from the pretenders requires following the sector closely for years. Even then, one must rely on company management to execute through the myriad of regulatory and technical hurdles that stand in the way of the ultimate success that many believe this sector will achieve.
While regenerative medicine is a rapidly evolving field, at a minimum, every investor should understand a few basic concepts:
Allogeneic: Cells taken from a donor, cultured into multiple standardized doses to be used by unrelated patients.
Autologous: Cells taken from a patient and put back into the same patient.
Sources of Regenerative Cells:
Embryos - cells extracted from an embryo and cultured into doses.
Bone Marrow - cells extracted from bone marrow and cultured into doses (autologous or allogeneic)·
Adipose (fat) - cocktail of cells (i.e. ADRCs) extracted from adipose at concentrations 500 times that of bone marrow. The richest source in the body. Due to this concentration there is no need to culture. Used primarily for autologous treatments.
Others - Umbilical cord blood, placenta, skin, heart, etc. All must be cultured.
One stem cell company that I have personally followed is Athersys Inc. (NASDAQ:ATHX). ATHX takes a very similar approach to Osiris in that it is pursuing an allogeneic product based on donor cells extracted from bone marrow, a frozen, off-the-shelf biologic pharmaceutical. Like Osiris, the beauty of Athersys is that it is building a PLATFORM of therapies off a single technology and clinical results to date have been very promising.
Although the Athersys product, called MultiStem, has been derived from bone marrow, it is a different cell type than used in Prochymal. The MultiStem platform is based upon Multipotent Adult Progenitor Cells (MAPCs). Readers can do their own due diligence on the traits and advantages of these cells here. The OSIR product is based upon mesenchymal stem cells (MSCs). One advantages of MultiStem is the ability to culture hundreds of thousands to millions of off the shelf doses from a single donor, about 10 times as can be accomplished with MSCs. Since ATHX is similar to OSIR in taking the allogeneic approach, a side by side comparison of the two companies brings out the relative undervaluation of ATHX by comparison. First a look at their respective pipelines:
Osiris Pipeline: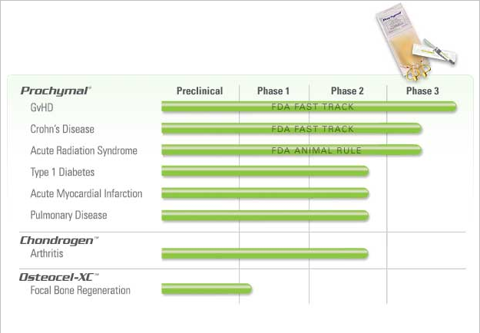 Athersys Pipeline: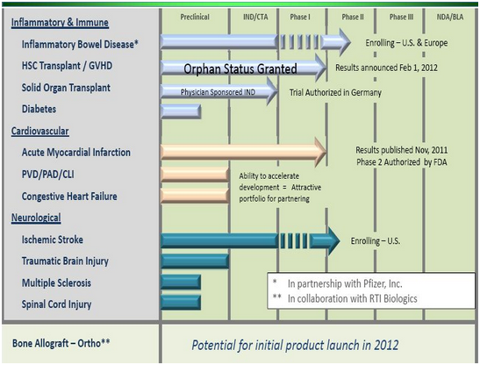 The Osiris FDA pipeline is generally further advanced than that of Athersys, but there is much overlap between the two companies.
In comparing Athersys to Osiris with regard to the recent Osiris acute graft-vs-host disease (GvHD) approval in Canada and New Zealand, the big catalyst in the OSIR recent price share movement, it should be noted that the Osiris therapy treats GvHD after it has become a problem with a patient. Athersys, which has obtained Orphan Status on the indication from the FDA, is seeking to prevent GvHD disease from occurring in the first place, as described by CEO on the August 2012 conference call for which a Seeking Alpha transcript is available here:
One, our approach is a little bit different from Osiris' approach. They're waiting for patients that have actually gotten the disease before they intervene with Prochymal to treat them. What we are doing is we're actually treating on the front end. So right after the patient had undergone a transplant, the medical stem cell transplant procedure, we would be treating patients right at that time, to actually prevent the graft versus host disease from ever occurring. So the analogy that I've used in the past is that essentially what we're trying to do is put the fire out when it's at the campfire stage, whereas when people are trying to treat graft versus host disease once the full-blown condition or trying to put out the forest fire after it's already started to rage. So the approaches are a little bit different. We're a little bit earlier in the process. And -- but I do think that their progress is noteworthy because it signals that regulatory agencies around the world have really opened their mind to the use of cell therapies as treatments for various conditions and that they believe that they can actually address areas of significant unmet medical need. So I think it's a good thing.
The interesting thing about the comparative approaches is that, if and when Athersys gets approval in any Osiris market, logic would indicate that the Athersys approach would make the Osiris approach less desirable. The Athersys approach would also have a bigger market in that it could eventually treat every patient getting a bone marrow transplant not just those who have already contracted the disease.
Another interesting note on the conference call was related to work done by Athersys that was unrelated to the MultiStem platform. Athersys has a very early stage obesity drug program that has mostly been under the radar screens of Wall Street. However, recent FDA approvals for a pair of obesity drugs should put a much brighter spotlight on this program as described by Gil Van Bokkelen - Co-Founder, Chairman and Chief Executive Officer on the conference call:
This summer, the FDA approved 2 new weight-loss drugs, Qsymia and Belviq, formerly referred to as Qnexa and lorcaserin, respectively. We believe that these represent important new options for patients, and that these approvals also represent an important step towards explicitly recognizing that obesity is not simply a lifestyle issue, it has serious medical consequences.

It's worth noting that both products will be subject to multiple post-marketing studies to further evaluate the longer-term safety of these therapies. And despite these advances, however, it is clear that there's substantial room for improvement in the pharmacological management of obesity and co-morbid conditions. In particular, we believe development of therapies that can achieve better efficacy, tolerability and safety, will be key to maximizing the benefit to patients that need help in achieving the greatest value creation.

Given these concerns, and the fact that obesity is not being adequately addressed by diet and lifestyle changes for the vast majority of patients, we believe there remains an urgent need for new options, particularly non-surgical options.

Data from preclinical studies, comparing some of our potent and selective 5HT2c agonist, show that our compounds exhibit superior selectivity in comparison to what other 5HT2c agonists have been able to achieve, which is critical for safety, while also delivering substantial weight loss in well-validated models with diet-induced obesity. Furthermore, when we administer some of our compounds in combination with other agents, we are able to achieve dramatically better weight loss in either Belviq or Qsymia in a head-to-head comparison.

We have also demonstrated complementarity with multiple mechanisms of action, and we believe this illustrates that there are a range of ways for us to achieve a best-in-class profile, which we define as better efficacy, as well as superior safety and tolerability. These results are relevant because, in addition to being a major area of clinical need, obesity also represents a substantial commercial opportunity, which analysts have estimated at a multi-billion market.

We believe that we are well positioned to deliver value for our stockholders by partnering our 5HT2c agonist program with an organization that is committed to establishing itself as a long-term leader in the area of treating obesity and related conditions.

We are currently engaged in active discussions and diligence activities with multiple companies, regarding potential partnerships on several fronts, including obesity, as well as various programs in the regenerative medicine area.
Back to the Osiris versus Athersys comparison, which is the basic theme of this article, it is interesting to examine the comparative enterprise values of these two similar companies. Neither company has had any significant commercial product revenues at this stage. However, OSIR has been profitable from 2009 to 2011 due to its annual revenue recognition of $40,000,000 per year from its 2008 collaboration agreement ($130MM up front) with Genzyme.
Currently, OSIR has an enterprise value of about $246,000,000. In comparison, Athersys looks extremely cheap with its enterprise value of only around $33,000,000 (a true microcap). To put this disparity in perspective, if investors were to value ATHX at just one half of the enterprise value of OSIR, the stock price would be at $5.66 per share. Plus, investors get the potential obesity upside for free and although it is a long way from commercial development, a partnership deal in this area is a distinct possibility.
These are the personal views of Wall Street Titan. All investors should always do their own due diligence.
Disclosure: I am long ATHX.