Background
Nautilus Minerals (NUS.TO or OTCPK:NUSMF) appeared to be on track to be the first company to economically mine minerals from the ocean floor using underwater robotics. About 70% of the earth is covered by water and virtually none of it has been mined for precious metals. If Nautilus were to be successful, the opportunity would be enormous. We have been following the company since June when unfortunately, Nautilus got tangled up in a contractual disagreement with the State of Papua New Guinea - PNG - and the stock got crushed - dropping from about $2.25 to 90c in a few days.
The disagreement is now in arbitration in Sydney, Australia, and the parties are hopefully working through their differences. Management has stated their intentions are to work with the government of PNG and to resolve any issues outside of the courts amicably.
Bullish Case
Nautilus has first-mover advantage in uncharted territory - mining minerals from the ocean. They have spent years planning and millions of dollars developing the technology necessary to economically mine gold, copper, zinc etc., from the ocean floor. The resource target is well documented and management believes the minerals exist in economically viable quantities. For example, they have determined Solwara 1, their main target, has grades of:
Indicated Mineral Resource: 1,030kt @ 7.2% Cu, 5.0 g/t Au, 23 g/t Ag, 0.4 % Zn
These grades are many times higher than what is expected for an economically profitable mine on the land.
The company also has titles granted and applications lodged that provide the Company with rights to explore for minerals in offshore PNG, Tonga, Fiji, Vanuatu, the Solomon Islands, and the Clarion Clipperton zone in the "area beyond national jurisdiction" in the eastern Pacific Ocean. In addition, the company has lodged exploration or prospecting applications in the exclusive economic zone of New Zealand. Plenty of opportunity for years to come.
Secondly, Nautilus currently has sufficient cash to see through development of Solwara 1 and the specialty equipment necessary to operate - so there is no need to further dilute shareholders. As of June 30, 2012, Nautilus had $87 million in cash and the private placement when finalized will raise another $34 million for a total of $121 million with no long-term debt.
Additionally, their major shareholders all participated in the most recent stock offering. Participation by deep-pocket shareholders is a bullish sign of commitment to the viability of the technology and business concept. Big investors are usually "in-the-know" well before the public. Shareholders like MB Holdings, Metalloinvest and Anglo American control 49% of the outstanding shares.
Bearish Case
Only one point must be acknowledged, but it's a big one. The disagreement with the PNG government has the ability to have a material effect on the stock price. Nautilus does have a substantial amount of cash on the balance sheet, which could be a floor for the stock price given a less than favorable outcome.
How we like to invest -
We teach buying stock in "tranches," thereby limiting your exposure initially and giving the investor the ability to acquire more knowledge about a situation before fully committing their capital. This methodology protects against disaster and allows for substantial upside if your investment thesis is correct, because your initial investment is done when the "blood is flowing on the street," - as Wall Street likes to say.
We speak of "tranches" - if, for example, you wanted to acquire 1,000 shares of a company, we suggest acquiring the stock in tranches of 250 shares each, adding more shares only when new information confirms your investment thesis.
Charts
After you have reviewed the fundamental reasons for your investment, we believe the next critical item relates to the timing of your investment and applies equally to long-term investments and short-term trades. Bad timing can decimate a good investment. Just look at how many people bought technology stocks in the bubble - Microsoft (NASDAQ:MSFT), Cisco (NASDAQ:CSCO) and Intel (NASDAQ:INTC) just to name a few. All are dominators within their industry and great businesses. All had excellent business cases supporting the investments, but the timing for an investment was awful and as a result, many people took huge losses or are still sitting on unrealized losses eight years later. Timing is so important, and many investors don't have a clue about it.
Daily Chart -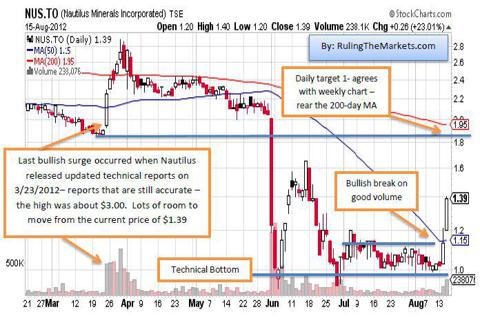 Weekly Chart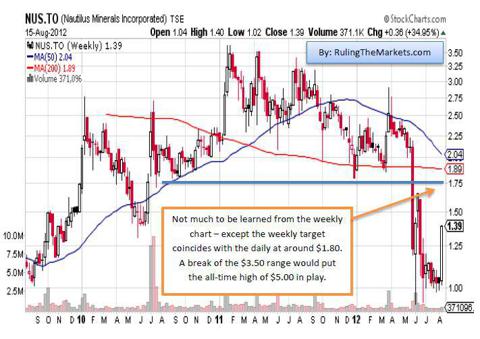 Conclusion
Now is a good time to acquire a base position in NUSMF. The volume from Tuesday and Wednesday of this week signals that the bottom looks to be formed around the $1.00-$1.10 range. Upon the company confirming the finalized arbitration agreement with PNG, I will be looking to add to my long position.
It has been my experience that through utilizing a somewhat diversified portfolio of assets and having the ability to overlap fundamental analysis with technical analysis, that the "common" investor can outperform the markets. Good Luck
Disclosure: I am long OTCPK:NUSMF.
Additional disclosure: This work is based on public filings, public events, interviews, corporate press releases, and what I have learned as financial journalists. It may contain errors and you shouldn't make any investment decision based solely on what you read here. It's your money and your responsibility.