With it's seesaw stock price and worries over its past tax returns and earnings releases, Weatherford (NYSE:WFT) looks like a great buy at +/- 12.20 or touching a new high and about to drop. Not so long ago WFT was at 18.00 and climbing only to cliff dive on Feb. 20 2012 missing by $0.16. Shortly thereafter we see the market recover the initial emotional backlash and by March 16th 2012 WFT was back to $17.75.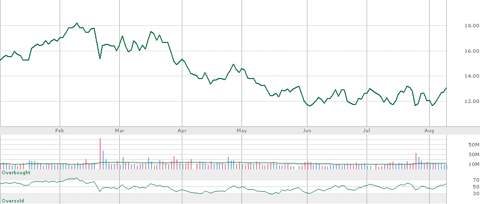 Below is the chart with comparison to Schlumberger (NYSE:SLB), Baker-Hughes (BHI) and Halliburton (NYSE:HAL) the most often cited and best companies to compare WFT to. They all have international coverage and they operate in the same segments of the oil and gas industry and well building and completion. (WFT = Green, SLB = Grey, HAL = Purple, BHI = Black)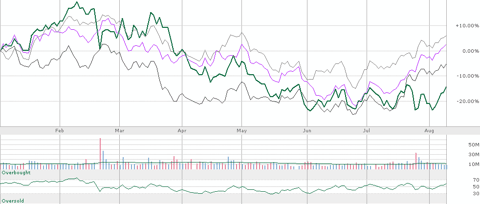 As one can see, WFT trends with the tide of the other three majors with a slight lag. It seems that the market forgets about WFT until the other three are overbought and then brings WFT into the picture.
Despite internal troubles over accounting, tax reporting, and investigations over possible dealings with black listed countries, Weatherford remains a very strong company. With Market Cap of $9.3B and revenues going higher and higher the value is just on a general skyrocket. Based on the fundamentals WFT is at a discount with a PEG value of 0.5326, one of the lowest in the Oil Well Services & Equipment industry. Gross profit is at 25.5%, EPS growth is at an unbelievable 225%, revenue growth at 28%, and with a debt to capital ratio of 44% even if a sudden downturn occurs they will be able to remain strong. Current book value is about $13.00 and the stock is trading at $12.20 (8-15-2012).
While it's closest competitors are all good value buys as well, they are trading at levels in-line with growth expectations and value in the case of HAL, and a bit over-bought and a bit over-valued in the case of SLB. SLB's PEG is 1.02 and price to book of 2.22, HAL's PEG at .568 and price to book of 2.22, and BHI PEG at .681. and price to book of 1.26. That being said, A short explanation of PEG is a good idea. PEG is simply the price of a stock over its earnings (price/earnings a.k.a P/E) divided by its earnings growth. For example if a company has a P/E of 10 and is growing by 10% a year its PEG would be a 1.0. So the lower the PEG the better, as it is indicative of a company that is both growing in size as well as growing in profit. It makes an easy reference point to look at both the profitability of a company as well as its re-investment in itself and that the re-investment is paying off. It is certainly not the end all of indicators but it allows for a good measurement of similar companies with similar functions and the efficiency of growth programs.
Debt and free cash for the four stack up as follows:
SLB - $10.47B Debt/$1.52B Cash
BHI - $26.18B Debt/$792M Cash
HAL - $4.82B Debt/$2.1B Cash
WFT - $7.9B Debt/$339M Cash
The market being awash with volatility, troubles in Europe, the elections coming soon here in the States, taking a risk on an unknown resolution seems to be what the general market is not willing to do. Based on both historic results as well as WFT being on track to complete the 2014 vision I really feel now is a great time to jump into
Weatherford. It's main competition are already at value and priced accordingly and the time is ripe to grab a hold of a very undervalued company. For those of you who recall the asbestos crises with Halliburton, WFT is the same situation now. Waiting for the issues in the background to clear will force you to loose out on the fire sale that is going on now.
If WFT looks too risky for you, HAL is my next pick. Obviously they are in as good a position to continue growing and making money without the unknowns looming in WFT's background. Risk and profit go hand in hand so loosing the risk will decrease the profits as well. Overall, all four will continue to grow and continue to profit for many years to come. BHI has a lot of debt due to purchase of BJ and SLB has the debt due to the purchase of Smith.
My larger long investments are on WFT but I maintain interest in all four, sometimes long and sometimes short depending on the market conditions at the time. I also maintain long and short positions in oil and gas futures, again depending on the market conditions.