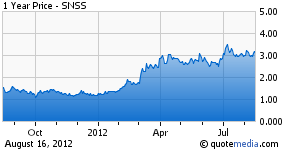 Sunesis Pharmaceuticals (NASDAQ:SNSS) is a cancer biotech which is currently evaluating lead product candidate vosaroxin as a DNA targeted anti-cancer agent in an ongoing pivotal Phase III (VALOR) clinical trial with a single, pre-planned interim analysis to be conducted in September. This anti-cancer compound has received US and European Orphan Drug designations in addition to US FDA Fast Track status for the bone marrow / blood-based cancer known as acute myeloid leukemia (AML).
This adaptive Phase III study (ClinicalTrials.gov ID NCT01191801) is being conducted in combination with the approved anti-cancer drug cytarabine in patients with first relapsed or refractory AML and the interim analysis has three potential outcomes, including: halt trial early for efficacy or futility, continued through unblinding in 2013 or increase patient enrollment by 50% (225) w/ results expected in 2014.
As of early August, Sunesis has enrolled 391 of 450 planned subjects in the study and in June the independent data safety monitoring board (DSMB) recommended that the trial continue as planned based on an analysis of safety data from the study.
Last December, Sunesis announced that the United Kingdom's National Cancer Research Institute Hematological Oncology Study Group included vosaroxin in the Less Intensive 1 (LI-1) Study, which is a Phase II/III clinical trial evaluating new treatment regimens compared to low-dose cytarabine for elderly patients with AML and high-risk myelodysplastic syndrome.
As of 6/30/12, Sunesis reported $29.3 million in cash and equivalents and approximately 47M shares of common stock outstanding as of 7/31/12. The company has about $9.6M in total debt in the form of notes payable with $8.7M classified as long-term debt and a second $15M tranche available through 9/30/12 based upon the DSMB recommendation in the upcoming interim analysis next month (i.e. if the VALOR study is either halted early for positive efficacy or continues in any form then Sunesis has access to an additional $15M in debt financing).
Sunesis reported an operating loss of ($17.6M) during the first six months of 2012, which consisted mostly of research and development (R&D) expenses ($14.7M) associated with the ongoing Phase III trial. In March, Sunesis announced a $25M financing agreement with Royalty Pharma (RP) that is based on the outcome of the pending interim analysis as follows:
1) If Phase III VALOR trial halted early for efficacy, RP will invest $25M immediately and will receive 3.6% royalties;
2) If one-time sample size increase is implemented, RP will invest $25M immediately and will receive 6.75% royalties plus warrants for the purchase of 1M shares each at prices of $3.48 and $4.64 of Sunesis common stock;
3) If trial continues as planned w/ no changes, RP has option to invest $25M upon unblinding of results next year and will receive 3.6% royalties.
The planned Phase III single interim analysis with a definitive near-term timeline in September sets up a high probability and favorable risk / reward trade for a share price run-up (mid $3-low $4 target) for Sunesis going into this key event which is very similar to the run-up experienced by Celsion (NASDAQ:CLSN) heading into a similar event last year and more recently Synta Pharma (SNTA) ahead of interim Phase IIb/III trial results for its experimental lung cancer drug.
In addition, the near-term risk of dilution is very minimal since Sunesis has over three quarters of cash on hand to fund operations and also has access to potential financing of $40M based upon the DSMB interim analysis, which consists of $15M in debt financing (as long as trial either continues or is halted early for positive efficacy) and $25M as part of the Royalty Pharma agreement (i.e. Sunesis receives $25M at the time of interim analysis if the study is either halted early for positive efficacy or if the sample size is increased).
The most likely outcomes of the interim analysis would be to either continue trial as planned through analysis next year or implement a one-time sample size increase with results expected in 2014. I estimate a very low probability (i.e. under 5%) for the trial being halted early for either efficacy or futility. As outlined earlier, I expect a run-up in shares of Sunesis going into the interim analysis to new 52-week highs in mid-$3 to low-$4 range, which would likely result in a sell on the news reaction if trial continues as planned or the one-time sample size increase is implemented since this postpones the data until 2013 or 2014.
If halted early for efficacy, I would estimate a mid-high single digit stock price for Sunesis (i.e. $5-7+) and obviously shares would plunge if the study is halted early for futility to sub-$1 prices as the remainder of the company's pipeline is in very early-stage clinical or preclinical development.
Disclosure: I am long SNSS.