Groupon (NASDAQ:GRPN) just recently reported its most recent quarter; investors are shooting first and asking questions later. The stock has been a battleground for debate as investors grapple with the business model, barriers to entry and daily-deal fatigue. Is the selling warranted?
Take Rate Remains Positive
One of the big arguments against Groupon was their margins should come under pressure due to the growing competitor base and low barriers to entry. Every little start up across the country would challenge Groupon's payout and force them to take a lesser percentage of the pie.
Unlike many bears anticipated, this has not unfolded. The take rate has been a rare positive for the company, as they are holding firm and even trending up since the trough at 37% last year. The historical average points to a take rate of around 41%, and it is imperative they continue to trend upward or at least flat in this department. Here's a look at Take Rates from the MRQ back through 2010. I should note that the current figure does not account for direct revenue (65.4m). Without that it bumps to 44%, but doesn't paint the actual picture.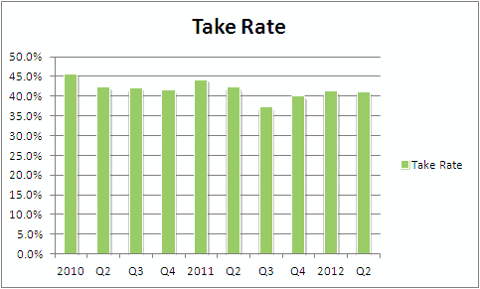 Inaccurate Cash Balance Reports
One of the biggest issues I have with GRPN management is how they report cash balances. They tout the nearly $1.2 billion they have in cash, but what they don't "headline" to investors is the amount in which is owed to merchants. Take this quarter for instance: the company has $1,400m in total current assets. In the same breath, they have a build up of $1,100m in current liabilities. These liabilities include: accrued expenses, accrued merchant payables, accrued accounts payable, etc. The bulk of the $1.1b is money OWED to merchants.
Whenever customers buy a GRPN voucher, they pay GRPN directly. GRPN then pays out the merchant over the next 60-90 days (it really depends on the type of deal each merchant has worked out). So what good does it do for GRPN to boast about $1.2 billion in cash when the majority of it is not even THEIR cash? In order to peg the true value of GRPN's cash position, you must deduct "current" liabilities, from "current" assets. When doing so, it paints a different picture. Here are the following figures starting from Q1 2011.
Q1'11 - ($250m)
Q2'11 - ($350m)
Q3'11 - ($399m)
Q4'11 - $328m ** IPO
Q1'12 - $318m
Q2'12 - $300m
As you can see, GRPN has been burning cash for the last 6 quarters, NOT cash-flow-positive as they promote. Granted, things have slowed in the last 2 quarters as they have reduced marketing spend and (kind of) reeled in expenses. All in all, they do have a decent amount in cash ($300m) and no real debt to speak of.
Growth in Active Customers Slowing
Another previous bright spot was active customer growth, until now. Active customers grew at the slowest pace sequentially in its history, up a mere 3%, or 1.1m to 38.0 million. I think Groupon is too young a company to see a decline in customer counts, but it is clear that they are no longer seeing hyper growth. A more important tool I like to look at is the amount of net revenue each active customer produces. It looks as though average spend is basing somewhere around $15.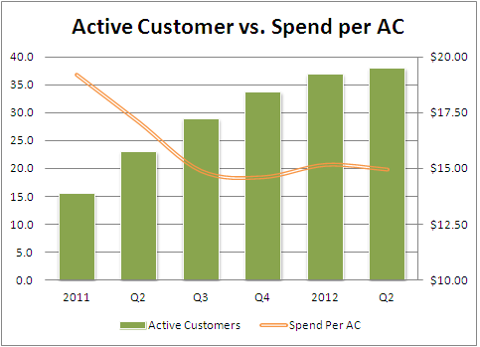 Stock-Based Compensation
The other major issue I have with this company is its SBC practices. Its one thing for companies that are making piles of money to offer such lucrative programs, but in this case, Groupon is putting its SBC program ahead of shareholders. This year alone, SBC will knock off $.21 - $.25 a share which doesn't seem like much until you consider they are only making $.15 and projected to make $.40- $.50 next year. The need to stop using their stock as a currency.
Forward Projections
Moving forward, I don't see the hyper growth within this space. We are in a world where AC's could only grow at 1-2% QoQ, which will lead to 7-8% growth YoY. Unless GRPN can figure out a way to get current customers to spend more, they will struggle to grow at the rapid pace in which they are accustomed. Its clear the drop in marketing spend has hurt its customer growth, and they are in no position to ramp that back up.
2013
- AC's growing to 42.2m
- $2,487 Net Revenue
- $.41/shr Non-GAAP EPS
2014
- AC's growing to 43.9m
- $2,594 Net Revenue
- $.49/shr Non GAAP EPS
The above projections assume that QoQ trend in AC's continue slowing as they have been the last year, a 41% take rate and AC spend to maintain its $15 mark.
I personally believe there is upside to these numbers because Groupon NOW! will be a successful tool when rolled out and expanded to more areas. Groupon NOW! is the mobile platform dream, and GRPN could find themselves in a unique position to take advantage of mobile unlike many of its tech counterparts. Groupon Goods seems to be doing very well also, so it's not all negative.
In Conclusion
There is some value in this name. They are the best in breed daily deals name and the company that the majority of people associate the space with. That alone offers some value to the name. Not many startups can duplicate the size and scale that Groupon has. They have no debt, and although they are cash flow negative by my standards, cash is not a problem. In general, its hard to put a multiple on this name because of so many factors.
At 12-13x '13 earnings, it brings us to $5.00 - $5.35, which is about where we are now. Why wade in? Until they prove they have staying power, show willingness put shareholders first instead of employees and shore up the accounting issues I'm not paying up at these levels.
Do I think they go to zero? No, at the moment, I do not. I'm just waiting for a massive capitulation into the low 4s or some sign of clarity among management. Until either happens, I'll be happy to watch this one unfold from the cheap seats.
Disclosure: I have no positions in any stocks mentioned, and no plans to initiate any positions within the next 72 hours.