Ask a realtor this same question about property values and they'll immediately chirp, "location, location and location." It's equally simple with stocks if you have a long-term horizon. In that case the answer becomes, "valuation, valuation and valuation."
Stock market history is littered with disappointed investors who bought companies that performed well business-wise but did badly for shareholders. Why? Generally these stocks were much too expensively valued at the time of purchase. When a stock is priced in advance for years of future growth it's hard to make capital gains.
Wal-Mart (NYSE:WMT) is a good example of how shareholders often go unrewarded despite terrific fundamental growth over long periods of time.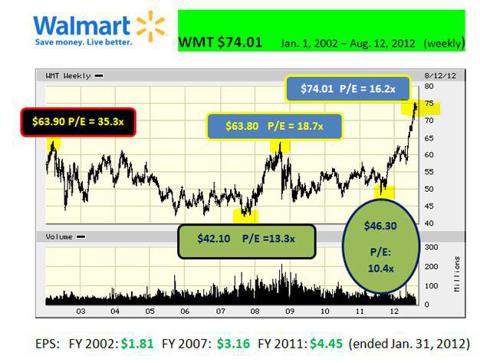 Wal-Mart was well on the way to record earnings in 2002 when the shares sold as high as $63.90 and for > 35 times projected fiscal EPS. WMT hit all-time bests again in each of the next five years. Despite fine fundamentals, owners of the stock were not happy. By late 2007 WMT's P/E had contracted to a new low valuation of 13.3x expected FY 2007 EPS. Many momentum oriented traders and those with mechanical stop-loss orders exited that fall due to the poor share price action. They mistakenly sold because of the low valuation.
Selling when the valuation got cheap was a bad move. WMT jumped up 51.5% in about a year. The move came as the multiple once again re-expanded. This time to 18.7x on just a 7.9% actual earnings gain. From an elevated P/E the stock price was able to make progress or even hold that level even as fundamentals continue to improve.
At the very worst of 2011's European crisis investors got one last chance to buy WMT at a really cheap valuation. The P/E hit an all-time low of 10.4x on the current fiscal year's estimate and holders were receiving a juicy 3.15% yield as well.
The best bargain in the store became Wal-Mart's shares. By August 15, 2012 they'd risen by almost 77% to $74.45. The key to making money in WMT has been buying when sentiment was negative, the valuation was cheap and the dividend yield was generous. Berkshire Hathaway added to its WMT position when Wal-Mart got zapped in the midst of this year's Mexican bribery scandal.
Food service giant Sysco (NYSE:SYY) showed a similar trading pattern, but with less stellar long term growth than WMT. Back in 2004 steadily improving fundamentals, a solid balance sheet and a decent yield made SYY a popular stock. The P/E was north of 30x - much too high for value investing.
By early 2009 the stock was so beaten up that it was offered at just 11x earnings with a 4.53% yield. Traders were no longer pre-paying for growth, making that a good entry point. SYY rose from $19.40 to $32 in just over one year. The stock has gone slightly lower since. EPS have declined slightly in four of the most recent eight FYs and Sysco posted no year-over-year gains in any of FY 2012's four quarters.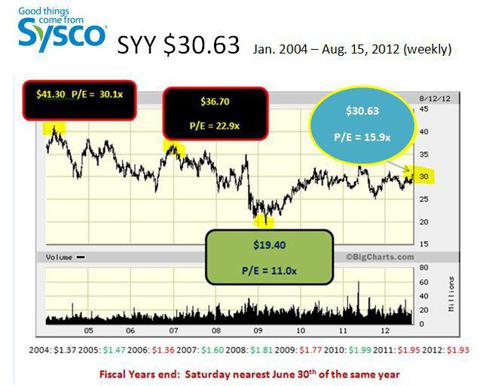 Sysco reported a mixed bag of results this week as the shares moved up to $30.63. I'd call the present quote as "fair value" and exit for greener pastures on the recent run-up. SYY is no longer undervalued.
Tending to a portfolio is like taking care of your garden. Harvest (sell) when the season is right (valuations are above historical normals) and plant new seeds (buy undervalued shares) for future growth.
Wal-Mart is a tougher call at today's price point. Fundamentals are quite good and its valuation is neither exceptionally high nor low by historical measures. My gut says you'll likely get a better entry point if the overall market pulls back.
Basing buy and sell decisions on valuation rather than same stores sales growth (or almost any other metrics) has proven to be a winning strategy. Failing to sell when valuations get overextended usually condemns shareholders to subpar results even when the underlying companies do well.
Disclosure: I have no positions in any stocks mentioned, and no plans to initiate any positions within the next 72 hours.