Apple (NASDAQ:AAPL) computer is one stock that I have not been able to fully understand since the world lost Steve Jobs. Before he got sick, and the rumors began to circulate that his health might cause him to leave the company, the shares only knew one direction: Up, straight up. Each new iPhone release was every Apple investor's dream come true.
And, except for the last one, those iPhone sales have been growing stronger and stronger each quarter, as you can see from this chart below. Many analysts think this slow down is due to customers waiting for the new iPhone 5 which should be released next month: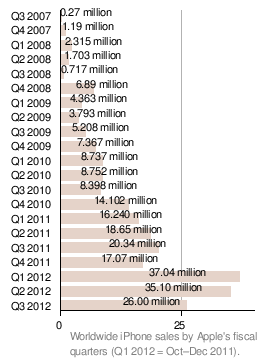 But in the last year, the pattern has changed, as you can see from the chart below. It was relatively flat, at or around $400 a share, for five months. Then it began a sudden incline, and shot up 50%, to $600, in less than three months. Now, since April, it has been relatively flat again:
So where is it heading now? Analysts are extremely split as to what it will do next. Some think Apple shares could go as low as $270, while others think that it could top $1,100 by the end of the year:
| | |
| --- | --- |
| Mean:Target | 719.22 |
| Median:Target | 732.50 |
| High:Target | ,1111.00 |
| Low:Target | 270.00 |
| . No of:Brokers | 46 |
There are lots of Apple Bulls that believe it will actually hit $1000 this year. Many are counting on the new iPhone5 to give the stock a jump start. Seeking Alpha contributor Robert Paul Leitao from Posts at Eventide thinks it will make another 50% jump and hit $950.
Today I am updating my 12-month Apple price target to $950 per share. This price target represents an expected share price appreciation of 52.8% from Apple's closing price of $621.70 on August 10th, 2012. I expect share price appreciation, on average, to trail behind the rate of earnings per share growth over the next 12 months as Apple's massive market cap influences the share price performance and as the company's price-earnings multiple continues to contract.
And there are more than a few Apple Bears that think it is priced too high, and they are waiting for some sort of stumble, so they can clean up. Whichever way it goes this time, I know that Apple is a terrific company, and whenever I write about other Nasdaq stocks, I tend to compare them to Apple. To me it is like the "gold standard" for tech stocks. I think all companies should strive to be more like Apple. So I try to find stocks that measure up to it.
Recently I began to notice that Apple and Sirius XM (NASDAQ:SIRI) have been following the same pattern over the last several years. A lot of my readers, and Twitter follows have commented that they too noticed the same thing. At first I thought that it was just due to both companies being listed on the Nasdaq, but as you can see on the chart, that is not the case. These two companies are both up 150% over the last two years, versus the Nasdaq is only up 33% over the same time period. I finally concluded that maybe the two companies have some of the same investors. Notice how the pattern really came together last July:
But some writers think, very strongly I might add, that the companies do not have any type of connection except for the Sirius XM App in the iTunes store:
In the years that I have been covering satellite radio there have always been rumors that run around about Sirius XM partnering with one company or another. There have even been some very interesting, yet naive, claims that the satellite radio provider was "Partners" with Apple simply because Sirius XM had an app in the iTunes store! More often than not these rumors are simply wishful thinking or the delusional fantasies of someone that wants the stock to go up simply by pairing it with another big name corporate entity.
I must admit that I thought Apps were just Apps also. But when I wrote an article about the new "On Demand" feature that Sirius has just launched, I noticed that the (brilliant) editor had tagged it with an Apple tag. I was puzzled at first, and was just about to send in a correction notice when I suddenly realized that this little Apple App is much more than just another App in the iTunes store. And it is a lot more important to Apple than most investors realize.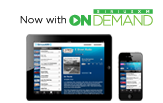 In case you missed it, the 2.2.0 On Demand App was "officially" released a week ago for Apple products, and it offers Sirius XM subscribers the ability to listen to previously broadcast radio shows that are listed in its "On Demand catalog". This is the second of three steps toward complete "Personalized Radio" for Sirius:
SiriusXM listeners will have On Demand access to over 2,000 hours of SiriusXM content, including more than 200 shows from sports, comedy, exclusive talk and entertainment, and commercial-free music from many genres such as The Howard Stern Show, Bob Dylan's Theme Time Radio Hour, Tom Petty's Buried Treasure, select Jimmy Buffett concerts, The Opie & Anthony Show, The Jamie Foxx Show, Ask Martha featuring Martha Stewart, Dr. Laura, The Bob Edwards Show, Mad Dog Unleashed featuring Christopher "Mad Dog" Russo, Ripken Baseball, Rotten Tomatoes Radio and many more.

SiriusXM listeners will also have access to special selections from deep within the SiriusXM archives, including SiriusXM's exclusive Artist Confidential series and Town Hall specials with Bruce Springsteen, Roger Waters, Tom Petty, Usher, Ringo Starr, Coldplay, Nirvana, Cardinal Timothy Dolan, Coach K, and many others. In addition, listeners will get access to exclusive subscriber events, music specials, interviews from across SiriusXM's sports channels, and much more.
As most of my followers know, I listened to the Sirius XM Beach Boys concert, that was part of the Artist Confidential series, several times when the App was first launched. This has given me a new reason to love my iPhone. The biggest reason is because some of the content can be downloaded onto your phone, so you can listen anywhere without racking up data charges. And it doesn't matter if there isn't a cell or wifi signal. Your iPhone can suddenly turn into a "radio-Pod" for satellite radio shows. You can listen on a plane, cruise ship, or at the bottom of Carlsbad Caverns. But, even though there are plans to offer the App to Android users, it is not out yet.
Granted, Apple has over 500,000 Apps, but this is much more than just another App. When the very first Sirius XM App for iPhones came out three years ago, it was downloaded over one million times in just two weeks. At that time, in July of 2009, only 17 million iPhones had been sold, and many of those had been traded in. Just guessing, there were probably around 10 million iPhones in service at that time. So it is pretty safe to say that ten percent of those phones downloaded that Sirius App immediately. And many more people continued to download the program. How many are there now? If there is an answer out there, I could not find it. But it is most likely, that as the iPhone sales have grown, so have the Sirius internet listeners. Which means that a successful iPhone 5 will cause both companies to excel.
So is there some type of connection between these two companies, that has their stocks traveling in tandem together? Could it be this App? Will millions of Sirius subscribers pay the $3 a month for an internet sub to listen to their favorite shows away from the car, even if they missed the show? Will they switch to iphones that have this new App? Consider this article from way back in 2005 before the iPhone even existed. There had been rumors of a "Skypod" which both companies denied:
Apple has no interest in teaming up with satellite radio provider Sirius, CEO Mel Karmazin told investors and analysts at McGraw Hill's 2005 Media Summit Wednesday.

With the iPod's ability to store thousands of tunes, Apple CEO Steve Jobs told Sirius that Apple doesn't see the need of adding satellite radio functionality to the device. Karmazin declined to elaborate on his discussions with Jobs, The Wall Street Journal reported Wednesday...

"Do I think (a satellite radio-MP3 player combo) is going to happen some day in the future? Absolutely," April Horace, a satellite radio analyst with Janco Partners told CNN/Money, calling an iPod coupled with satellite radio the "killer app." She added whether XM or Sirius partners with Apple or another MP3 maker is anybody's guess. (Author's note: this statement was made before the Sirius XM merger).
Things certainly do change! Even though the iPod is not a "functioning satellite radio", users can play the same live satellite content; and now they can download it for later. But all of this is also now available on their iPhone. This really is the "killer app" as the Janco analyst accurately predicted it would be, seven years ago. Sirius will add even more subs to its huge pile, and Apple will continue to come off as the leading innovator of personal devices.
This gives Apple Bulls one more reason to celebrate. And millions of Sirius XM subscribers listening to downloaded radio shows on their Apple devices, anywhere in the world will continue to be happy campers. With 23 million Sirius subscribers (and growing), this is a huge potential market for Apple. There could be a pattern to this.
Disclosure: I am long SIRI.