Shares of mortgage REIT American Capital Agency Corp (NASDAQ:AGNC) are trading close to an all-time high; AGNC has risen more than 78% since its IPO in 2009. However, there are three reasons why AGNC can continue to rally.
Insider Buying
On August 8, Gary D Kain, President and CIO of AGNC bought 20,000 shares costing a total of $655,000. Seeking Alpha contributor Zvi Bar did a nice job of analyzing Mr. Kain's buy in his piece American Capital Agency's President Bought $655,000 In Shares. In summary, the fact that a notable insider such as the CIO is buying the shares at these levels indicates that the run might not be over. After all, the CIO of an investment company such as AGNC should be well positioned to know what is going on at the company and how that should impact the stock going forward.
Dividend
Despite the stock trading near all-time highs, AGNC still yields over 14%. Usually, stocks yield 14% because they have gone down in value substantially and investors expect a dividend cut. This is not the case for AGNC. Dividend investors are likely to remain buyers, despite the move higher in the stock because the yield is still very attractive. In the second quarter conference call, President & CIO Gary D Kain, commented on the dividend:
Given the strong book value performance and the large amount of UTI, we continue to believe our dividend is sustainable at its current level over at least a near-term despite the recent spread compression. Now ultimately however, future dividends will be a function of actual financial performance and are therefore uncertain.
While AGNC could cut the dividend if spreads continue to compress, the recent widening of spreads makes me believe that the company is just as likely to raise the dividend. Additionally, a recent Seeking Alpha piece, Buy American Capital: Compression In Interest Will Leave Dividend Unthreatened, does a nice job of explaining why AGNC should have no problem maintaining the dividend.
Valuation
As shown by the chart below, based on price to book value, AGNC is trading at a historic high. While it is difficult to make the argument that AGNC is cheap based on this metric, it is also difficult to say AGNC is overvalued based on this metric. Currently, AGNC is trading at 1.15 book value. In the past, AGNC has traded at more than 1.2 times book value. AGNC can continue to move higher without becoming expensive on a historical basis.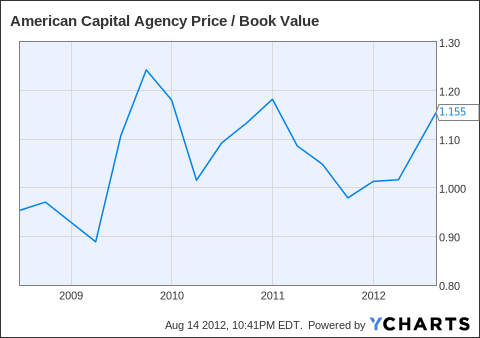 AGNC Price / Book Value data by YCharts
Leverage
One potential risk that investors should be aware of concerning AGNC is the company's recent decision to increase leverage. As shown by the chart below, AGNC has a higher debt-to-equity ratio than most of its peers. Annaly Capital Management (NYSE:NLY), Invesco Mortgage Capital (NYSE:IVR), and Two Harbors Investment Corp (NYSE:TWO) all have lower debt-to-equity ratios. If the spread between long-term debt and short-term debt widens, other companies such as NLY, IVR, and TWO will be better positioned to increase leverage to take advantage of wider spreads. Such a situation could lead investors to sell AGNC in favor of its peers. That being said, as discussed in the second quarter earnings call, it should be noted that AGNC does have a significant amount of hedges in place to guard against changes in the yield curve. Because of this, I am less worried about AGNC's leverage.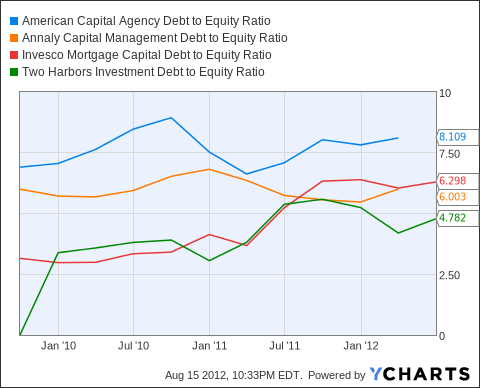 AGNC Debt to Equity Ratio data by YCharts
Conclusion
While AGNC shares have rallied significantly since their 2009 IPO, I believe the stock can continue to rally. Insider buying, the current dividend yield, and fair valuation are all reasons why AGNC can continue to rally. However, it should be noted that the company's current leverage situation may mean that the stock will underperform peers given a steeper yield curve.
Disclosure: I have no positions in any stocks mentioned, and no plans to initiate any positions within the next 72 hours.