In the wake of Hewlett-Packard's (NYSE:HPQ) announcement that it was writing down $8B worth of goodwill from its 2008 EDS acquisition, we have decided to take a fresh-look at the company. We first started looking at HPQ as an investment for our portfolio many years ago during the Carly Fiorina era and based on the weakness in HPQ's operating performance and stock price since Mark Hurd's untimely departure at Hewlett-Packard, we think that the company is starting to hit rock-bottom.
HISTORY OF EDS AND HOW IT JOINED UP WITH HEWLETT-PACKARD
In 2008, Mark Hurd oversaw the $13B cash acquisition of Electronic Data Systems. We remembered that EDS was once a high-flying IT services company founded by former Presidential Candidate H. Ross Perot and sold to General Motors (NYSE:GM) in 1984. GM mismanaged EDS during its 12 year ownership but at least had the decency to spin it off in 1996 while still remaining EDS's biggest client. We appreciated the thesis behind HPQ's acquisition of EDS because while HPQ was still going strong in IT Hardware, IBM had shifted its emphasis to software and services. As much as we appreciated the thesis behind Hurd's decision to acquire EDS, even we believe that he paid too much. EDS's last full year as an independent company (2007) saw the company generate $892M in free cash flows. While we were pleased that it returned $338M to shareholders through dividends and net share repurchases, we were disappointed that it spent $461M on acquisitions. We understand why Hurd was so interested in EDS due to the fact that it was able to reverse its losses incurred in 2003 and was able to increase its profits significantly due to the management of costs relative to its revenue growth. HPQ's acquisition of Perot's first IT services company put his second IT services company (Perot Systems) in play and Perot Systems was acquired by Dell (NASDAQ:DELL) one year later in 2009. A third Dallas area IT services company (Affiliated Computer Services) was bought out in 2010 by Xerox.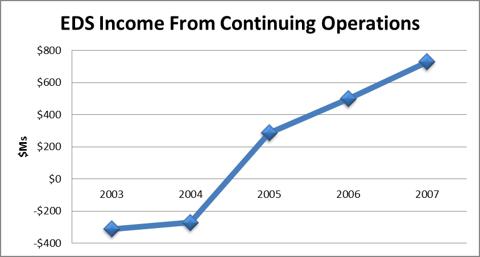 Source: EDS's 2007 Annual Report
HP SERVICES'S FORMATION AND LATER FLOUNDERING PERFORMANCE
After HPQ acquired EDS in 2008, it merged EDS into its HP Services division and renamed it HP Enterprise Services. HP Services was able to see solid profit growth due to the realization of merger synergies as well as incremental revenue growth. One move that the company made that we did not agree with was laying off EDS employees in America and offshoring the jobs to India. Another concern that HPQ shareholders should have had was the revolving door with regards to the division's senior leadership. With the sacking of John Visentin, this represents the fourth high-profile leader in this division to leave HP Enterprise Services. The revolving door at HP Services is probably why the division's operating margin has regressed in the last couple of years after making progress from 2008-2010. Here is a list of the dearly departed from EDS/HP Enterprise Services
Ronald Rittenmeyer "retired" in 2008
Joe Eazor (2008-2010)
Tom Ianotti (2010-2011)
Joseph Visentin (2011-2012)
Mike Nefkens (2012-Interim)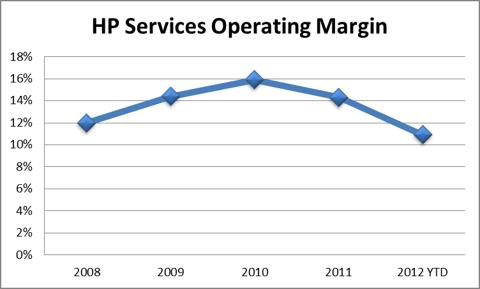 Sources: Hewlett-Packard's 2008-2011 10-Ks and 2012 Q2 10-Q
REVISITING THE MARK HURD ERA
We previously elaborated on Mark Hurd's 2005-2010 tenure as HPQ's CEO. Under Hurd's leadership, HPQ grew revenue and EPS in four out of his five years there and HPQ's stock registered a 121% total return before he was forced out. In addition to overseeing revenue growth from acquisitions and organic growth, he kept a lid on operating expenses and was able to rationalize operations. Such accomplishments included:
Consolidating 85 data centers into 6
Consolidated 6,000 company used software applications into 1500
Reduced HP's corporate IT department from 19,000 employees to 8,000
While Hurd was criticized for reducing annual research and development expenditures by $550M during his tenure as CEO, we disagree with the assertion that he "made R&D DOA". While Hurd was CEO, HPQ still spent nearly $21B in research and development expenditures and another $15B on net CapEx. Hurd also increased HPQ's net capital expenditures from $1.45B in 2005 to $3.5B in 2010. This enabled Hewlett-Packard to increase its EPS from $.83 in 2005 when Hurd took over to an all-time company record of $3.69 in 2010, when Hurd was forced to resign due to his involvement with HP contractor Jodie Fisher. After Oracle's (NYSE:ORCL) CEO Larry Ellison blasted the move, Oracle hired Mark Hurd as President of Oracle.
HURD'S DISMISSAL, LÉO APOTHEKER HIRED THEN FIRED
HP replaced Hurd with Léo Apotheker after he resigned from SAP due to ill health (the SAP (NYSE:SAP) board got sick and tired of SAP being a mediocre performer while Léo was leading it). In addition to leading SAP to new levels of mediocrity, one of SAP's subsidiaries was systematically stealing software from Oracle while Apotheker was in charge of the company. At least SAP fessed up about it later on after the fact. We touched upon how HPQ shareholders gritted their collective teeth as the stock registered a negative 45% total "return" during Leo's year helming Hewlett-Packard. We can't begin to repeat that August 18th, 2011 was HPQ's D-Day while Léo was running the show. Unfortunately, when we say that August 18th, 2011 was HPQ's D-Day, we believe that the D in this case stands for Disasterpiece. That was the day HPQ announced it was pondering spinning off the PC business, exiting the mobile computing devices business (smartphones and tablets) and the acquisition of the serially acquisitive software firm Autonomy PLC. We actually thought that Autonomy PLC was a good fit with HPQ because both companies have each made a significant number of acquisitions recently.
MEG WHITMAN ERA
Meg Whitman was hired on September 22, 2011 to replace Léo and former Oracle President Ray Lane became HPQ's Executive Chairman. We were kind of surprised that Ray Lane was able to become Executive Chairman since it was Lane who joined HP's board to work with his old buddy while simultaneously plotting to get rid of him. We agree with Lane that the makeup of Hewlett-Packard has changed for the better. HPQ's board still has a couple of lousy ex-CEO retreads that need to be put out to grass, in particular Ken Thompson (who almost bankrupted Wachovia) and Patricia Russo (who managed the rack up €10 billion euros of losses at Alcatel-Lucent… in less than 3 years!). Whitman's arrival has not served to stop the bleeding at HPQ has seen three straight year-over-year declines in its adjusted and reported EPS. At least Whitman can say that the EPS declines have narrowed in the three quarters that she has been HPQ's CEO. While HP's quarterly revenue bottomed out at $30B in her first full quarter as CEO, at least it grew by 2% on a linked-quarter basis in Q2 2012.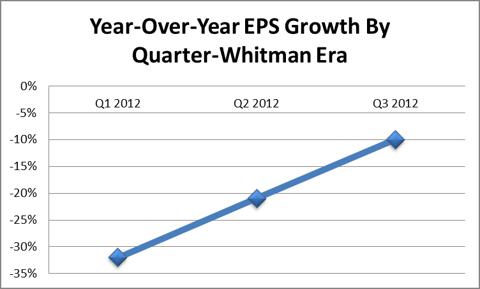 Sources: HPQ's Q3 2012 preannouncement and Q1 2012 and Q2 2012 8-K's
CONCLUSION
In conclusion, we still don't believe that Meg can do any worse running HPQ than Léo did with HPQ or SAP or any worse than she did with her 2010 run for Governor of California. Right now, we'll give her a pass for the fact in her first two quarters, HP has seen its revenues steadily erode even with the artificial performance enhancement that comes with adding an acquisition (Autonomy). We'll give her a pass because we believe that Léo did such a terrible job running HPQ and left a severe mess for whoever would be succeeding him. We already discussed how HP already announced a $1B restructuring charge for Q3 for layoff restructuring and $1.2B for impairment to the fair value of the Compaq brand name. Last Wednesday, HPQ announced that it was increasing the restructuring charge estimate from $1B to $1.7B as more workers took early retirement than anticipated. We were pleased that with the exception of the billions, and billions, of "non-recurring" charges taken this quarter that HP's adjusted Q3 2012 EPS declined by only 9% to $1 versus the $1.10 achieved in the prior year's comparable period. We have taken note of the fact that HPQ's share price is around the levels reached in early 2005, when Carly Fiorina was forced out due to illness (the board was sick and tired or her poor mismanagement of the company). We believe that while Ralph Whitworth was a few quarters early in his investment in Hewlett-Packard, we believe that there is value to be salvaged here. Though we believe that this is a potential turnaround play, we also believe that HPQ has at least a couple of quarters to go before we potentially see progress.
Disclosure: I have no positions in any stocks mentioned, and no plans to initiate any positions within the next 72 hours.
Additional disclosure: Saibus Research has not received compensation directly or indirectly for expressing the recommendation in this report. Under no circumstances must this report be considered an offer to buy, sell, subscribe for or trade securities or other instruments.